The 17 Best Leather Jackets for Women in 2023
Will take them all, thanks!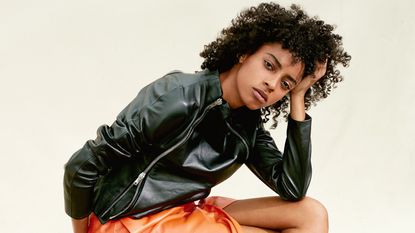 (Image credit: Ester Grass Vergara)
Ask any designer, stylist, or tastemaker about their favorite cold-weather piece, and they'll undoubtedly share their secret weapon: The best coat (opens in new tab) they've ever owned. From classically outfitted trench coats (opens in new tab) to functional-leaning rain jackets (opens in new tab) to puffers (opens in new tab) that can keep you snug down to the Arctic temps to that take-it-everywhere denim jacket (opens in new tab), there is a time and a place for almost every outerwear style. Finding the right one will ensure you have them at the ready season after season.
Like trenches or puffers, a great leather jacket is an undeniable wardrobe staple—but you don't have to wait for rain or snow to wear them. Their trans-seasonality has given them widespread appeal— designers have taken creative liberties with special hardware and soft silhouettes —lessening their association with just motorcyclists and the punk-rock scene. Ahead, leather jacket-loving stylist Shea Daspin guides us through one of the season's most versatile staples and gives her approval on the best women's leather jackets, both faux and genuine, to buy now.
Why Are Leather Jackets a Great Investment?
Why you can trust Marie Claire Our expert reviewers spend hours testing and comparing products and services so you can choose the best for you. Find out more about how we test.
"First worn by motorcycle gangs and later popularized by '50s male movie stars, women only began wearing leather jackets circa the 1970s as they quietly became popularized amongst mainstream musicians like Joan Jett and Blondie," explains celebrity stylist Shea Daspin (opens in new tab). "Leather jackets are unique in their ability to challenge gender norms," she says. "They exude a toughness, while they can still embrace femininity."
Alongside their ability to empower, leather jackets are also an excellent four-season investment. "Leather is an inherently durable fabric that gets wear better with age," Daspin says. "Plus, they can give any look an unexpected edgy twist."
How Should a Leather Jacket Fit?
"Personal style plays a huge factor in finding your best leather jacket," Daspin explains. She suggests an oversized fit for those who prefer a carefree vintage look. For a more modern silhouette, look for long lines and unpadded shoulders. For a more feminine shape, seek out softer leathers that will allow the fabric to hug your frame resulting in a more body-conscious fit.
What To Consider Before Buying a Leather Jacket
"There are three important factors to consider when buying a leather jacket," says Daspin.
First, find your ideal style. "The classic 'perfecto' or biker style isn't for everyone, but there are a ton of great modern silhouettes on the market now," Daspin explains. "Leather jackets are widely available in blazers, trenches, and cropped styles that offer fun alternatives to more traditional leather jacket varieties."
"Excellent zippers, reinforced snaps or buttons, and buckles that have a nice weight are all details to look for," says Daspin. Not only does hardware lend a unique aesthetic, but high-quality hardware will also last longer, look more elevated, and ultimately be worth the luxury investment.
Not all leathers are made equal. Before you take the plunge into buying an authentic leather jacket, you must consider leather sourcing and what went into the production process. "Be wary of brands that don't provide transparency," says Daspin. Instead, look for designers that are forthcoming about their supply chain and manufacturing processes. These details will ultimately result in a better quality fabrication.
And when it comes to faux leather, it's worth taking a few minutes to go over the product's material breakdown and details. Some brands that offer vegan leather options tout their sustainable alternatives as being better for the earth but, oftentimes, craft their textiles from an amalgamation of plastics like plastic-based PVC, polyester, or polyurethane. So, on the sustainability front, the best faux leather jackets are those crafted from recycled-plastic materials or bio-natural options made from cacti or mushrooms.
1/17
100% Leather Motorcycle Jacket
The Best Leather Jacket for a Boxy Fit
Quince's leather moto jacket isn't too silhouette-hugging or too oversized—it's just right. Daspin suggests pairing your leather jacket with a silk slip dress alongside kitten heels or a light-washed mom jean and a tucked-in, crisp white t-shirt.
2/17
Good American Leather Unisex Blazer
The Best Relaxed Fit Leather Blazer
Meet the leather jacket's professional older sister: The leather blazer. Not all work environments encourage the personal style you deserve to show off, but you can still get your leather fix with this pick. "This blazer's relaxed fit, soft faux leather, and flat front pockets keep the simple silhouette feeling like a rare vintage gem," says Daspin.
3/17
ABLE Maha Leather Jacket
The Best Leather Jacket for a Feel-Good Purchase
The best part about Nashville-based brand ABLE isn't just its timeless leather jackets—the brand aims to end generational poverty by providing women with working opportunities at the company.
4/17
Via Spiga Zip Front Faux Leather Jacket
The Best Affordable Faux Leather Jacket
At only $46, this faux leather jacket essentially sells itself. The moto silhouette exudes the effortless sophistication of an off-duty supermodel (think Cindy Crawford running Saturday errands). Plus, it's chock-full of subtle yet intriguing details—peep the all-black zippers and waist belt.
5/17
Jonathan Simkhai Wyatt Leather Puff Sleeve Zip Up Jacket
The Best Designer Faux Leather Jacket
"With princess puff sleeves and a pointed hem, this light blue vegan leather option is feminine, but with functional, utilitarian touches like chest pockets and convertible sleeve buttons," Daspin explains.
6/17
Gucci Leather Zip Jacket
The Best Investment Leather Jacket
"A cinched waist, zig-zag stitching, and an exaggerated collar make this black leather jacket a subtle and unexpected conversation piece," Daspin says.
7/17
Armani Collezioni Faux Leather Biker Jacket
The Classic Leather Jacket
Ah, the leather biker jacket. With its rocker-chic look, soft exterior, and pockets, many people would classify this as the leather jacket of all leather jackets.
8/17
BB Dakota by Steve Madden Just Ride Vegan Leather Jacket
The Best Night-Out Leather Jacket
You will wear the moto jacket to the bar every Friday night. We promise.
9/17
Blank Denim Fresh Start Moto Jacket
The Best White Leather Jacket
Already have a black moto in your closet? Consider picking up this versatile white style to brighten up your outfits and give them a fresh, clean look.
10/17
Stand Studio Malou Faux Leather Trench Coat
The Best Faux Leather Trench Coat
Trench coats don't have to be exclusively suede or wool. This Stand Studio long leather jacket (opens in new tab) will make any outfit look effortlessly chic.
11/17
Avec Les Filles Faux Leather Cropped Moto Jacket
The Best Cropped Leather Jacket
If you're looking for a cropped leather jacket, look no further. This style is a winner with its baggy fit and belted waist.
12/17
Veda x Ref Crosby 90s Longline Leather Blazer
The Best Long Leather Jacket
"This leather jacket is a '90s throwback. You'll feel like you're traveling through the matrix in this sustainably-produced upcycled piece," says Daspin.
13/17
Mango Leather Biker Jacket
The Best Leather Biker Jacket
This biker jacket will offer a grunge-y, on-the-road vibe to any outfit. Pair it with black baggy jeans, a roomy white tee, and leather boots, of course.
14/17
Zara Faux Leather Jacket
The Best Leather Moto Jacket
Add this eclectic black and pink motorcycle jacket to your wardrobe if you're after an edgy style with a slim and tapered fit. Go full-tilt biker chic and team this jacket with leather trousers, too—a motorcycle is not required.
15/17
Marina Rinaldi Eleganza Leather Trench Coat
The Best Statement Leather Trench Coat
"Nothing screams luxe like a shiny trench coat," says Daspin. And in addition to the metallic look offering an impactful sartorial statement, the lightweight material gives it seasonal longevity so this faux leather jacket offers all-year-long wear.
16/17
Edikted Faux Leather Oversized Bomber Jacket
The Best Leather Bomber Jacket
"This is the perfect oversized bomber jacket with banding at the hem and cuffs to give it that classic silhouette," says Daspin. If you're not feeling the classic black option, the espresso brown color option is also a chic leather jacket alternative.
17/17
Schott Cropped Perfecto Leather Jacket
The Best Classic Leather Jacket
Schott's Perfecto style is a staple leather jacket available in several shades. "It's the blueprint for motorcycle jackets," states Daspin.
Sara Holzman is the Style Director at Marie Claire, covering runway trends and tracking down the latest finds to buy and wear. When she's not writing about fashion, she pens about the best places to jet-off to. Over her six years with Marie Claire, Sara has reported on the ever-evolving world of fashion— covering both established and emerging designers within the industry. Sara has held fashion positions at Lucky and SELF Magazine and was a regular contributor to Equinox's Furthermore website, where she wrote across their style, wellness, and travel verticals. She holds a degree in Journalism from the University of Missouri, Columbia, and currently resides in Manhattan. Follow her along at @sarajonewyork.