The 21 Best Sweaters for Women in 2023
Bring on the knits.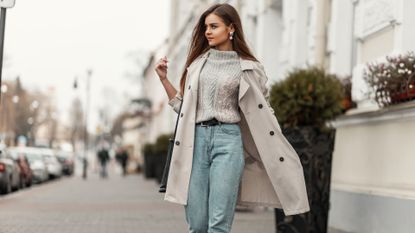 (Image credit: Getty)
Right now, the weather is hot and sweaty in most parts of the country. That probably means airy summer dresses and linen pants are at the forefront of your current wardrobe. But while it may be hard to look past the breezy trends of summer, before you know it, the best time of the year will be upon us, a.k.a. fall. Personally, there's nothing I look forward to more than the crisp breeze and the trees changing colors, but fall fashion especially has me excited about the season's cooler temps. There's just something about autumn styles that scream timelessness and chic—think leather jackets, ankle boots, and maxi skirts. However, a fall wardrobe wouldn't be complete without one of the best sweaters.
Sweaters are a fall staple for a simple reason: Styling a sweater is effortless. For example, you can throw on a cardigan over a long dress for an easy transitional look or simply choose a graphic option paired with jeans and boots then you're ready to go. Meanwhile, I tend to make a turtleneck, mini skirt, and knee-high boots my go-to outfit throughout the season. I could go on and on about my love for sweaters and their endless styling options, but at least I'm not the only one.
At Marie Claire, it seems the whole team is just as obsessed with the best sweaters as I am, so keep reading to see the sweaters Marie Claire editors are dying to pull out of their closets come September. You'll find everything from crew necks to thick winter sweaters with price points to match any budget.
Brooke Knappenberger is the Editorial Fellow at Marie Claire, where she writes across the board from fashion and beauty to books and celebrities. As a pop culture junkie, Brooke obsessively consumes and writes about the latest movie releases, streaming TV shows, and celebrity scandals. She has over three years of experience writing on fashion, beauty, and entertainment and her work has appeared on Looper, NickiSwift, The Sun US, and Vox Magazine of Columbia, Missouri. Brooke obtained her Bachelor's Degree in Journalism from the University of Missouri's School of Journalism with an emphasis on Magazine Editing and has a minor in Textile and Apparel Management.