These Are the Default Sweaters for Editors and Stylists
Bring on the knits.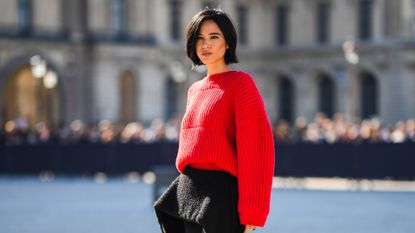 (Image credit: Getty Images)
Personally, there's nothing I look forward to more than the crisp breeze and the trees changing colors, but fall fashion especially has me excited about the season's cooler temps. There's just something about autumn styles that scream timelessness and chic—think leather jackets, ankle boots, and maxi skirts. However, a fall wardrobe wouldn't be complete without one of the best sweaters.
Sweaters are a fall staple for a simple reason: Styling a sweater is effortless. For example, you can throw on a cardigan over a long dress for an easy transitional look or choose a graphic option paired with jeans and boots, and then you're ready to go. Meanwhile, I tend to make a turtleneck, mini skirt, and knee-high boots my go-to outfit throughout the season. I could go on and on about my love for sweaters and their endless styling options, but at least I'm not the only one.
Marie Claire editors and stylists alike are just as obsessed with the best sweaters as I am, so keep reading to see the expert picks we can't wait to wear once there's a chill in the air, plus tried-and-true shopping tips. You'll find everything from crewnecks to thick winter sweaters with price points to match any budget.
What to Look For in a Sweater
Sweaters come in all different shapes and sizes—turtlenecks, cropped, oversized, and crewnecks, to name a few popular styles—so no two sweaters will likely fit the same. Since sweaters are all about being cute and cozy, you may want to prioritize comfort when shopping for a knitted piece. That said, sweaters will have a different fit depending on their style and how you wear them. For example, fashion stylist Kate Moroney says turtlenecks "look great under crew neck sweaters and bulky v-neck cardigans, and they are great for tucking in and pairing with the trouser and wide leg pant styles that have been popular the past few seasons." Meanwhile, crewnecks are a great everyday sweater that can be dressed up or down, whereas an oversized option is ideal for extra layers, especially on chilly days.
When shopping for sweaters, you'll come across many different fabric compositions in pieces, but rest assured, there's not one fabric that's inherently better than the rest. Simply put, other fabrics are going to suit different needs.
Natural materials like cotton can be found in plenty of sweaters, and it's a great option if you're looking for something more breathable.
Wool, on the other hand, is much thicker and provides more heat, making it a great option for winter sweaters.
You'll also run into cashmere, famous for its extra-soft, warm feel, but sweaters made from cashmere will be pricier.
If you're on a budget, look for blended fabrics like cashmere or wool blended with cotton, polyester, or acrylic. A blended composition will keep the price more affordable yet still provide all the coziness you want in a sweater.
The Best Sweaters