Editors handpick every product that we feature. We may earn commission from the links on this page.
Winter Work Outfits That Are Warm, Stylish, and Easy to Wear
I'm ready for those Zoom calls now.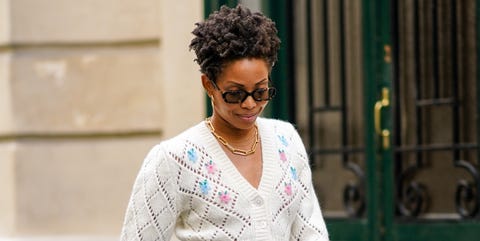 Edward Berthelot
Getty Images
When temperatures dip below 20 degrees and it's still dark outside at 7 a.m., it's tempting to go with the I-just-rolled-out-of-bed look, especially if you're working from home. This sentiment (coupled with the fact that my puffer coat hides my entire outfit) morphs me into a lazy fashion girl every year, with a go-to winter look of a beige wool sweater and black high-waisted skinny jeans. Just saying this out loud makes me realize it sounds kind of...unimaginative. This winter though, I vow to not let the my wardrobe take that cold-weather, work-from-home hit. Here, seven cozy outfit ideas that'll get you from Monday to Sunday in style, whether you're in the office, hopping on that Zoom interview, or making an unexpected appearance on Instagram Live.
1
The "IDC It's Monday" Set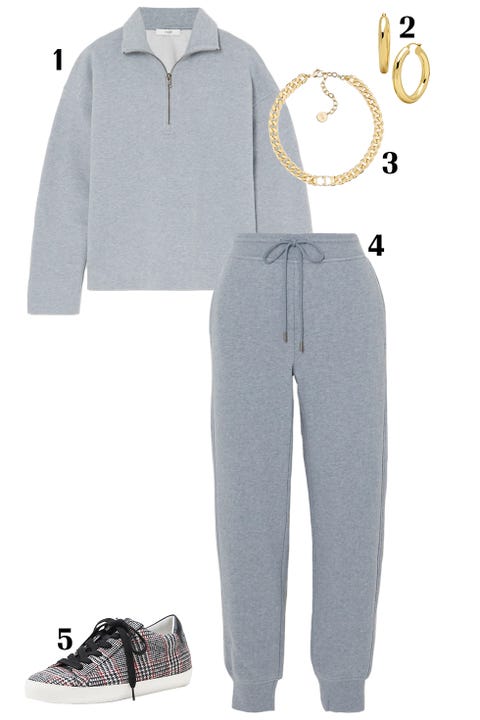 Design by Morgan McMullen
Mondays are rough in general, so give yourself a fashion break and slip into that cozy set. We love this blue-gray Vince sweatshirt with the matching track pants for an elevated warm ensemble. Try a front tuck with the pullover to feel more put together and then dress up your lounge set with gold statement pieces like a designer necklace and earrings. These little touches make all the difference if your coworkers can only see the top half of your look.
Shop the pieces: 1. Vince sweatshirt, $225; 2. BYCHARI earrings, $60; 3. Dior choker, $610; 4. Vince track pants, $195; 5. Banana Republic sneakers, $115
2
The Ready-for-Zoom Sweater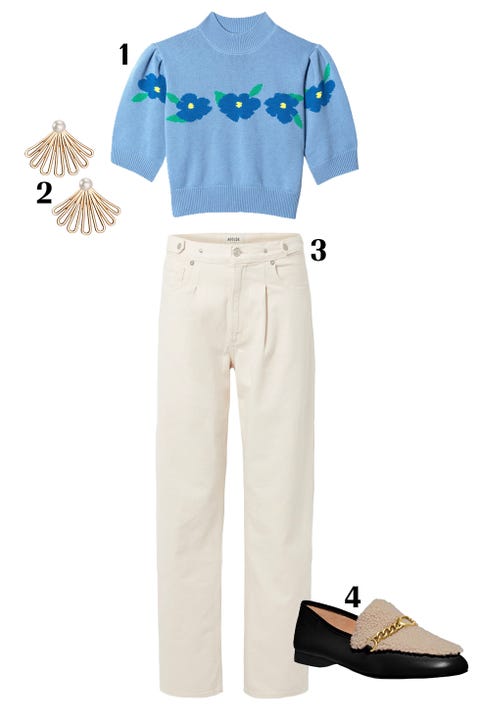 Design by Morgan McMullen
For those of us who own only one pair of sweats and actually wear jeans at home (you're a trooper), go with a winter white pair and a cute little sweater. Pick a top that's colorful, but not too busy for the camera, and has that eye-catching detail that makes you stand out in Zoom's gallery meeting view mode. A pair of Art Deco pearl earrings completes the everyday, casual outfit while a slip-on pair of shearling loafers easily takes you out the door if you need to grab lunch.

Shop the pieces: 1. Rixo sweater, $298; 2. Aurate earrings, $200; 3. AGOLDE jeans, $170; 4. Coach loafers, $150
3
The Cool T-Shirt Alternative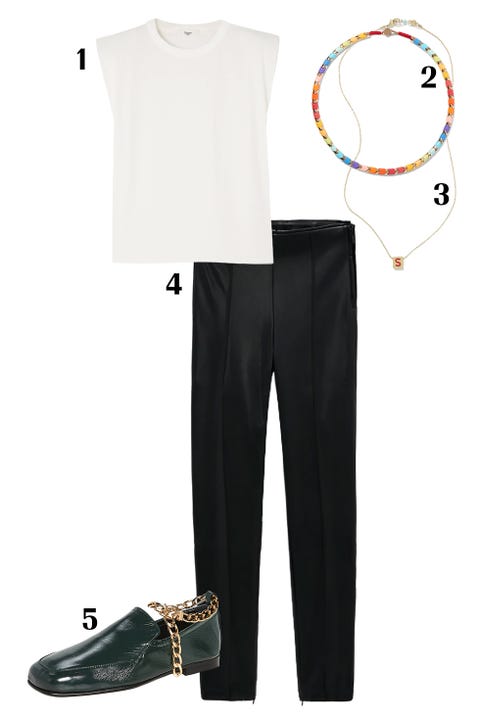 Design by Morgan McMullen
If you're tired of your black and white crewneck tees, go with this lightly padded shoulder option from Frankie Shop. This small tweak takes your everyday staple from basic to cool '90s minimalism you can wear with everything from leather pants to leggings. (The latter might be more suitable for your WFH cozy vibe.) The white top provides the perfect backdrop, too, to show off your more colorful baubles that bring you joy.
Shop the pieces: 1. Frankie Shop tank, $75; 2. Roxanne Assoulin rainbow necklace, $65; 3. Roxanne Assoulin initial necklace, 4. Zara leggings, $36; 5. BYFAR loafers, $578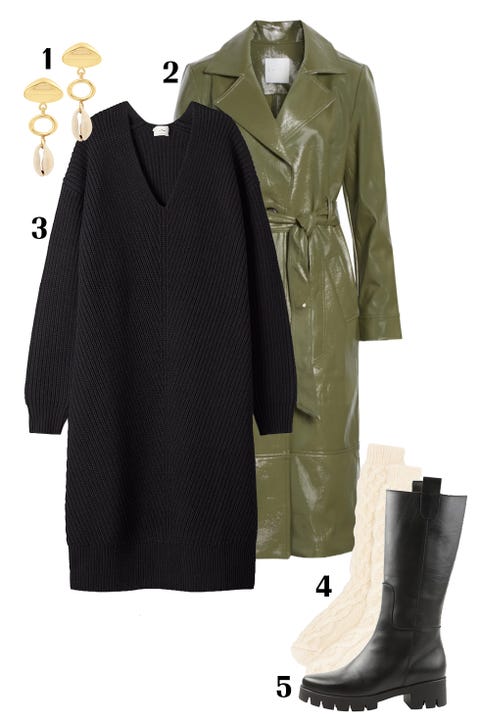 Design by Morgan McMullen
Wearing a knit dress that exposes your knees or calves to the cold as you make your way to the office isn't ideal. Wearing a knit dress while you work from the comfort of your own home? Ideal. Take advantage of the opportunity to "dress up" in a still very laidback fashion by accessorizing with thick knit socks. If you do have to run out in the middle of the day for a quick errand, simply throw on a trench coat to cover up.
Shop the pieces: 1. Jam + Rico earrings, $65; 2. LEITH trench coat, $89; 3. Wilfred sweater dress, $198; 4. Dolce & Gabbana socks, $215; 5. André Assous boots, $239
5
The "Maybe I'll Work Out Today" Outfit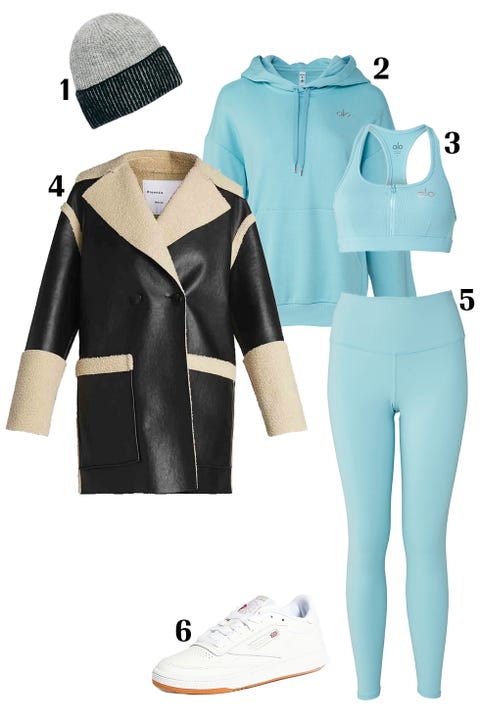 Design by Morgan McMullen
Spending the entire day in workout clothing, whether or not you actually make it to that virtual yoga session, is acceptable when you WFH. You might not want to do this every day, but on days when this is as dressy as you get, opt for colorful workout pieces. Add on a reversible coat to make the ensemble more presentable should you leave your home for a quick happy hour drink with friends. Don't forget the beanie, it's starting to get chilly out.

Shop the pieces: 1. Free People beanie, $28; 2. Alo Yoga hoodie, $118; 3. Alo Yoga bra, $68; 4. Proenza White Label coat, $895; 5. Alo Yoga leggings, $78; 6. Reebok sneakers, $70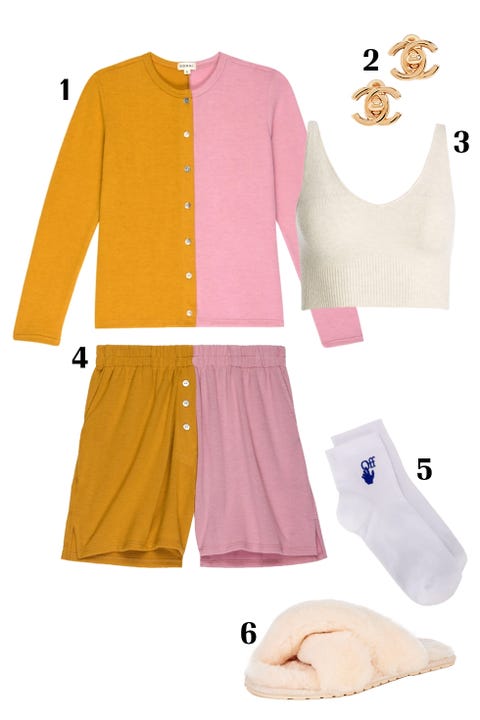 Design by Morgan McMullen
You can thank Khaite for starting the cardigan and bralette pairing craze that's hitting every retailer right now. For a cool take on this dual combo, slip into Donni's two-toned cardigan and shorts set. You can wear a knit top or bralette underneath, but button it back up all the way for meetings with your boss. Fuzzy slippers are a must if you plan to stay indoors all day, though do balance the sleepy footwear with a pair of luxurious earrings.
Shop the pieces: 1. Donni cardigan, $144; 2. Chanel earrings, $750; 3. Guess bralette tank, $49; 4. Donni shorts, $109 5. Off-White socks, $68; 6. Emu Australia slippers, $60
7
"It's the Weekend" Outfit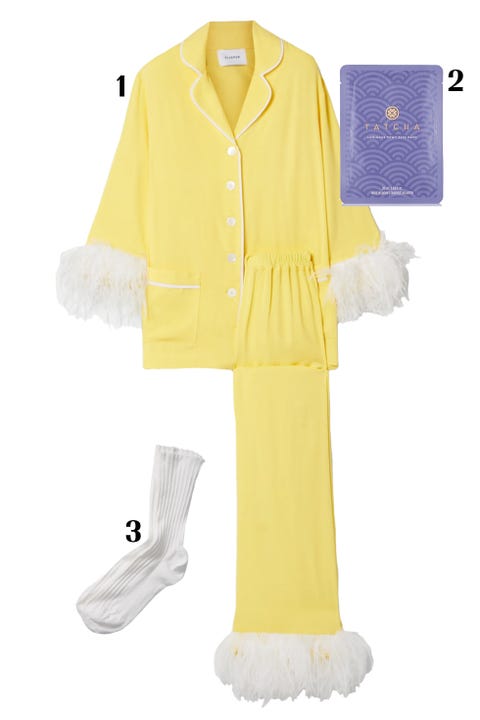 Design by Morgan McMullen
If you find yourself still punching the clock on weekends, take advantage of the no face-to-face meetings in a luxurious set of pajamas. This will make working on a Saturday or Sunday somewhat more bearable. Light your scented candle and let your favorite Netflix show hum in the background too to set the mood. For those who want to multitask, slap on a sheet mask for a little self-care while completing your work.
Shop the pieces: 1. Sleeper pajama set, $320; 2. Tatcha sheet mask, $12; 3. HUE socks, $18
This content is created and maintained by a third party, and imported onto this page to help users provide their email addresses. You may be able to find more information about this and similar content at piano.io