Wine 101: How to Read a Wine List Like a Boss
Consider your date seriously impressed.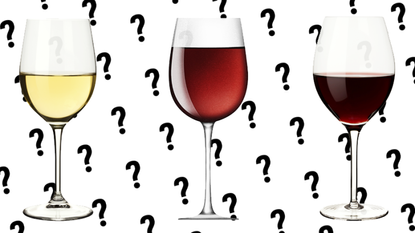 (Image credit: Design by Katja Cho)
Being able to read a wine list is one of those things that feels like it takes you from being a kinda-sorta-adult to being an adult-adult. And while we aren't about to give up calling our moms when we get sick (send help, mom!) or asking our parents to read over our taxes (what if we missed something?), we'll happily learn how to decipher a wine menu on our own. So we consulted Matt Lilien, founder of Wine Wala advising company, to give us the 411 on the most popular wines and what to pair them with. Consult this cheat sheet at a fancy dinner party, at the liquor store, or when you want to impress your date. Adulthood might not be all that hard after all.
Chardonnay
Tastes like: Tropical fruits, with a buttery finish
Pair it with: Pork, chicken, seafood, strong cheeses
Pinot Grigio (Gris)
Tastes like: Lemons, green apples, pears
Pair it with: Salads, light fish, light cheeses, white pizza
Sauvignon Blanc
Tastes like: Citrus, tropical fruits, herbs, gooseberries
Pair it with: Salads, vegetables, fish
Riesling
Tastes like: Apples, pears, flowers, minerals
Pair it with: Fish, cheeses, chicken, light appetizers, desserts (for sweet Riesling)
Gewürztraminer
Tastes like: Lychees, spices, flowers
Pair it with: Asian foods, spicy foods, strong cheeses
Cabernet Sauvignon
Tastes like: Cassis, black currants, herbs, cedar
Pair it with: Beef, lamb, stews
Merlot
Tastes like: Black cherries, plums, spices
Pair it with: Lamb shank, duck, sausage
Pinot Noir
Tastes like: Cherries, strawberries, spices, flowers
Pair it with: Salmon, tuna, pork
Syrah/Shiraz
Tastes like: Blackberries, black pepper, spices
Pair it with: Chicken, BBQ, curries, stews

Learn how to enjoy your favorite wines with the perfect dish with Decanter's new online wine pairing course.
Celebrity news, beauty, fashion advice, and fascinating features, delivered straight to your inbox!