How to Stock a Bar for Your Holiday Party
Who has time to make canapés and polish crystal stemware? Let's keep hosting as easy as possible.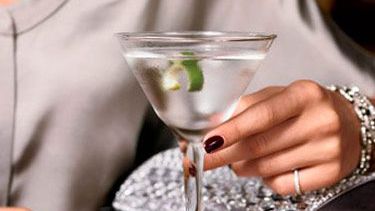 (Image credit: Scott and Zoe)
Holiday time calls for drinks, celebrations...and more drinks. Woo your guests with just the right stocked bar for any occasion. Here, tips from party planners and drink specialists (at no extra charge).
Unless you're P. Diddy, the only booze you need for a kick-ass party is vodka, rum, whiskey, wine, and beer. For mixers, make sure to have cranberry juice, club soda, Coke, tonic water, and lots of lemons. Fill pitchers with two premade concoctions like a rum punch or a signature cocktail. Since traditional stemware has gone the way of shoulder pads, serve in Italian-style tumblers. Inexpensive sets are available at places like Crate and Barrel (starting at $1.95 a glass) or Ikea (Svepa sets go for $5.99 a dozen). Oh! And don't forget tools — a corkscrew, muddler, shaker, strainer, and shot glass.
Now, how much to buy?

Rule of thumb: Plan on two drinks per person for the first two hours, one drink per person for each extra hour, say entertaining gurus Karen Page and Dina Cheney. Assume 40% drink beer, 30% use hard liquor, and 30% sip wine.

25 People

Beer: 60 bottles
Wine and champagne: 9 bottles
Hard liquor: 3 bottles
Mixers: 12 liters

50 People

Beer: 120 bottles
Wine and champagne: 18 bottles
Hard liquor: 6 bottles
Mixers: 24 liters

100 People

Beer: 240 bottles
Wine and champagne: 36 bottles
Hard liquor: 11 bottles
Mixers: 48 liters
IF YOU'RE PINCHING FOR PENNIES...
Less is more, says Maya Kalman, party planner and president of Swank Productions. A basic bar setup would include beer, vodka, bourbon, rum, tequila, gin, and brandy, but guests actually like fewer options. "Most people prefer having premade mixed drinks and will gladly drink whatever is in front of them," she says.
"You'll save a lot of money by making just a couple of fun cocktails and serving that to guests," adds Dave Wondrich, drink expert and author of Imbibe. His affordable cocktail suggestion? Manhattans, made with 2 parts rye, 1 part red vermouth, and 2 dashes of Angostura bitters (pour it in a jug in advance, and shake well with crushed ice before serving). Or, make one of your cocktails a seasonal drink to get things in the holiday spirit. "Winter cordials like Kahlúa or Frangelico work well," says Soraya Jollon, party planner extraordinaire.
Trade in champagne for sparkling wine to cut costs, or go for artisanal beers. "They give you lots of flavor bang for the buck, and taste great with beer-friendly foods like fondue or sausages," says Karen Page, co-author of What to Drink with What You Eat.
Another good tip if you can't afford top shelf: Disguise the brand of an inexpensive liquor by pouring it into a funky bottle or pitcher, says Kalman. "Everything tastes better when it's beautiful, and the same goes with drinks."
IF YOU'RE IN THE FAMILY AND FRIENDS SPIRIT...
There is no group of guests you know better, so use what you know to tailor the bar. "Show you're a gracious host by stocking up on the exact bourbon or microbrew that a friend drinks. It's a thoughtful gesture," says Jollon.
"Think about a theme that unites you," says Page. "If you traveled to France together, re-create the moment by serving a selection of French wines and matched French cheeses."
If you're all from the same area, consider serving a selection from that state's winery. "As of 2002, there are now wineries in all 50 states, so you could serve a wine from the state you're from," adds Page.
Expecting lots of couples? Try stocking more a variety since women tend to gravitate to wine, champagne, and mixed cocktails, while guys tend prefer beer and single liquor drinks. "If you're making cocktails, stick to ones that everyone will feel comfortable holding," says Jollon. "No pink cosmos, please!"
IF YOU'RE EXPECTING VIPs...
Boss coming over? Not a good time to experiment with mixing drinks. Stick to what you know. If there's something that bonds you, play it up with your choice of what you serve. "Let's say you finished a big project for Tropicana at work. Make a pitcher of a cocktail with orange juice," says Page.
Don't have anything that quite bonds you like that yet? If you're a little more adventurous and know your VIP's favorite ingredients, invent a cocktail named in his/her honor (hey, a little sucking up never hurt).
If you're not sure who exactly what the crowd will be like, Page suggests chardonnay and Cabernet Sauvignon. "It's a safe option, but if you want to encourage others to enjoy new experiences, serve an obscure white and red from Spain that they may have never tasted — take them somewhere!"
With special guests, service and hospitality is key. Make sure to keep things easy on your guests. "Have premade drinks ready, ice easily accessible, and everything easily laid out so it won't get too congested and possibly curtail people's drinking," says Kalman.
THE DON'T-FORGET LIST FOR EVERY PARTY
At least one or more nonalcoholic option. You might have pregnant guests or people who simply don't drink. Don't leave them out! Mocktails let your guests enjoy their nonalcoholic drink, and are easy to make. If you don't have time to make them yourself, Page suggests buying Fizzy Lizzy drinks — fruit juice and seltzer-water mixed drinks. Add a little vodka, and "voil! You have a Dizzy Lizzy cocktail."
Your mixers and bitters. A basic stash of mixers include orange juice, lemon and lime juice, pomegranate juice, and cranberry juice. For carbonated drinks, include club soda, tonic, cola, sprite or ginger ale. "Have salt and pepper, grenadine, and simple syrup on hand as well," says Lorin Gaudin, the New Orleans-based radio host of All Over Food.
Finger foods. All those people drinking on an empty stomach can't be a good idea. Look for carb-heavy finger foods (or a vegetable plate for those counting calories).
Bar tools. "It's important to have at least some tools, including a muddler, shaker, strainer, and shot glass," adds Gaudin.
Ice. 1 lb per person should be just enough
Enough drinks. Plan on 2 drinks per person per hour for the first 2 hours, and 1 drink per person thereafter. Individual bottles of beer and sparkling fruit juice serve 1 person. One bottle of wine serves 4-5 people. And each cocktail will have 1.5 oz per drink.
Water. Don't be so hung up on what liquor you're going to serve that you completely forget the basics. A pitcher of water is good to have around, as well as coffee — to make sure guests are alert before they leave.
Number for a cab company. You never know what you'll deal with by the end of the night!
Celebrity news, beauty, fashion advice, and fascinating features, delivered straight to your inbox!