Why We're Asking Santa For Whiskey This Year
Gina Unverferth is one of the most knowledgeable whiskey experts in the country (yeah, that's right guys!), and she gave us the scoop on how to serve the spirit this holiday season.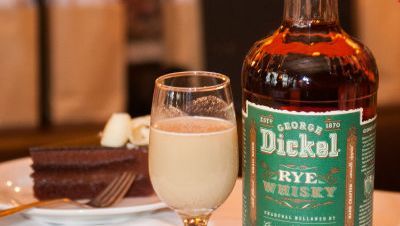 (Image credit: Archive)
Marie Claire newsletter
Celebrity news, beauty, fashion advice, and fascinating features, delivered straight to your inbox!
Thank you for signing up to . You will receive a verification email shortly.
There was a problem. Please refresh the page and try again.
Go ahead, stray from your standard options this holiday season. Whiskey is one of those alcohols that can be mixed a number of different ways, which makes serving it during a holiday party a no-brainer. "If you're hosting a party, you can begin the night with sweeter versions to be served during cocktail hour, followed by spicier rye concoctions that pair perfectly with savory dinners," offers Unverferth. "Hostessess can also end the night by offering whiskey samples neat, on the rocks, or incorporated into Irish Coffees with Bushmills," she continues.
Since this spirit has an incredible versatility, it is also a cost efficient option to keep on hand to satisfy all the guests at your party. Unverferth also suggests having typical whisky garnishes on hand, including red cherries and mint sprigs. "These garnishes help accentuate holiday decorations, table dressings, and color themes," remarks Unverferth. "Plus, classic cocktails such as the Manhattan are easy to make, but look super impressive to your friends when you jump behind the bar with a muddler and shaker!"
Whether you're hosting or attending as a guest, remember the most important part is to get home safely when the party is over. Always drink responsibly and arrange for a safe ride home if you've had too much to drink.
Check out some of Unverferth's favorite holiday whiskey recipes below!
BULLEIT RYE MANHATTAN
Ingredients:
1.3 oz. Bulleit Rye
0.25 oz. vermouth
3 dashes Angostura bitters
1 maraschino cherry
Directions: Stir. Strain. Serve over ice in a rocks glass and garnish with a maraschino cherry.
Why Gina think's it's so good: "There is no doubt the Manhattan is a classic cocktail and perfect for holiday gatherings. Try it with Bulleit Rye for some great spiciness. And the best part? The preparation will look impressive to your guests, but is incredibly simple!"
MANITOBA
Ingredients:
1.5 oz. Crown Royal Maple Whisky
.75 oz. Lemon Juice
.5 oz .Simple Syrup
top with Ginger Beer
Directions: Shake & strain into a highball glass. Garnish with a lemon wedge.
Why Gina think's it's so good: "Crown Royal released its first flavored variant last October. While it was encouraged to give Maple 'a shot' as the preferred pour, it can be mixed in a variety of cocktails as the taste has an authentic light maple-sweet flavor with a woody caramelized note on the finish. Serve it with deserts to end the night with the perfect sweet goodbye kiss!"
GENERAL HARRISON'S EGGNOG (as shared by legendary NYC bartender Dale DeGroff)
Ingredients:
1.3 oz. George Dickel Rye
.75 oz. mixture of equal parts egg white, sugar and syrup
1 dash DeGroff's Pimento Bitters
3 oz. apple cider
Directions: Build in a glass or mug and dust the top with nutmeg.
Why Gina think's it's so good: "Enjoy all the delights of a holiday eggnog, but without the heaviness that comes along with milk or cream. Replacing it with apple cider is a nice, light option that puts a fun spin on a traditional holiday drink."