Editors handpick every product that we feature. We may earn commission from the links on this page.
10 Best Cocktails In a Can to Get Your Beach Party Started
These give new meaning to "once you pop, the fun don't stop."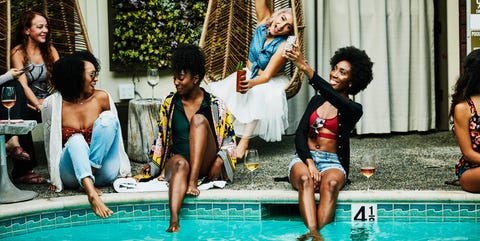 It used to be a lot harder to drink on the go. Having an alcoholic beverage anywhere that was not a house or bar required bringing liquor, a mixer, and ice, depending on what you wanted to drink. Now, thanks to the Internet, we can get pretty much everything in a convenient amount of time, in whatever packaging we request. Sites like Drizly make it so that you literally don't have to leave your lounge chair by the pool, just order and wait—no DD necessary. And somewhere along the line, we stopped putting just soda and beer in cans and moved onto wines, malt beverages, tequila, vodka, even coffee.
I'm not against a canned drink (known as tinnies in the U.K.), but I taste-tested every option below (and more), and learned that not all canned beverages are created equal—and also that four 250ML cans equals 1.3 bottles of wine, so pace yourself. Or don't. Either way, I hope these help you pick something to sip on before you switch to the hard(er) stuff.
This content is created and maintained by a third party, and imported onto this page to help users provide their email addresses. You may be able to find more information about this and similar content at piano.io