Editors handpick every product that we feature. We may earn commission from the links on this page.
The Best Wine Glass Sets of 2021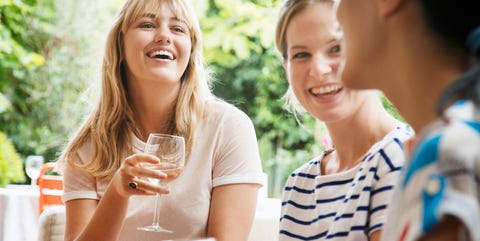 Betsie Van Der Meer
Getty Images
A good wine glass will make even the cheapest bottle of wine taste much better, so you should take your time when choosing wine glasses. Whether you're buying a set of wine glasses for the first time as a grown-up or upgrading an old set because its best days are behind it, this list of quality glasses will help you determine your wine-drinking priorities. And don't worry if you're not ready to splurge—there's plenty of stylish glassware to be found at reasonable prices, so you can elevate your dinner parties and events without draining your bank account.
1
The Classic
Schott Zwiesel Tritan Crystal Glass
Schott Zwiesel
amazon.com
$83.95
German company Schott Zwiesel is known for their classic, quality glassware. This set of six crystal glasses works well for full-bodied white and young red wines. Plus, it's dishwasher safe, chip, scratch and break resistant, and 100 percent lead free.
2
Most Versatile
Libbey Signature Wine Glasses
The versatile Libbey glass is great for all types of wines, from Shiraz and Riesling to rosé. The thin stem and tulip-shaped bottom are timeless and will remain your go-to entertaining glass for years to come.
3
For Everyday Use
Riedel O Stemless Wine Glasses
For those that prefer stemless glasses: This set of four lightweight glasses make for idyllic sipping of red wines like Pinot, Nebbiolo, and Burgundy. The wide rounded bottom enhances the taste of full bodied reds, and the set is dishwasher safe.
4
For Dinner Parties
Joplin White Wine Glass
This modern glass is designed for the stylish entertainer. The clean lines and elongated stem make for a classy yet unique presentation. At only $9.95, these are great for dinner parties and hosting guests (and if one breaks, you won't have to break the bank to replace it).
5
Most Luxurious
Zalto Hand-Blown Universal Wine Glass
Widely considered the Ferrari of Wine Glasses, the Zalto Universal glass is worth the hype, even at $62 per glass. These are the wine glasses to invest in when you reach the point in your adult life where you get excited about glassware. The hand-blown pieces are dishwasher safe and will make even a $3 bottle of wine feel like a luxury.
6
For Celebrating
Riedel Sommeliers 260th Anniversary Bordeaux Glasses
williams-sonoma.com
$138.60
This elegant hand-blown glass was crafted specifically to celebrate Reidel Sommeliers 260th anniversary, and it's a splurge worth making. The rim of the glass was designed to bring liquid to the front of the palate and is best for Cabernet Sauvignon, Cabernet Franc and Merlot wines.
7
Most Elegant
Camille Long Stem Wine Glass
crate and barrel
crateandbarrel.com
$13.95
The elongated, ultra-thin stem on the Camille glass is the epitome of elegance; meanwhile, the bubble-shaped bowl allows for cradling the whole glass in your hand. These glasses are equally suited to standing on your bar or in your kitchen as they are to use.
8
For a Vintage Feel
Hipped Glassware
West Elm
westelm.com
$1.99
If you're looking to drink your wine with a side of charm, grab a set of West Elm's hipped glassware. Choose from a selection of glasses for reds, whites and even champagne flutes to create your own collection of fun wine glasses.
9
For Nightcaps
Sur La Table by Bormioli Rocco Glasses
Sur La Table
surlatable.com
$29.95
These sophisticated stemless glasses have a wide base, so they stay stable on flat surfaces. They're endorsed by the Italian Sommelier Association and are made with Star Glass—Bormioli Rocco's own unique crystal—for the ultimate drinking experience.
10
Best Deal
Hand Blown Crystal Wine Glasses
Bella Vino
amazon.com
$19.99
These lightweight hand-blown glasses are made with an ultra-thin rim and are shaped to enhance a variety of different wines. They're durable and dishwasher safe, but the selling point is their broken glass replacement guarantee—if one happens to shatter, you can choose between a refund or a replacement glass.
11
For Rosé Lovers
Riedel Extreme Rose Wine Glass
If your life's motto is "rosé all day," this set of two glasses is all you need. The diamond-shaped glass enhances the fruitiness and acidity of rosés by delivering them to the tip of your tongue.
This content is created and maintained by a third party, and imported onto this page to help users provide their email addresses. You may be able to find more information about this and similar content at piano.io