Your Holiday Dinner Party Survival Guide
Plus, Chef Katie Button's recipe for a no-fuss, fancy-looking dessert. You're welcome.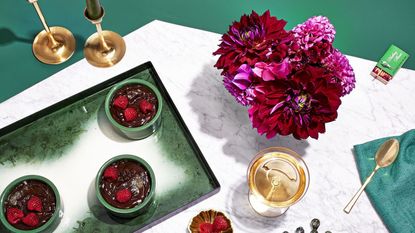 (Image credit: Jeffrey Westbrook; prop styling by Angela Campos)
Marie Claire Newsletter
Celebrity news, beauty, fashion advice, and fascinating features, delivered straight to your inbox!
Thank you for signing up to Marie Claire. You will receive a verification email shortly.
There was a problem. Please refresh the page and try again.
Inviting everyone over for dinner sounds like a good idea—until you have to cook. Chef Katie Button (she trained at the legendary El Bulli before opening her restaurant Cúrate in Asheville, North Carolina) answers our most pressing, panic-ridden questions. Bonus: Scroll down and check out the no-fail dessert from her cookbook, Cúrate (Flatiron Books)
Q: A dinner party?! What the hell was I thinking?
A: "It's OK. Don't try to blow it out with dessert and appetizers and your main. Pick just one thing that you want to blow people's minds with. Around the holidays, people get more dressed up, the expectations feel a little bit higher." PRO TIP: "If I'm doing a smaller gathering, I ask them to bring something. Most people offer anyway, and you should take them up on it. But be specific about what you want them to bring. They may just show up with a box of chocolates, but who cares? You'll all enjoy it, and you can focus on the main course
Q: So what should I make?
A: "In the wintertime: a braised-meat dish or a casserole. Something that can be prepared ahead of time and then popped in the oven before the party." PRO TIP: "I rarely put a whole lot of energy into appetizers. Just make a great board of cheeses, olives, almonds, and crackers."
Q: And how should I serve everything?
A: "Think cocktail party or a buffet." PRO TIP: "If you're doing a sit-down dinner party, assigned seats are great. You know your friends—there are people who are just funny and keep the conversation going. Don't seat two people like that next to each other. Have them on either side of the table to keep everybody in their vicinity in conversation."
Q: Should I make a special cocktail, too?
A: "Not if you're overwhelmed. Just set up a bar with a bunch of wine, or some gin, tonic water, and lemon, and let people make their own stuff." PRO TIP: "I love doing a Rom Cremat, a traditional drink from Catalonia, for parties. You pour a whole bottle of rum, some sugar, cinnamon, and lemon peel, and espresso beans in a fireproof pot. And then you light it on fire. Warning: You do not do this after, like, four drinks."
THIS ZERO-FUSS DESSERT WILL IMPRESS YOUR GUESTS. BONUS: IT'S BOOZY
SABAYON DE CHOCOLATE (CHOCOLATE BRANDY SABAYON)
PRO TIP: "This dessert, dressed up with some raspberries, olive oil, and sea salt, makes for an impressive crowd-pleaser. Plus, it's spiked with brandy." —Chef Katie Button
Ingredients (serves 6 to 8)
6 large egg yolks
1⁄2 cup sugar
1⁄4 cup brandy
2 tbsp. unsweetened cocoa powder
1⁄2 cup water
2 oz. bittersweet chocolate, preferably 60 percent cacao, finely chopped
Raspberries, for serving
Maldon sea salt, for serving
Extra-virgin olive oil, for serving
Method: Whisk egg yolks and sugar in a medium heatproof bowl until pale yellow. Whisk in brandy, cocoa powder, and 1⁄2 cup water until smooth. Set bowl over a saucepan of simmering water and whisk continuously until thick and an instant-read thermometer registers 165°F, about 12 minutes. Remove from heat and whisk in chocolate until smooth. Divide among serving dishes and top with raspberries. Sprinkle with salt, drizzle with oil, and serve immediately.
A version of this article appears in the December issue of Marie Claire, on newsstands now.
Celebrity news, beauty, fashion advice, and fascinating features, delivered straight to your inbox!
As deputy editor, Jen oversees Cosmopolitan's daily digital editorial operations, editing and writing features, essays, news, and other content, in addition to editing the magazine's cover stories, astrology pages, and more. Previously, Jen was a senior editor at Marie Claire. Before that, she worked at GQ.