How Pippa Middleton Is Using Ballet To Stay Fit During Pregnancy
"I'm determined not to break into a penguin-style waddle."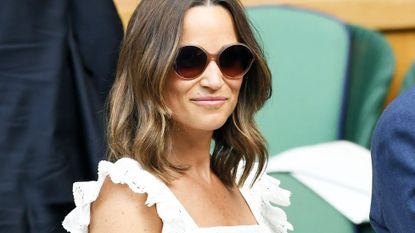 (Image credit: Karwai Tang)
Pippa Middleton is reportedly due to give birth to her first child with husband James Matthews in a little over a month. While I'm over here throwing a personal baby shower for her in my own apartment, the mom-to-be is doing the masses a favor and sharing tips on how she altered her exercise routine to be more baby-friendly, keep up her healthy lifestyle, and improve her posture.
In her most recent story for Waitrose Weekend (via Hello!), Kate Middleton's younger sister details why she incorporates barre workouts into her exercise regimen: "I feel far from a ballerina, but I'm equally determined not to break into a penguin-style waddle and plod around with bad posture. So with this in mind, I've continued to embrace barre-inspired workouts throughout pregnancy—a form of exercise taken from ballet which involves the small, isolated movements that develop flattering muscle tone, or so I hope."
Barre is a form of low-impact strength training, a combination of dance exercises, yoga and Pilates. Not only does it sculpt the body, it also helps with alignment and posture by using small movements and muscle isolations not unlike the ones found in ballet classes. Hopefully Pippa's taking a tip or two from Prince George, who is also taking ballet classes at school. I'd watch that remake of Billy Elliot.
Pippa seems to have a rather varied pregnancy fitness regimen. Back in August, Middleton revealed a love for swimming while pregnant, explaining that it offers "a wonderful feeling of weightlessness," while also allowing her to get a workout in. "From personal experience, I'd confidently say I find it has been the most enjoyable and rewarding form of exercise since I found out I was expecting," she mused. "It's comforting to know that it's safe throughout pregnancy, and you don't need to adapt and change too much (unlike most other sports). It's so good for you that you could swim every day—as long as you don't overexert yourself—right up until the end of the third trimester."
She also revealed that, inspired by friend Serena Williams, she's continued to play tennis while pregnant. For a previous Waitrose Weekly column she said, "if you're a healthy, well-trained player with an uncomplicated pregnancy there's no reason why you can't continue a good level of tennis. Over the past two trimesters I've been playing regularly, mostly doubles, which requires less side-to-side movement and intensity."
Sounds like one healthy momma!
RELATED STORY
Amanda Mitchell is a writer and podcaster with bylines at Marie Claire, OprahMag, Allure, Byrdie, Stylecaster, Bon Appetit, and more. Her work exists at the apex of beauty, pop culture, and absurdity. A human Funfetti cake, she watches too much television, and her favorite season is awards season. You can read more of her work at amandaelizabethmitchell.com or follow her on Instagram and Twitter @lochnessmanda.