8 Totally Free Pick-Me-Ups Our Editors Swear By
When in doubt, puppies and podcasts.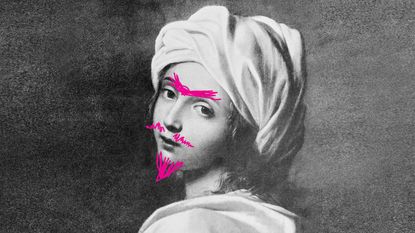 (Image credit: Archives)
Just a few minutes of cable TV (or a social media scroll) can make the world feel like a scary place. It can be tough to focus on work—even the fulfilling and fabulous work of producing MarieClaire.com!—when a glance at the news brings up some fresh horror. A hundred years ago, we'd just stew on our problems. But with the magic of the internet, there's a zillion rabbit holes to go down and happy new sites to discover. Check out the list of editors' favorite accounts and feeds, and get bookmarking. They'll give you life when you're feeling down.
Lauren Bernstein, senior editor, branded content
"I check out my doggy daycare's Instagram feed and story (@wigglypups) to see if my puppy Lucy makes a cameo. Even on days she doesn't pop up, the captions are hilarious and always make me smile."
Mehera Bonner, senior entertainment editor
"I scroll through the Twitter feed Shady Music Facts, re-hash 90s celebrity feuds, read deleted celebrity tweets, and go down conspiracy theory rabbit holes on Wikipedia. Nothing improves my mood like an unsolved murder."
Samantha Leal, senior editor
"I rely on BeigeCardigan for laughs, BuzzFeed videos for more laughs (#TryGuysforLife), TheShadeRoom for invaluable insights and reminders, AstroPoets twitter feed for all my astro-ramblings, Twitter, just in general, stand-up comedy clips and specials (John Mulaney, what's up), and Folk Magazine's Instagram for all my wanderlusting because, you know, I'm a millennial. All while listening to Spotify, I might add. I live and die by their curated playlists—Left of Center is the current fave."
Jessica Pels, site director
"After a long day, my brain just cannot always handle House of Cards. Life is stressful enough without Frank Underwood scheming to make it worse! My secret de-stresser is the home makeover show Fixer Upper—I put it on in the background while I do things around the house. It's just so peaceful to hear Chip talking about demo day and Joanna talking about shiplap."
Rosa Heyman, social media editor
"Whenever I want to relax my brain and escape from the horrible political climate, I listen to the podcasts 'My Favorite Murder' or 'Two Dope Queens.' Sometimes I'll even laugh idiotically to myself on the subway. I also love reading interviews on The New Potato in which random, semi-famous people will walk through their ideal food day. It's strangely satisfying."
Chelsea Peng, assistant editor
"Whenever I need a pick-me-up, I listen to a weird and probably troubling mix of frustrated-teen and baby-making music: D'Angelo, Bloc Party, and Rex Orange County are my top artists at the moment. Or I have an espresso and tweak out quietly until 2 p.m., when I can tune in to Annie Mac on Radio 1. And if that fails, I have a scroll through Classical Art Memes while going 'hehe' creepily under my breath."
Jazmin Jones, video editor
"I'm not a morning person who automatically wakes up in a good mood. But I've found that writing down daily affirmations in a notebook helps me start the day on a positive note. I seek them out on Pinterest, grab a cup of coffee, and fill one page with unabashed self-love."
Danielle McNally, features editor
"Oh my God, I'm 100% obsessed with the Insta account @cutest. It is filled with photos and videos of young animals like puppies and kittens, and also pandas, monkeys, guinea pigs, etc., etc. I cannot look at it without my heart swelling. Anytime I am angry or sad, I go to this page and immediately feel better."
Follow Marie Claire on Facebook for the latest celeb news, beauty tips, fascinating reads, livestream video, and more.
Celebrity news, beauty, fashion advice, and fascinating features, delivered straight to your inbox!