Padma Lakshmi's 15 Favorite Snacks
Padma Lakshmi's Favorite Snacks- Favorite Food of Padma Lakshmi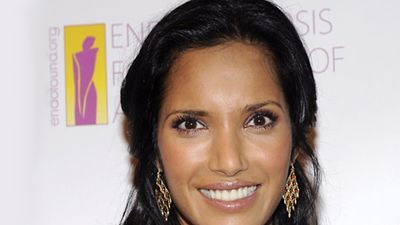 (Image credit: Padma Lakshmi)
1. A handful of raisins, cranberries, or sour cherries are great for a burst of sugar and pure fruit energy. Pack a small box or Ziploc bag in your purse for a post-workout boost.
2. One orange or grapefruit sliced into thick rings, drizzled with honey, and sprinkled with cinnamon. This makes a great breakfast or an elegantly light dessert. I first ate Seville oranges served this way under the hot Moroccan sun during tea time with sweet mint tea. Very refreshing.
3. Cucumber spears dusted with salt and chili powder and a bit of lime juice. For an even more exotic twist, try black salt or cumin salt, sold at Indian and specialty markets.
4. A dollop of guacamole rolled in a thin slice of turkey.
5. A handful of pan-dry-roasted hot almonds, sprinkled with dill weed and fleur de sel.
6. Boiled peanuts with a tomato-and-coriander salad, which can be served in lettuce cups.
7. Deviled eggs, with half the yolks removed, the remaining folded with nonfat yogurt and seasoned, then stuffed back into the whites.
8. Jalapeño chili rellenos made with egg whites and mushrooms and sprinkled with feta, then oven-browned.
9. Shisito peppers dry-fried in the pan with lemon and salt.
10. Edamame beans, which can be bought frozen, then warmed on the stove or in the microwave.
11. Cold poached shrimp tossed in a puree of mint, green chili, green apple, and salt.
12. Baked pita chips tossed with sumac powder and sea salt.
13. A savory smoothie made with cucumber, yogurt, salt, and mint leaves — based on an Afghani drink.
14. Hummus on endive leaves with diced tomato and fresh parsley.
15. Baked figs with balsamic vinegar and crushed black pepper.

GET 12 IDEAS FOR YOUR LUNCH HOUR (opens in new tab)