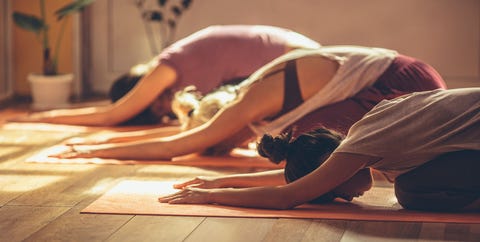 By now, you've heard about the incredible benefits of yoga (better posture, increased flexibility, healthier blood circulation, overall improved energy and mental health, etc.), but busy work schedules and overpriced studios can inhibit regular class attendance—even though we know how good it'll make us feel afterwards. But really, there's no reason why you can't practice your asanas every single day. Whether you're a newbie or a self-proclaimed yogi, find your balance by downloading one of these amazing yoga apps, below. Now you can do yoga anytime...without having to leave your living room.

So, you're a newbie. And you also consider doing more than 10 minutes of exercise at once a form of personal hell. The solution: Start or end the day with this free 5 Minute Yoga app that serves up a variety of quick poses suited for beginners. (It's also great for pros who have busy schedules.) Believe it or not, just five minutes of yoga per day will help tone muscles and relieve stress. Plus, you can track your progress directly on the app.
Daily Yoga, a.k.a. the yoga bible, offers 500+ asanas, 200+ guided yoga classes, pilates, meditation, and 50+ workout plans that are a dream for anybody looking to create a healthier version of themselves. Each workout comes with step-by-step instructions, three different intensity options, and optional scheduled plans to keep you on-track to achieve your goals. Bonus: It connects directly to the Apple Health App and offers the ability to ask experts questions and get feedback on different routines. Subscriptions start at $13 per month.
Pocket Yoga encourages yoga-lovers to open up the app anywhere, whether they're home, traveling for business, or on vacation. Preview the flow before you begin to make sure you're choosing the practice that's right for you and blast your own music library (!) instead of the default music to really get motivated and make it your own. The $3 app even comes with a glossary of yoga poses to help you learn the names and master the positioning. Namaste.
•••
For more celebrity news, beauty and fashion advice, savvy political commentary, and fascinating features, sign up for the Marie Claire newsletter.