Eat Your Way to Energy
The number-one reason Americans altered their eating habits last year was to get more energy. Four women — and the experts — weigh in on which changes really work.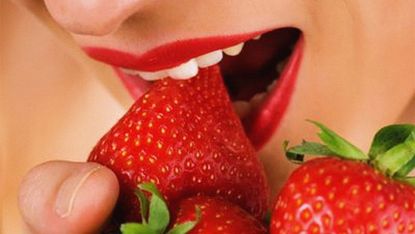 (Image credit: Vika Vatter)
"I eat five times a day"
PAMELA PEKERMAN, 23, FOUNDER OF BAGTRENDS.COM
HER OLD WAY:
"I'd wake up, work for two hours, and then eat breakfast between 8 or 9. Come lunchtime — anywhere between 1 and 4 — I'd be so exhausted I couldn't keep my head up. Inevitably, I'd have a big dinner. I was always dragging."
HER ENERGY FIX:
"I got a free consultation with a nutritionist, who told me my weight was perfect but that I had to start eating more often to keep my energy up. Now I eat five times a day, starting with a big breakfast of eggs with a small piece of bread and lox cream cheese, or a sandwich with half lox cream cheese and half caviar. I also drink green tea with honey. I have dried cranberries or apricots midmorning and a turkey or beef-salami sandwich and cucumbers and tomatoes for lunch, or sushi rolls if I'm out. I have chocolate with cheese or nuts as a snack and a not-insane dinner of halibut, veal, or chicken. It sounds like I'm always eating, but I haven't gained weight. I try to eat my last meal before 8:30, although that never works when I go out. I'm productive all day — important for an entrepreneur."
HOW GOOD IS IT?
She's smart to keep her blood sugar stable by eating more often, says Joy Bauer, R.D., nutritionist and author of

Food Cures. But Pamela could do better: Caviar is high in cholesterol and salt; lox, with its nitrates, isn't the way to get omega-3s; and the cream cheese is high in saturated fat.
Instead, she should top whole-wheat bread with nonfat cream cheese, baked salmon, and tomato. Or, she could eat omega-3-fortified eggs and lose the lox. Subbing an apple and 12 almonds for the cranberries gives her lots of energy-sustaining protein for few calories. The salami has to go: It's 70 percent fat. Better: low-fat turkey bologna.
"I ditched meat"
SAMIYYAH WILLIAMS, 24, OFFICE ADMINISTRATOR
HER OLD WAY:
"I was raised eating meat, and at one point, I was having beef, ham, pork, or bacon two to three times a day. I was tired all day, and in the evenings, it got worse. In college, I'd start out studying, then I'd take a 'nap' and not wake up until the next day."
HER ENERGY FIX:
"I read something about how meat takes three days to leave your system, and how animals are treated, and it seemed right to try giving up meat. I now get protein from fish, beans, tofu, veggie burgers, etc. It's working! I don't need as much sleep and can do more before I need a nap. Plus, my clothes fit better. I work with toddlers sometimes, and I wouldn't have been able to keep up with them on my old diet."
HOW GOOD IS IT?
Samiyyah relied on marbled, high-fat meats — and fat takes a long time to digest, sits heavily in your body, and causes inflammation, all of which can leave you feeling lethargic, Bauer says. It's good she cut back on meat, but it's equally great she's eating more fiber-rich foods such as vegetables and beans, which stabilize blood sugar and help her feel fuller longer. She didn't need to lose meat entirely to do this: She could have ditched the ribs and eaten pork tenderloin instead.
"I went organic"
THERESA WILSON, 31, MARKETING EXECUTIVE
HER OLD WAY:
"I'd have cereal for breakfast, ham and cheese for lunch, and chicken and veggies for dinner, with cheese and crackers or cookies for a snack. I used to be so tired, I'd have to get to bed by 9 p.m. Sometimes, I could barely function. Once, after I CC'd my boss on an e-mail, she asked what was wrong because my sentences were all jumbled."
HER ENERGY FIX:
"A lot of my friends swear that organic is the only way to eat, and I thought it might be healthier for me, too. I now stock up on berries and nuts, along with tofu, green tea, whole wheat, brown rice, quinoa, lentils, fruits, and vegetables. I eat every two hours, snacking on trail mix, hummus with carrots, bell peppers, celery, a smoothie with berries, tofu, or OJ. I'll even have a few mini lunches, such as whole-wheat bread with chicken and spinach or a supersalad with orzo or quinoa, mint, basil, and low-fat feta. People at work say, "Wow, you eat all the time," but my weight hasn't changed. Now, I don't need to get to bed until at least 11 p.m."
HOW GOOD IS IT?
"This is a classic case of how eating healthier in general can give you more energy," says Jeannie Gazzaniga Moloo, Ph.D., R.D., spokesperson for the American Dietetic Association. "Theresa's diet is higher in whole grains, fruit, vegetables, nuts, and seeds, all of which give you long-lasting energy." Switching to any healthier foods will do this; they don't have to be organic. Keep in mind, says Moloo, that "organic" doesn't necessarily mean healthier. "There are a lot of refined foods that are organic."
"I nixed processed food"
ZANDILE BLAY, 24, STUDENT AND FASHION BLOGGER
HER OLD WAY:
"I used to skip meals and eat 'event food' like hors d'oeuvres and drinks. I'd leave home at 7 a.m., skip breakfast, and not eat lunch until 2 p.m. To save time, I'd grab a Snickers or a piece of pizza. I wasn't able to multitask or tackle my deadlines, and I wasn't as alert at meetings. Even worse, going up subway stairs was more of a chore than a breeze, and I noticed I was becoming rounder."
HER ENERGY FIX:
"I knew I'd have a hectic schedule and would need all the energy I could get, so I made it a point to have breakfast every day. If I'm hungry, I eat a healthy snack: bananas, apples, grapes, and cherries. I'm careful about what I consume, and I plan what I'm going to eat for the day. I don't overindulge at events — no amount of free drinks or cookies is worth risking my health. It sounds boring, but tasting fresh fruits versus processed snacks and eating regularly has done wonders for my energy and my taste buds — and I've lost 15 pounds! It's not always easy; vending machines and event eating go with the flow of your life, but I like how I look and feel now so much more."
HOW GOOD IS IT?
Zandile, like so many of us, was living for work, says Bauer. It's no surprise she felt like crap. But by eating right during the day, her blood sugar stays stable so she won't screw up her healthy-eating program at events. There, she can look for more energizing foods, such as chicken skewers, sushi, cold shrimp, or crudités.
Celebrity news, beauty, fashion advice, and fascinating features, delivered straight to your inbox!