The 20 Best At-Home Fitness Equipment and Accessories
Alexa, play "The New Workout Plan."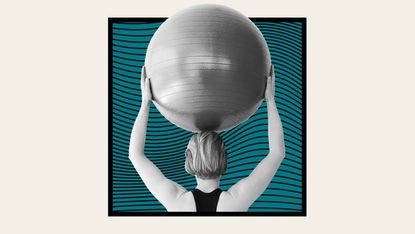 (Image credit: Morgan McMullen)
No matter where you are in your fitness and health journey, life during COVID-19 probably looks very different. Maybe you used to hit spin, boxing, and Pilates weekly and need a substitute for your beloved classes, or maybe you're using social distancing as an opportunity to try yoga or long-distance running for the first time. But with gyms and studios closed or at limited capacity across the country, it can be tough to find the equipment you need to optimize your workout and form a new routine that's isolation-friendly.
Fear not: The tools you're looking for (or don't even realize you need) can be delivered right to your door to help you create your own mini workout studio, even if your space is limited. When it comes to building your own personal fitness oasis, start by thinking about your goals, then go from there. Maybe you want to tone up a bit, get into yoga, or just blow off some election-induced steam. Then, pick out some pieces of equipment that'll help you reach those goals by targeting the muscles you want to flex, or ushering you towards the mental headspace you want to reach. And don't forget the accessories that'll amp up any workout—think wrist weights, a stretching strap, or a sweet new mat. Added bonus: some of them are cute enough to leave out after your sweat sesh has ended. Here, find the endorphin-spiking, form-fixing, muscle-quivering accessories that'll keep you on track and hitting new goals.
1/20
Bala Wrist and Ankle Weights
For Toning
To take any sweat sesh up a notch, slide on these Shark Tank-born bangles for extra resistance. The classic option only weigh a pound each, but don't underestimate them—they add more intensity than you think, can be used on both your wrists and ankles, and they're cute as hell, too. I'd move fast, though—they constantly sell out.
2/20
Tone Fitness Ab Wheel
For Abs
Bored of crunches? Kneel down, grip the handles of the wheel, then use your core to roll your body out flat and then back to your starting position. You'll be crazy sore in the morning, but that's the point, right?
3/20
Equipt Movement UBarre Weight
For Your Core
The most elegant weight you've ever seen has entered the chat. Use it to sculpt your abs with Russian twists and Pilates-inspired movements, then leave it on the coffee table as an objet d'art. (Maybe wipe it down first, though.)
4/20
Tangram Smart Jump Rope
For Cardio
If you can't fit a treadmill or rowing machine in your shared living room, jumping rope is a footage-friendly way to get your heart rate up. And this one records your fitness data and counts your jumps for you, so you can listen to a podcast instead of tracking your hops.
5/20
Theragun Body Massager
For Sore Muscles
Sure, it looks like something you'd find at Home Depot, but it's actually a shortcut to to quicker recovery and better performance. Based on percussive therapy—the use of rapid, short pulses against soft tissue to provide relief for sore muscles—the handheld massager comes with removable heads to target specific spots like your back, glutes, and feet. Fitness gurus and pro athletes spurred its cult following, but there's no shame in using it on the couch while you're binging Christmas movies.
6/20
Emoly Exercise Ball
For Your Obliques
It's been a workout staple since the '60s for a reason. Lay on it and use it for crunches or Russian twists, or pulse on it while you're working from home Dwight-style to strengthen your core.
7/20
REI Foam Roller
For Tight Muscles
This unassuming roller will unravel your knots and tightness if you've gone overboard on lunges. Stick the foam cylinder under your thighs or calves and rock back and forth—it feels intense, but major relief follows.
8/20
The DB Method Booty Machine
For Squats
If you don't nail down the right form, squats can end up working your quads more than your glutes, which means losing ample butt-sculpting power. Enter The DB Method, which puts you in the perfect position to shape your behind without putting stress on your joints. It folds up to fit under a bed in even the tiniest apartment, and it's been approved by one of Instagram's fittest families: Kim Kardashian gifted machines to her mother and sisters.
9/20
SPRI Kettlebell Weights
For Triceps
If you're looking to sculpt your arms and shoulders, reach for one of these neon-hued weights that'll give you a better grip.
10/20
P.volve Gliders
For Those Little Muscles
These little babies might not look like much, but slide them under your hands and feet and you'll feel the burn. Use them for lengthening and toning exercises that hit those hard to reach places like the crease of your butt and inside of the thighs. (Hot tip: the brand is offering a free 30-day trial right now.)
11/20
Renoj Booty Bands
For Glutes
Since many of us are still working from home, why not give our butts some definition while we're at it? Loop these around your thighs and flex, friends.
12/20
NordicTrack Adjustable Dumbbells
For Weight Training
If you share your space with a partner who's even more jacked than you are, these customizable hand weights are a wise investment. Rather than storing multiple pairs of free weights and switching them mid-pump, simply add or drop the rings from the handles to adjust the heaviness.
13/20
TRX Suspensions
For A Full-Body Burn
If free-weights aren't your jam, rig up these TRX straps and use your own body weight to tone your muscles.
14/20
Yosuda Stationary Bike
For Bike Beginners
This bike is basically the deal of the year: It offers a super-smooth ride, it's quiet, and it's got hundreds of rave reviews. We're sold.
15/20
SoulCycle Stationary Bike...With Classes
For Serial Spinners
If you're missing your spin classes more than ever, SoulCycle's at-home option is a worthy investment. The bike has a built-in screen so you can maintain a membership and climb those virtual hills with an instructor cheering you on.
16/20
Manduka Stretching Strap
For Flexibility
If you've been negligent about stretching in the past because you're in a hurry, now's the time to readjust your thinking. Loop this strap around your ankles, knees, and feet to prep your muscles to work and help them cool down.
17/20
mirror Virtual Trainer
For Guidance
For those who miss the motivation of a class or the intimacy of a private trainer, this hi-tech mirror will revolutionize your solo sessions. Yes, the price is steep, but for good reasons: the smart mirror uses an algorithm to compare each of your sessions, tracks your results, offers over 10,000 classes and matches you with a personal trainer for on-on-one coaching. Consider it your own private, boutique studio.
18/20
Life Energy Comfy Mat
For Yoga, and Everything Else
While its primary use is to help you find enlightenment in downward dog, this yoga mat is the perfect buffer to make all your floor exercises more comfortable. Fire up a new fitness app and get to it.
19/20
RDX Punching Bag
For Cardio
In the mood to absolutely destroy everything in sight lately? Same. Take all your 2020 aggression out on this easy-to-store standing heavy bag.
20/20
Iron Gym Pull-Up Bar
For Biceps
Never attempted a pull-up? Now's the time to start. Rather than overcommitting and drilling a bar directly into your wall, this one uses resistance to attach your doorway and stay there until you're tired out.
Celebrity news, beauty, fashion advice, and fascinating features, delivered straight to your inbox!
Taylore Glynn is the Beauty and Health Editor at Marie Claire, covering skincare, makeup, fragrance, wellness, and more. If you need her, she's probably roasting a chicken, flying solo at the movies, or drinking a bad Negroni at JFK.