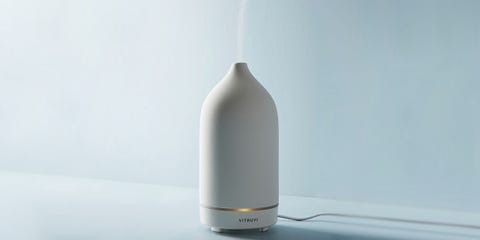 I love a great candle just as much as the next person (okay, maybe more), but oil diffusers—specifically electric ones—have officially made their way into my heart. The natural oils inside of them provide major health benefits (hello, stress-relieving lavender oil), and they're money-savers because you don't have to constantly worry about re-stocking your favorite candles or diffuser sticks before they burn out. The next time you want to refresh your home's vibes, plug in one of these top electric oil diffusers, below.
Serene House, $40
Not only was this oil diffuser created with every design-lover's dreams in mind, it also has a built-in timer and automatic shut-off, so you can leave the house without worrying about wasting the oil when you're gone. The timer has 60- , 90- , or 120-minute options to make sure you're not using too much at once, and you can diffuse it with any oil from peppermint to cypress.
Airomé, $33
This elegantly designed diffuser is the perfect addition to your bookshelf—enhancing, rather than distracting from, your next #shelfie. Its two mist modes include "continuous for three hours" or "intermittent for six hours" until the oils are dry, a.k.a. you don't have to keep turning it on or off.
AromaTech, $282
All that glitters is...this gold diffuser that uses cold-air diffusion technology to spread the oil throughout the room. It's a little on the pricier side, but for good reason—it quite literally lets you control the scent intensity level throughout a 1,000+ square foot space so you can bless yours—and your next door neighbor's apartment.
InnoGear, $16
If the 13,000+ Amazon reviews of this InnoGear diffuser and its spot as the #1 best-selling diffusers doesn't scream "buy me," let it be known that you can change the color of the LED lights based on your mood. It's built to last up to 11 hours in intermittent mode, and will also keep your lips from chapping in the winter with its humidifying power.
HoMedics, $80
Minimalists will appreciate this beautiful glass diffuser that not only makes your home smell amazing, but is also equipped to play relaxing music to soothe you on your most stressful days.
Earth Luxe, $70
Get back to the basics with this bohemian Earth Luxe ceramic wood diffuser that will help increase concentration and clarity when the essential oils are released into the air. It has a run time of two-and-a-half hours before you need to refill it with water and oil.
Mogu, $60
If you thought the diffuser with built-in music mentioned earlier was genius, enter the MOGU diffuser that lets you sync up your playlist via bluetooth while you're clearing out any negative vibes in your space. Bonus: Unlike 99 percent of oil diffusers, a bottle of lavender oil actually comes with it, so you can save a little money.
This Works, $102
This portable diffuser comes in handy if you don't want to buy two separate ones for the home and the office. It's about the size of a book and lightweight enough to fit into your suitcase so you can feel at home no matter where you are in the world.
SpaMist, $15
Two words: remote control. For only $15, you get some aromatherapy bliss without having to move from your couch. I'd say that's a pretty great deal.
SpaRoom, $46
Match your diffuser to your countertops with this one from SpaRoom. It lasts up to 10 hours and offers a bright or soft white ambient light to create a calming environment. Consider giving it to your friend as a housewarming gift so she's finally unable to unwind and appreciate her new place.
Diptyque, $350
What if I told you that you can get a diffuser and not have to give up your favorite Baies scent from that candle brand we all know and love? This one is specifically designed for Diptyque oil cartridges, which means your candle excuses are over.
12
More Porcelain, Please
Vitruvi, $119
Put this handcrafted porcelain diffuser anywhere in your home and witness the magic of its ultrasonic technology that fully distributes the oils in the air. It will automatically turn off when you run out of water and might even be mistaken for a new piece of decor.
SpaRoom, $53
Immediately feel at peace just by looking at this zen diffuser. It operates at a high level for up to four hours, a medium level for up to five hours, and a low level for up to eight hours.