12 Games to Play With Friends While Quarantined
The ultimate bragging rights? Winning game night.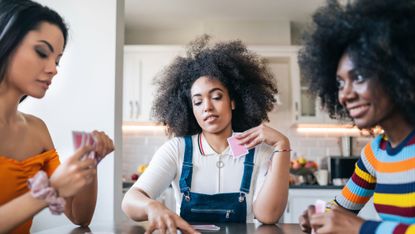 (Image credit: valentinrussanov)
It's where we test our wits and sometimes our singing abilities: game night. Now that we're all social distancing at home with roommates and family, any kind of entertainment is good entertainment. Sure, there are a ton of family-friendly movies fit for everyone and a bunch of new podcasts you can treat yourself to (and don't even get us started on Tiger King—we couldn't get enough of it). My point is this: There's nothing like a good old' game night to get the gang back together again. There's just something about sitting around a table with the people you love as you battle it out for bragging rights to...something.
The games on this list aren't your usual run-of-the mill board games. They require you to sing a lyric or two, draw an object beyond your imagination, or even try to become the leader with the most land in Westeros (hi, GOT fans!) Sure, there's nothing like a classic like Risk, but you know what they say: Out with the old and in with the new. Ahead, I found some new games to add to your next game night to make it a step above the rest.
Imagineering Company, LLC 'Whatchamadrawit'
See who's the best artist among you with this hilarious drawing game. Before each round, you'll set a one-minute timer and pick a judge, and contestants have to draw a picture to the best of their ability from fun prompts, like "a lollipop having a conversation with a chocolate bar." The chosen design is the winner.
Urban Outfitters 'Who's Most Likely To'
Reminisce on that superlative you may or maybe hadn't been awarded in high school with this creative card game. There are no winners here, unless you count being named "Most likely to wake up with half a burrito in bed" the ultimate prize.
Wavelength is the social guessing game that puts you to the test on whether your friends and family are on the same wavelength as you. Each team take turns rotating the dial to where they think the hidden bullseye is located, based on the clue that the Psychic, the only person who actually knows where it's located, gives them. Card topics cover things from "good-bad" to "hot-cold." So let's say you'd drawn the "hot-cold" card and the bullseye was more on the "cold" side, the Psychic would give you a one-worded clue, like "fruit." The closer your guess to the bullseye, the more points your team gets. Whatever team has the most points at the end wins.
PRINTWORKS Movie Geek Trivia Game
Calling all movie fanatics: Test your knowledge of film with this card game. Broken down into two categories titled "The Essentials," worth one point, or "Hardcore Trivia," worth two points, you'll be shown a drawing of a character from a movie and have to choose one of the questions from the two categories. The team at the end with the most points is deemed the streaming champ.
Monopoly Game of Thrones Board Game
Okay, sure, this can be deemed a "classic" board game, but may I tempt you by saying the winner gets to sit on the Iron Throne? Yep, you're playing for the hottest seat in Westeros. Choose from one of the Great Houses to pledge your loyalty to and get your mind into realtor mode.
Ridley's Sing It Back: Music Quiz
Find out who puts their Spotify membership to good use in this musical game. One player must sing a lyric from a famous song that they read from playing cards, while other players try to sing the next lyric in the song to get points.
Spin Master Games Hedbanz Adulting
It's the updated version of "What am I?" and features cards that star popular TV shows, professions, apps, and more. Each person only has 90 seconds to ask their team "Yes" or "No" questions to figure out what they are. First team to five points wins the game.
Inspiration Play 'Double Ditto'
Someone draws from one of the 400 cards that features phrases ranging from 'Items found in a glovebox" to "Talents you wish you had" playing members then have 30 seconds to write two phrases they think other players will write down. When time is up, each time someone reads off a phrase you wrote cross it off. If you're able to cross off both during the round, let the people know by yelling "Double Ditto!" The game can end there, or you can keep going as you please.
Urban Outfitters Slide Into The DMs Card Game
Don't start freaking out—this game doesn't actually require you to slide into someone's DMs. Well, not literally, anyway. In this card game one person will put down a DM convo with a missing word. The other players then put down the best word they can think of to fill that space. Whoever's card get chosen wins the round!
It's like the card game Spoons you probably grew up playing, but with burritos. The object of the game is to find three matching cards first, all while dodging flying burritos your friends (or you) are throwing around the room to try and distract you. You definitely don't want to play this around the fine china.
Buffalo Games Exploding Kittens LLC Watch Ya' Mouth Ultimate Edition
The dishwasher-safe mouth pieces are to be inserted into all the players' mouths, and each player must attempt to speak out a phrase that their team members need to guess. Who knew a game that makes you feel like you're at the dentist could be so fun?
Czech Games Codenames Board Game
Channel your inner 007 and try to give hints to the secret words you and your partner have on the board before the other agents finish their mission. It's crazy fun, and a game can usually be played in under 15 minutes or less.
...
For more stories like this, including celebrity news, beauty and fashion advice, savvy political commentary, and fascinating features, sign up for the Marie Claire newsletter (subscribe here).
Bianca Rodriguez is the Fashion & Luxury Commerce Manager at Hearst Magazines, covering fashion, beauty, and more for Cosmopolitan, Elle, Esquire, Harper's BAZAAR, and Town & Country. She likes lounging about with a good book and thinks a closet without platform sneakers is a travesty.