How to Throw a Virtual Game Night This Weekend
Game night, but make it social distancing.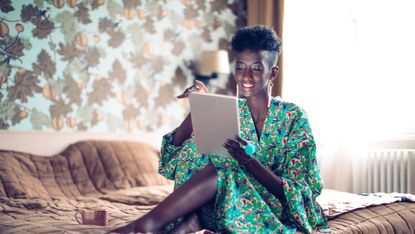 (Image credit: Eva-Katalin)
Marie Claire Newsletter
Celebrity news, beauty, fashion advice, and fascinating features, delivered straight to your inbox!
Thank you for signing up to Marie Claire. You will receive a verification email shortly.
There was a problem. Please refresh the page and try again.
No matter where you are in your social distancing journey, we can all agree: Few things sound better than a night with friends or family doing absolutely anything but scrolling through Netflix for the millionth time. Thankfully, you can throw a virtual game night this weekend—the world is your app store, and a entertaining evening is only a FaceTime or Zoom call away.
Now, I understand not everyone (or everyone's family and friends) are super tech-savvy, so I've broken down these 12 games ahead into three different categories 1) for online gaming beginners; 2) family-appropriate games for every age; and 3) for your friends' eyes and ears only.
Let the games begin!
When the Gang's All Together Again
It's the game that has surpassed generations of technological advances, and it's finally made it to the final boss of them all—your phone! Yes, your favorite game as a child, teen, and young adult has made it to the screen you cherish the most. Race up against seven other players (as long as they're in-game friends). The game rings up to $5 a month, but to me, that's just another vanilla iced latte I would've grabbed on the way to work.
'Heads Up! on Houseparty'
You may recognize this guessing game from The Ellen DeGeneres Show, where a contestant has a limited amount of time to guess the hidden word that's on their phone that they are holding to their forehead from the clues their friend gives them. Now, since the universe loves us, it's available on the video chat app Houseparty. It's all the fun, but without leaving your couch.
'Drawful 2'
It's time to put your friends to the (creative) test. Drawful 2 is like the same concept of drawings games you loved as a kid like Pictionary, but with a weird twist. You'll illustrate everything from a "Smelly CEO" to a "Shaved Bear." Then your friends will type in what they think the drawing is, and those will become the multiple-choice wrong answers. Then everyone, and whoever else is online worldwide, will try to guess the answer. Get ready to laugh really hard.
'All Bad Cards'
The famed game Cards Against Humanity gets an online reboot that can be played with up to 50 of your friends. Just have one lovely player head over to the website and click the button that let's you set up a new game. From there, the site will then ask you to type in your nickname, and after that, you'll get a shareable link to invite other people. Once everyone's ready, click the start button to kick off the game. (And if you don't have a bunch of friends hanging around, you can select up to 10 computer players to play you BTW.)
When Mom and Dad Are Online
Forget Scrabble and bring your parents up to speed with the fun that is Words with Friends. It's all of the fun of the timeless word game, but you can catch people more easily if they're trying to get away playing a word that's definitely not in the dictionary (I see you, Dad). You can currently only play two-player games, but don't let that stop you.
'Exploding Kittens'
My mother got me into this odd but super fun game, and it's been a staple for our family games night ever since. When I discovered this game had an equally-fun app, I knew I had to spread the word. It's a feline-themed version of Russian Roulette where you draw cards that help you stay in the game, all while avoiding the wrath of pulling the Exploding Kitten card from the pile.
'Sing It Back: Music Quiz'
Karaoke is either A) only for the really close friends, or B) the people you share part of your DNA with, a.k.a your family. This is why Ridley's Games, Sing It Back, is great for virtual game night with the fam. Whoever owns the game will probably have to sit out for its duration to play the job of the singer. They'll have to belt the line of a famous tune, and it's the responding team's job to sing the following lyric back to them. Get those vocal cords ready!
'Monopoly'
It's the classic board game you love, but now it's digital. See who can own the most property in Atlantic City with four other family members in the online multiplayer version. You can even create a custom game with your family's favorite house rules, so it's like you never left your kitchen table.
When You're Playing with Newbies
Self-explanatory, so I'll keep it brief. Charades is a game of guessing a word your team member is acting out from a pile of suggestions that they randomly picked. Whoever guesses the most words correctly wins. In a perfect world, only two people would be in on the FaceTime/Zoom call acting as the liaison for each team, but it's okay if that doesn't happen here.
Related Story
'Would You Rather'
Settle ongoing debates for good—like, Coke vs. Pepsi. Or, if you're feeling really creative (and there are kids in the chat), pitch ideas like: Would you rather be able to fly or read minds? It's the chameleon of games and can morph for all ages. Best of all? Everyone's a winner!
'20 Questions'
Forget the game you spent as a teenager texting your crush, and look at it with a 2020 lens. Pick an object, famous person, place, etc. and have people ask up to 20 questions about what you are. It's super easy and requires no planning before getting on FaceTime.
'Bingo'
Bingo is like the Dolly Parton of board games. Everyone loves her! The game is easy to play, it's hard for anyone to cheat (at least virtually), and you can go through around in a short amount of time. So, like perfect, if you and your extended family got the short attention span gene like me. Head on over to websites like My Free Bingo Cards to play a traditional game with a virtual caller, or set up your own with fun categories that revolve around a movie or TV show everyone loves.
Related Stories
Chic Puzzles for Those of Us Still Staying Inside
Level Up Your Next Zoom Call With a Fun Game
Celebrity news, beauty, fashion advice, and fascinating features, delivered straight to your inbox!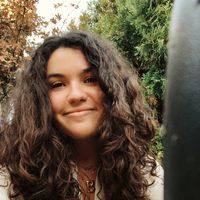 Bianca Rodriguez is the Fashion & Luxury Commerce Manager at Hearst Magazines, covering fashion, beauty, and more for Cosmopolitan, Elle, Esquire, Harper's BAZAAR, and Town & Country. She likes lounging about with a good book and thinks a closet without platform sneakers is a travesty.