31 Luxury Candles to Treat Yourself to Because You Deserve Something Nice
Just in case you forgot that we're still in a pandemic!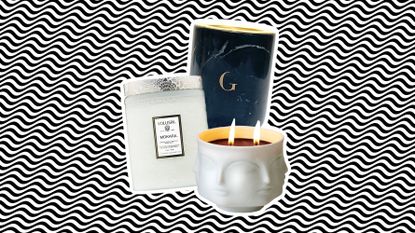 (Image credit: Design By Morgan McMullen)
Marie Claire newsletter
Celebrity news, beauty, fashion advice, and fascinating features, delivered straight to your inbox!
Thank you for signing up to . You will receive a verification email shortly.
There was a problem. Please refresh the page and try again.
Now more than ever, it's important to find joy in the little things. And sometimes, those little things are luxury candles (opens in new tab). Lighting up a great-smelling scent can make the 11th hour of sitting on your couch more bearable when you suddenly get a whiff of sea salt, transporting you to a beach in New England. Most importantly, these candles are just really pretty, and you deserve to treat yourself to one (or three!) to make your home (opens in new tab) feel that much cozier. Shop our favorites, ahead.
1/31
FJORD Scented Candle
Want to feel like you're transported to a rainforest surrounded by waterfalls? Skandinavisk's FJORD candle can help with that. The candle company, which is a certified B corporation, is dedicated to sustainability and protecting the planet. This candle, infused with notes of woods and ripening orchards, wild berries, blackcurrants, and raspberry flowers, will burn for up to 45 hours.
2/31
Capri Blue Volcano Matte Black Jar Candle
Anthropologie's beloved Capri Blue Volcano candle just got a major upgrade thanks to its sleek matte black exterior. As any Anthro loyalist knows, the fresh floral scent will captivate the room for 70 (!) hours.
3/31
Better World Fragrance House Winter Warmth Candle
Drake's Better World Fragrance House released its newest scent, "Winter Warmth," to get us through a dark and cold winter. With a woody, aromatic scent, this candle pairs nicely with "Marvin's Room" softly playing in the background.
4/31
P.F. Candle Co. Golden Hour Soy Candle
Where are my fellow Tauruses at? P.F. Candle Co.'s Golden Hour soy candle was made for earth signs who love a good sunset. Light this one up as you watch the sun go down from your window for a perfect magic hour!
5/31
Nest Fragrances Ocean Mist Classic Candle
If you've never spent more than $15 on a candle, make the jump with a classic like Nest's ocean mist candle blended with ocean mist, sea salt, white tea, and coconut. It has a 50-hour burn time.
6/31
Joe + Monroe Cashmere Vanilla Candle
Joe + Monroe's cashmere vanilla candle—composed of a musk, sheer vanilla, and sandalwood base topped with pear, bergamot, and peach blossom—looks way more expensive than it is and is *chef's kiss* for the transition from winter to spring. The best part? The coconut wax is gluten-free, toxin-free, paraben-free, and phthalate-free.
7/31
Hotel Lobby Candle Hotel Lobby Paris Nuit Candle
Experience a 65-hour stay in a sexy Parisian hotel by lighting up Hotel Lobby's Paris nuit candle—equipped with notes of black musk, wood, rum, and mahogany.
8/31
THE WELL Sun Salutation Candle
Who needs freshly-squeezed oranges? THE WELL's sun salutation candle, made entirely out of plant botanicals, emits a citrus-y scent of sweet orange, complex neroli, and orange blossom.
9/31
Harlem Candle Co. 22K Gold Speakeasy Cocktail Glass Luxury Candle
If you miss going on dates at fancy cocktail bars, Harlem Candle Co. makes a gorgeous candle that releases a blend of blackcurrant, tart mandarin, crisp green apple, juicy pear, and more in a jar that doubles as its own cocktail glass after it's fully used.
10/31
Otherland Canopy Candle
California fig. Ivy greens. Summer dew. Otherland's canopy candle basically screams "a trip to the rainforest" without having to leave your apartment.
11/31
Jonathan Adler Muse Noir Candle
Talk about a statement candle. If not for the bergamot and black plum mixed with amber and vetiver, purchase Jonathan Adler's Muse Noir candle for the chic design alone.
12/31
Forvr Mood Matcha Business Candle
Today's productivity is sponsored by Forvr Mood's blend of coffee, lavender, and vanilla in this cheeky "Matcha Business" candle.
13/31
Diptyque Figuier Scented Candle
Every candle hoarder has heard of the famous Diptyque candles, but few have actually made the investment into one of the bigger sizes with five wicks, handmade in the South of France. Earth signs will appreciate the Figuier scent emulating the smell of figs and fresh leaves.
14/31
Predominantly Black A Madness Candle
Forget the delicious mix of orange citrus, cranberry woods, and orange fig—the pretty silhouette on the exterior is enough to make me want to buy three of these.
15/31
Mojito Candle
Yes, you read that correctly. Happy hour just got a whole lot boujier thanks to Malin + Goetz's mojito candle that has a top scent of lime, mint leaf, and bergamot.
16/31
Gilded Body The Nero Marquina Marble Scented Candle
Gilded's marble candle belongs on every coffee table. Choose from a variety of fragrances like limestead, eavestone, fig tree, cannabis flower, orange blossom, peach, peony, tobacco & cedar, and lavender with a 40-hour burn time.
17/31
La Montaña Fig Grove Scented Candle
Allow the smell of ripe fig trees and jasmine to fill the house thanks to La Montaña's fig grove scent.
18/31
Le Labo Santal 26 Candle
Le Labo's widely known for its cult-favorite Santal 33 scent. Now, the brand has taken its Santal 26 scent and transformed it into a candle. It has a 60-hour burn time and releases notes of amber, coco, vanilla, cedar, spices, musk, and sandalwood.
19/31
Sensual Candle Co. Shai Sensual Candle
Sensual Candle Co.'s luxury coconut wax blend Shai candle, hand-poured in Miami, Florida, is a sultry combination of lavender, citrus, cedar, musk, amber, and oakmoss.
20/31
Tom Ford Lost Cherry Candle
When Tom Ford makes a cherry-scented candle that's "a full-bodied journey into the once-forbidden," you know it has to be good.
21/31
Laguna Candles Ceramic Black Candle
Find a chicer candle than this matte black ceramic one from Laguna Candles. I'll wait. When you're finished burning it, transform it into a nice serving bowl.
22/31
Boy Smells x Kacey Musgraves Slow Burn Candle
Country singer Kacey Musgraves partnered with Boy Smells to develop a special scent, "Slow Burn," named after her song (opens in new tab). With the candle's calming blend of incense, black pepper, and guaiac wood, Musgraves is encouraging everyone to slow down, relax, and simply appreciate our existence.
23/31
La Boticá Casablanca Candle
With 80 (!) hours of burn time, La Botica's vegan, cruelty-free, and phthalate-free Casablanca candle smells like summer in a glass. Who needs the beach?
24/31
Voluspa Mokara Large Glass Jar Candle
Every time I light up Voluspa's Mokara candle, I receive compliments from friends and family who are in my apartment. It's a clean scent made of orchid, lily, and moss that will become apart of your aesthetic moving forward.
25/31
Lumira Sicilian Citrus Scented Candle
From its dark exterior, you wouldn't be able to tell that Lumira's candle radiates a fresh citrus scent mixed with jasmine, tuberose, and orange blossom petals. Who needs a trip to the Amalfi coast, anyways?
26/31
The 125 Collection Do No Harm Candle
The 125 Collection keeps it real on every candle it makes with cheeky sayings like, "Do no harm, but take no sh*t." Fun fact: Actress, comedian, businesswoman, and bestselling author Phoebe Robinson loves the brand, and has a personalized collection in her office!
27/31
Marie Hunter Beauty Peony Signature Candle
Marie Hunter Beauty wins the record for the most burn time yet at 90 (!) hours. Its Peony signature candle is inspired by a romantic spring night, which we're all a bit nostalgic for at this point.
28/31
Bohéme Wanderlust Candle
Choose from six captivating scents, including one reminiscent of the Joshua Tree desert, when ordering one of Boheme's luxurious colored glass vessels. Each candle approximately has a 50-hour burn time.
29/31
Apotheke x She Hit Pause Scented Candle
Make your living room feel like a summer escape thanks to Apotheke's iridescent glass candle that releases a blend of coconut, vanilla, patchouli, and amber.
30/31
Jo Malone London English Oak & Redcurrant Scented Home Candle
If you don't buy Jo Malone's English Oak & Redcurrant candle for yourself, gift it to the perfume lover in your life who's surely a fan of the luxury brand.
31/31
Roen Ojai Nuit Candle
For those of us longing for a trip to the West Coast, Roen's Ojai Nuit scent will help satisfy the wanderlust until it's safe again to travel. Expect a clean scent, and a daily reminder to take that walk after work.