The 12 Best Makeup Brushes, According to Pros and Editors
The Kevyn Aucoin The Duet Foundation Brush is our desert island pick.
(Image credit: Getty)
Marie Claire Newsletter
Celebrity news, beauty, fashion advice, and fascinating features, delivered straight to your inbox!
Thank you for signing up to Marie Claire. You will receive a verification email shortly.
There was a problem. Please refresh the page and try again.
Application is everything when it comes to makeup. Having the right tools at your disposal makes the difference between blotchy blush and perfectly rosy cheeks, glaring bronzer lines and a sun-kissed complexion, or patchy eyeshadow and a cut crease blended to perfection. Your fingers and a makeup sponge have a time and place, but if you're chasing a professional-grade finish, enlisting the help of the best makeup brushes is the logical solution.
"Makeup brushes provide a more precise and controlled application. They make your makeup look more natural and refined. Brushes are designed to target specific areas of the face, such as the eyes, cheeks, or lips, with greater accuracy than sponges or fingers," explains Benjamin Puckey, Clé De Peau Beauté's Global Color Director. "Brushes allow for better control over the amount of product applied because they let you pick up the desired amount of product and evenly distribute it onto the skin."
Curating a well-rounded lineup can be an intimidating task—I get it. That in mind, I've tapped the best makeup artists in the business to break down the makeup brush landscape—starting from the basics. From how to decide what type of brush fibers will work best for you to knowing what density brush plays best with powder, cream, and liquid formulas, everything you need to know about selecting the best makeup brush is ahead.
What to Look For in Makeup Brushes
You want to pick a brush that makes since for the area you're working with. The two main factors: Size and shape. "For larger areas of the face, I like to use a larger fluffier brush," explains makeup artist Lisa Aharon. Flat or paddle-shaped brushes will be your go-to for foundations and powders, but dome shapes are more versatile and ideal for blending products like blush or bronzer.
Makeup brushes are going to fall into two camps: Natural and synthetic. Natural brushes are known to be softer finish, however many times they're made from animal hair. "Synthetic brushes don't shed hair like natural bristles tend to do," explains Puckey. "They give me the same results as natural bristles and are typically made from materials such as nylon or taklon, while natural bristles are derived from animal hair, such as goat, squirrel, or sable."
The formula you're working with (cream, powder, or liquid) will determine how dense of brush you should look for. "The more dense the makeup the firmer the brush, as it needs to pick up the heavier product," explains Aharon. That being said, a denser brush will be ideal for pressed powders, whereas a less dense brush works well for loose powders or cream formulas.
The Best Makeup Brushes
The Best Foundation and Concealer Makeup Brushes
"For liquid or cream foundations, synthetic brushes with densely packed bristles are preferred. These brushes provide a smooth and even application, allowing you to blend the foundation seamlessly into the skin," explains Puckey. "For powder foundations, a large, fluffy brush is ideal for a lightweight and natural application."
The Best Concealer Makeup Brush
Clé De Peau Beauté Concealer Brush
"For concealer, I always use Clé De Peau Beauté's Concealer Brush, which is a densely packed flat synthetic brush with a rounded tip," explains Puckey. "It works great to smooth out concealer and precisely cover blemishes and discoloration." The domed shape is perfect for packing product over imperfections and getting into all the little under-eye crevices.
The Best Makeup Brush for Foundation
Kevyn Aucoin The Duet Foundation Brush
If you're struggling to part ways with your finger application, I challenge you to take this dual-ended Kevyn Aucoin foundation brush for a spin. The dome-shaped end is designed to mimic the shape and pressure of a finger, so you'll easily be able to achieve the sink-into-the-skin effect. Then, just flip your brush around to the fluffier side and you can blend and buff out any streaks or cakiness. It's truly a dynamic duo that'll work on any formula, be it cream, powder, or liquid.
The Best Powder Makeup Brushes
"For powder, I prefer a medium-sized domed brush with soft bristles that give a light and even application," says Puckey. The density will vary depending on the shape of the brush and desired finish.
The Best Makeup Brush for Loose Powder
Hourglass Veil Powder Brush
I don't bake my face anymore (I'll leave that beauty trend in the early 2000s), but a good loose powder brush is still an integral part of my routine. Without a swipe or two, or three, of translucent powder, my under eyes will crease and my complexion is going to be wayyyy too shiny. Enter: Hourglass' powder brush, a dual-ended tool that's designed to grip every area of the face. The smaller end is perfect for the under eyes, while the fluffier side is ideal for sweeping translucent powder across the entire face. The fibers are made of synthetic PETA-approve fibers as well.
The Best Brush for Powder Highlighter
Nars #15 Precision Powder Brush
"I love Nars' #15 Precision Powder Brush, which is a smaller tapered brush made from soft synthetic hair for precision powder application," says Puckey. "It also works great for powder highlighters." The small, tapered design is perfect for sweeping a little shimmer on the high points of your cheeks, across your cupid's bow, or along the brow bone.
The Best Bronzer and Blush Makeup Brushes
"Powder bronzer is best applied with a large and soft domed brush because a bigger brush gives a lighter and instantly blended application," says Puckey. "Cream bronzer and blush are better applied with a denser synthetic brush to seamlessly blend them into the skin."
The Best Makeup Brush for Bronzer
Merit Brush No. 1 Tapered Blending Brush
Whether you're working with a powder, cream, or liquid bronzer, this brush has you covered. The shorter handle provides intense control, while the densely-packed synthetic bristles ensure that there is no stark bronzer line in sight. With firm pressure and few, circular brush strokes, it'll be impossible to differentiate where your foundation ends and bronzer starts. In order to avoiding going too heavy, I recommend dabbing off a bit of product on the top of your hand before taking the bronzer brush to the skin.
The Best Makeup Brush for Contour
Patrick Ta Major Sculpt Dual-Ended Sculpting Brush
Layering cream and powder formulas on top of one another is a trick beloved by the pros—it's the key to creating long-lasting wear, deeper dimension, and a slightly intensified finish. This brush was created for exactly that. The angled end is great for cream contours or swooping pigment along your jawline, forehead, and the bridge of your nose. Buff it out before layering your powder bronzer over the top with the fluffier end of the brush. If you want to take a page out of Ta's notebook, flip the script and put your powder on before your cream.
The Best Makeup Brush for Blush
Real Techniques Blush Brush
Great brushes don't have to be crazy expensive. Case in point? This Real Technique Blush Brush. It is perfectly fluffy, which is ideal for applying blushes of the cream variety. Just swirl it in your pigment and lightly stipple the product onto your cheeks. If you want a less intense look, move your brush in light, circular motions—the more pressure you use, the more pigment you'll see. If you clean your brush, you can also use it for loose powder or bronzer.
The Best Eyeshadow Makeup Brushes
At a baseline, you need two distinct eyeshadow brushes—a fluffy brush and a firm brush. "Firm brushes will deposit color and fluffy brushes will blend and diffuse," explains Anastasia Beverly Hills Pro Artist Talia Cich. "Great eye brushes will make your makeup application faster and easier." If you really like to play up your artistry, you may want to scope out the scene for a defining brush that can perfect pigment on the lash line or cut crease.
The Best Eyeshadow Brush for Packing Pigment"
Anastasia Beverly Hills A13 Pro Brush
"This is ideal for applying eyeshadow to the lid with maximum payoff," says Cich. The dome shape and densely packed natural fibers make this little guy ideal for packing color directly onto the lid. It's going to play nicely with cream and powder products, but it's one of my personal favorites for applying glitter pigments—I swear it minimizes fallout. Pro tip: You can also drag the tip along your lower lash line for added dimension.
The Best Do-It-All Eyeshadow Brush
Makeup By Mario E 3 Makeup Brush
I'm not an eyeshadow pro by any means, but I'll be damned if this particular brush doesn't make me feel like one. It feels natural in my hand and truly does everything I could ever need. If I hold it flat, it allows me to build up pigment, whereas if I tilt the positioning to a 45 degree angle it's an expert blender. All it requires is feather-light pressure and my eyeshadow becomes blended to perfection, with no harsh lines or stark delineations.
The Best Eyeliner Brush
Mykitco 1.17 Pro My Tiny Angle
"I can't live without Mykitco's 1.17 Pro My Tiny Angle eyeliner brush for perfect wings and kitten flicks," says Puckey. The brush is made from fine, synthetic fibers and provides optimal control for little detailing. Applying eyeliner with a brush may take a minute to get the hang of, but if you master the technique the world of graphic eyeliner is your oyster.
The Best Eyebrow Makeup Brushes
Tapered or angled brushes are going to be ideal for eyebrows, according to Puckey. They'll provide increased control and precision, so you can deposit products exactly where you want them. Firm, synthetic fibers are going to be your best bet, according to Clich.
The Best Makeup Brush for Eyebrow Definition
Tom Ford #16 Angled Brow Brush
Hold this eyebrow brush for a mere five seconds and you'll feel the luxury. The lacquered handled, expertly weighted design, and angled, synthetic bristles come together to create an intuitive tool that's equipped for all of your eyebrow needs. It can define your arches, deposit fluffy strokes, and diffuse pigment with ease. The bristles really grip onto the product, so don't feel like you need to press hard to get payoff—a light touch is all you need.
The Best Makeup Brush for Eyebrow Grooming
Bobbi Brown Dual Ended Brow Definer
I'll be honest: I'm a brow gel and go type of girl. However, if I'm trying to execute a brow moment, this single brush is my best friend. I grab my favorite pomade and ever-so-lightly deposit hair-like strokes into my brows, filling in any gaps and strengthening my border. Then, it's just a little flip of the brush and I can comb through my brows, diffuse the pigment, and create a natural-looking finish. If I'm really in a pinch, I'll also use the angled end for eyeliner—who doesn't love a multi-purpose product?
Meet the Experts
Benjamin Puckey is a New York-based makeup artist. Born in London and raised in Amsterdam, Puckey's visionary talent grew from a lifelong love for fashion and art. Puckey's conceptual approach to makeup has since launched his career into high fashion titles and leading designer brands around the world. Since his breakthrough fashion spread with W Magazine in 2011, Puckey's work has appeared across international editions of numerous publications such as Vogue, Dazed, iD, W Magazine, Allure, and Harper's Bazaar.
He has also worked with brands including Ralph Lauren, Versace, and Oscar de la Renta, as well as jewelry houses David Yurman and Van Cleef & Arpels. Puckey's trademark approach to enhancing natural beauty and his pursuit of uncompromising quality resonates deeply with Clé de Peau Beauté, where he now serves as the brand's Global Color Director.
Lisa Aharon is a New York-based, Vancouver-born makeup artist. She specializes in highlighting her clients' natural beauty by creating flawless skin looks, working regularly with a wide variety of high-profile clientele, the likes of Rachel Brosnahan, Florence Welch, Gwyneth Paltrow, Kate Bock, and Anna Kendrick, among others. Her work lives in the pages of Cosmopolitan, L'Officiel, The New York Times, Elle, Schön! Magazine, et al, and Aharon has worked with major brands and photographers such as Ralph Lauren, David Yurman, Annie Leibowitz, and Jurgen Teller.
Talia Cich has more than 14 years of experience in the cosmetics industry, working for top beauty brands as well as gaining exposure in the world of freelance. The makeup guru's expertise includes beauty, editorial, special FX and body painting—which eventually helped her land a director position at major beauty label, Anastasia Beverly Hills. Cich's passion for makeup is driven by the power of transformation and empowering others to feel their best.
Celebrity news, beauty, fashion advice, and fascinating features, delivered straight to your inbox!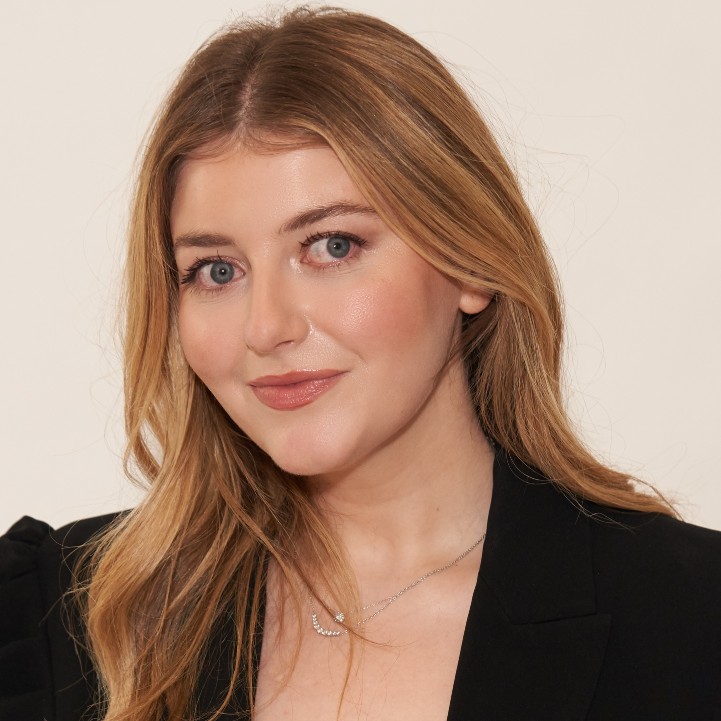 Samantha Holender is the Beauty Editor at Marie Claire, where she reports on the best new launches, dives into the science behind skincare, and keeps up with the latest trends in the beauty space. She has previously written for Us Weekly, Popsugar, Makeup.com, Skincare.com, and Philadelphia Wedding. Follow her on Instagram @samholender.