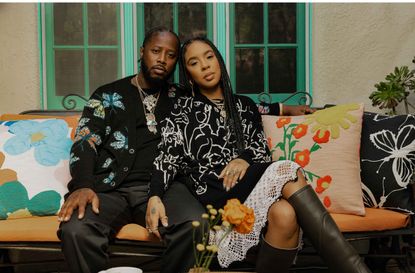 (Image credit: Nordstrom By Cristina Martinez)
Women's History Month rolls around each year and I find myself seeking tangible ways that I can champion other females. This month can be enlightening, overflowing with the celebration of women's achievements; more often than not I leave it to an Instagram square to do the talking for me. But how do we support the women that are across the table from us and also across the world? We know that only good things come when women are given the chance to take up space and be supported in doing so.
One of the best ways to support women—or any other group of people for that matter—is to invest in them. We've all heard "put your money where your mouth is" (cue: Katy Perry, "Waking Up in Vegas"). In addition to being a great one-liner, this statement rings true—especially today.
That's why I find shopping at Nordstrom so fulfilling. They make it incredibly easy to shop brands whose founders or owners identify not only as female but also AAPI, Black, and Latinx too.
Right now, for Women's History Month, the retailer has dedicated space to feature some of their most loved female-owned or -founded brands. I didn't even realize some of my favorites were female-owned!
A.L.C, which was founded by Andrea Lieberman (she styled J.Lo at the 2000 Grammys, how iconic), offers effortless, modern clothing.
Nanushka, which is known for its fusion of bohemian and minimalist style.
Outdoor Voices, THE cult favorite for high-performing activewear.
Eleven by Venus Williams, whose fashion-forward athletic gear, designed by the tennis champion herself, can make anyone want to exercise (trust me).
Clean and inclusive hair care brand, Briogeo was founded by Nancy Twine, whose family tradition is making natural beauty products.
London-based brand, Sweaty Betty's activewear can take you from day to night, seamlessly.
Nordstrom's collaboration with contemporary artist Cristina Martinez is a personal favorite of mine. She created bold and captivating art exclusively for this collection. Not only is Cristina an inspiring female artist, her work also captures and amplifies the untold stories of black and brown people.
But celebrating all includes identifying areas of needed growth. At Nordstrom, 67 percent of overall employees are female and more than 57 percent of executives are female. Yet, they've also shared that only 29 percent of their executives identify as a person of color and are now pledging to increase the representation of Black and Latinx populations in people-manager roles by at least 50 percent in 2025.
As Nordstrom continues to take strides towards being more inclusive for both women and people of color, let us celebrate others by investing in them—which is a lot more accessible than we think.
I love what Ayana Hipps, the Nordstrom Men's store Manager in NYC, has to say about Women's History Month: "The uplifting of women, everywhere, every day, every time is so vital for our spirit. I want it to be celebrated through stories, art, music and history. I think about my nieces and all that I want them to be proud of and to rejoice in being female."