Alleged ISIS Supporter Accused of Plotting Attacks Against Prince George at School
He provided an "e-toolkit for terrorism" online.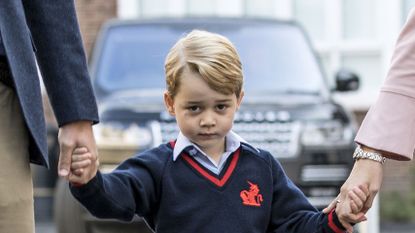 (Image credit: Getty Images)
Today in horrific news: An alleged supporter of the Islamic State group, accused of encouraging attacks on 4-year-old Prince George, went on trial in London on Wednesday.
Husnain Rashid, 32, was said to have provided an "e-toolkit for terrorism" on an online channel he ran under the name the Lone Mujahid. Prosecutor Annabel Darlow told a jury that Rashid encouraged attacks on a range of targets, including "injecting poison into supermarket ice creams and targeting Prince George at his first school."
RELATED STORIES
One post included a photo of the prince, his school's address, a silhouette of a jihadi fighter and the message, "even the royal family will not be left alone."
Rashid, a mosque teacher from Nelson in northwest England, is accused of encouraging "lone wolf" attacks and providing advice on using bombs, chemicals, and knives.
"He made numerous posts glorifying terrorist atrocities committed successfully against others and encouraging and inciting his readers to plan and commit more successful terror attacks of their own," Darlow said.
Rashid denies preparing terrorist acts, encouraging terrorism, and disseminating a terrorist publication. His trial at London's Woolwich Crown Court is expected to last six weeks.