Prince George Broke a Royal Fashion Rule at Uncle Harry's Wedding
Adorable! Scandalous!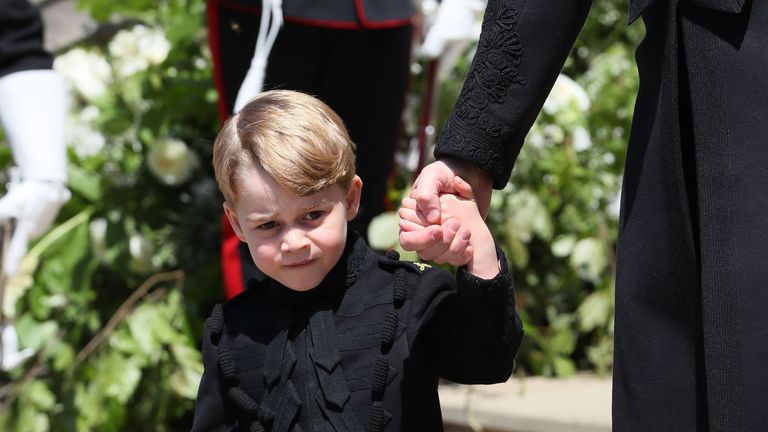 (Image credit: Getty Images)
When it comes to dressing for public events, the royal family follows a strict dress code. Even the youngest members, including Prince George, abide by certain rules and there's one that may surprise you. According to a longtime British tradition amongst royals, boys under the age of eight have to wear shorts, even in the winter time (!!!).
"It is considered very suburban for a little boy to be in long trousers when he is just a little boy," said Ingrid Seward, editor-in-chief of Majesty magazine to People. "It is shorts until you're 8 and then 'woo, you're in long trousers. They suddenly feel very grown up.'"
There was one small exception, however, to this traditional rule. For uncle Harry's wedding, Prince George was allowed to wear long, black pants for the first time in public. The 4-year-old wore a pair of custom-made black Dege & Skinner pants and a miniature version of the Blues and Royals coat that his uncle and dad, Prince William, wore to the wedding ceremony.
Prince George, undoubtedly, looked quite dapper as a pageboy at the royal wedding. And the fact he wore pants, well, let's call it a huge moment in his young life. While it's likely he'll be back in shorts for the next four years (Prince George turns eight on July 22 2021), at least we were blessed with this major moment at the royal wedding.
Read on for some of Prince George's best shorts moments as this little royal can rock it like no one else can.
Prince George's first day of school in 2017:
Prince George on a royal tour of Poland and Germany in 2017:
Prince George at Pippa Middleton's wedding in 2017:
Prince George's official Christmas picture in 2014:
RELATED STORIES