Cheerleaders to NFL: Time's Up for You Too
As the league drags its feet, MarieClaire.com gets an exclusive update on the status of the dancers' complaints.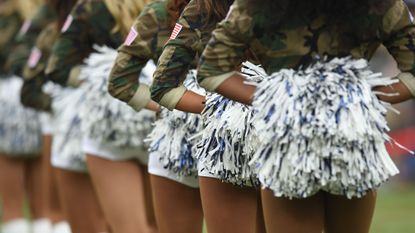 (Image credit: Getty Images)
Fans of football should find out this week if the NFL is serious about taking steps to protect its cheerleaders from gender discrimination and harassment—or if they're betting the women will eventually get tired and give up.
That second scenario is looking less likely of late: On Friday, famed attorney Gloria Allred held a press conference to announce she is representing five former Houston Texan cheerleaders in separate lawsuits against the team, alleging a hostile work environment and unfair pay. As reported by the New York Times, one of the cheerleaders, Hannah Turnbow, says that after she was assaulted by a fan, she was told to "suck it up." Another plaintiff, Ainsley Parish, said she was bullied and body-shamed.
Allred's announcement comes on the heels of similar complaints filed in April, detailing gender discrimination, religious discrimination, and a limited ability for cheerleaders to profit off their experiences. Allred added that the women, who cheered for the Texans as recently as last season, were threatened with termination if they spoke out. Instead, like the women who have spoken out before them, they quit.
"NFL cheerleaders are terrified that they will say or do the wrong thing and lose their jobs," says Sara Blackwell, an attorney representing three former cheerleaders from three squads in separate complaints. "They're constantly told they're not special and that they're replaceable."
Kristan Ann Ware is one of the women Blackwell represents. In an exclusive interview with MarieClaire.com, the former Dolphins cheerleader detailed the constant panic attacks she experienced after her superiors began embarrassing her publicly about her decision to remain a virgin until marriage. She says that when she reported the harassment to human resources, things initially got better, but then her tormenters retaliated, reminding her that she could easily be replaced.
Teams do not provide cheerleaders with health insurance, and even though Ware was working three other jobs—teaching yoga, walking dogs, and working as an activities manager at a resort—to support herself, she could not afford to seek mental health treatment. "Part of me thought I was crazy," says Ware. "There's a culture of silence. We don't feel safe."
When I asked Ware why she didn't quit when the abuse began, she sighed. "That's the part every story about this stuff misses," she says. "Being an NFL cheerleader was the best job I ever had. It was an act of God that me, a small town girl who was too shy to even try out for my college team, could somehow get the money and the courage together to try out to be a Dolphins cheerleader, let alone make it."
Ware, who comes from a military family, says that the best part of her job was getting to visit U.S. troops in more than 30 countries, including Afghanistan, Greece, and Ethiopia—opportunities she wouldn't have had if not for the NFL. That's when it struck me just how wrong I was to ask Ware why she didn't quit. She stuck it out for the same reasons women who were allegedly abused by Harvey Weinstein and Eric Schneiderman, or harassed by Matt Lauer, Charlie Rose, Louis C.K., and Jeffrey Tambor, among others, did: They loved their jobs. And why should a jerk in power force them to abandon their careers?
It's been two months since one of Blackwell's other clients, Bailey Davis, filed a complaint against her former employer, the New Orleans Saints, alleging that she was fired for fraternizing with a player and for posting a photo of herself in a lace bodysuit on her private Instagram account. After Davis and Ware came forward, Blackwell approached the NFL with an offer to settle for $1 if the league implemented sweeping changes to ensure the safety and fair treatment of cheerleaders across all teams. Blackwell tells me that the NFL maintains these women can't sue the league in a class action lawsuit, as cheerleaders are employed by individual teams. Blackwell disagrees, since all team employees are subject to the NFL's code of conduct.
Regardless, Blackwell doesn't want it to come to that. The lawyer swears her goal isn't to sue the NFL, but to work with the league to enact better policies, policies that will protect these women. Three weeks ago she presented the NFL with a detailed list of proposed changes her clients would like to see. This list included:
1. Enforce the rules regarding harassment in their own employee handbook. NFL employees are not allowed to, for instance, fat shame subordinates or retaliate against them for being sick or injured. These same rules should apply to staff overseeing cheerleaders.
2. Pay the women properly for games, practices, and appearances. Blackwell says one cheerleader made roughly $1,500 for an entire season, but was told if she lost or damaged her uniform she would owe the team $1,200.
3. Hire third party compliance officers to make sure cheerleaders are not only working in environments free from harassment, but also have someone to go to if they have issues they need addressed without fear of retaliation.
Blackwell says that, so far, the NFL's lawyers have been in regular contact with her over these proposed changes, and that they have been receptive to her requests. But time is of the essence. Teams recently hired cheerleaders for next season, and the women are being told not to speak with media. "The tryouts just happened but the Saints wouldn't even publicly announce who made the team," says Blackwell. She has heard rumors that squads are quietly changing their rules to be more supportive of the women, but that it's purposely being done in secret to avoid more media scrutiny.
With more women expected to come forward this week as Allred rolls out her press tour, Blackwell says the league has their opportunity to get out in front of their own Time's Up Movement—but that window is closing fast.
"The NFL has all the information they need from us," says Blackwell. "Now, they're either going to do this or they're not."
RELATED STORY
Molly Knight wrote about baseball for ESPN the Magazine for eight seasons. Her work has also appeared in The New York Times Magazine, Glamour, SELF, Vanity Fair, Baseball Prospectus, and Variety. Her first book, The Best Team Money Can Buy: The Los Angeles Dodgers Wild Struggle to Build a Baseball Powerhouse, was a New York Times Bestseller.