Melania Trump Put the Jacket Back On. She's Not Tone-Deaf, Just Plain Awful.
This isn't an accident.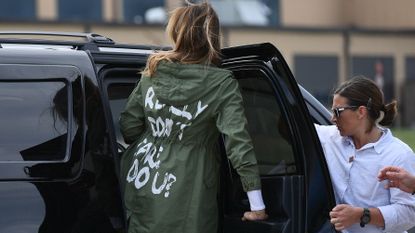 (Image credit: Getty Images)
Background: Melania Trump traveled from the White House to Texas wearing the jacket today, landed in Texas and took off the jacket to meet immigrant children (good!), and then flew back to Maryland and... put it back on.
Also, there wasn't much reason to wear a jacket in Maryland this afternoon. It was 81 degrees, according to The Cut, lending some credence to my "This is totally on purpose" theory.
Plus, both President Trump and Melania's own spokesperson weighed in on the issue before Melania landed early in the evening. Although they had totally different takes on the whole thing. The spokesperson said that Melania's jacket, emblazoned with graffiti-style "I really don't care. Do u?" had "no hidden message." Trump, on the other hand, tweeted: "'I REALLY DON'T CARE, DO U?' written on the back of Melania's jacket, refers to the Fake News Media. Melania has learned how dishonest they are, and she truly no longer cares!"
Hmm. A likely story, Donald.
Let me be clear: Melania knows that more than 2,000 children have been dispersed around the country, after being forcibly separated from their parents and after being forced to literally live in cages. I suppose that wearing the jacket the first time could have been an accident—maybe Melania grabbed the nearest jacket as she ran out the door, I don't know. Maybe she thought it would rain.
Re-wearing the jacket when you almost definitely know that it mocks the suffering of thousands of little kids—and let's not forget that Melania is an immigrant herself!—is disgusting. Particularly if you're doing it to help your husband's administration, which is actively using the entire charade as a tool to demonize the media.
Anyway, here are some photos of Melania, who almost definitely is aware that her jacket has sparked national outrage over a national heartbreak, walking to her car on a hot day wearing said jacket.
RELATED STORIES