People Think Ivanka Trump's Dress Looks a Lot Like Immigrant Children's Blankets
"Who wore it best?"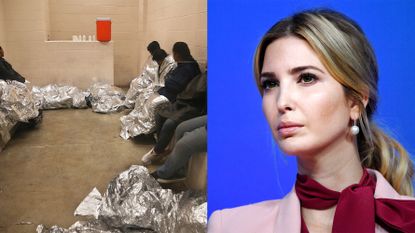 (Image credit: Getty Images)
This week, people on Twitter are comparing a designer gown Ivanka Trump (opens in new tab) wore in January 2017 to the thermal blankets being handed out to detained immigrant children at the Texas border right now. Once again, the dress is serving as a symbol of the first daughter's detachment from the harrowing effects of her administration
Ivanka—who has stayed silent on her father's polarizing (read: inhumane) immigration policy despite being a senior advisor to the president—was criticized at the time for posting a photo of herself wearing the $5,000 Carolina Herrera metallic gown just hours after the president announced the "Muslim ban" in January 2017. She didn't caption the photo, but posted it the same evening that protests against the so-called "travel ban" were taking place at major U.S. airports.
This is in spite of Ivanka's purported support for human and women's rights. (opens in new tab)
Now, given the unprecedented events of the past week, her gown has once again become a symbol. This is thanks to comedian Orli Matlow (@HireMeImFunny (opens in new tab)), who wrote on Twitter:"Who wore it better: Children detained in McAllen, Texas or Ivanka Trump." She posted the comment next to a photo of detained children, ripped from their parents, sprawled out on mats with thermal blankets.
=
Who wore it better: Children detained in McAllen, Texas or Ivanka Trump pic.twitter.com/atifVrteeYJune 18, 2018
See more
The Tweet has inspired a series of memes and reactions, many of which questioning why Ivanka has remained silent.
Who wore it better? Is the Mylar blanket from the Ivanka 2018 Complicit collection? pic.twitter.com/UcgeqYDAkiJune 20, 2018
See more
@IvankaTrump donated the silver dress she posed in so that they could use it for blankets in the cages they are keeping the children-@MeghanMcCainJune 20, 2018
See more
@IvankaTrump So nice of you to donate that silver dress of yours to help keep the refugee children your father imprisoned warm. Your kids must be SO proud of you. pic.twitter.com/PJMcxnNCTNJune 18, 2018
See more
The jury is out on whether or not Twitter could inspire Ivanka to speak out—considering her track record (opens in new tab) has proven her to be ineffective, the chances are unlikely.
To find out how you can help immigrant children separated from their families, click here (opens in new tab).
Ruby was the beauty editor at Cosmopolitan, where she covered beauty across print and digital. Her work has appeared on The Zoe Report, Fashionista, and StyleCaster. Follow her on Instagram.