The Supreme Court Just Ruled in Favor of Anti-Choice 'Crisis Pregnancy Centers'
Here's what that means.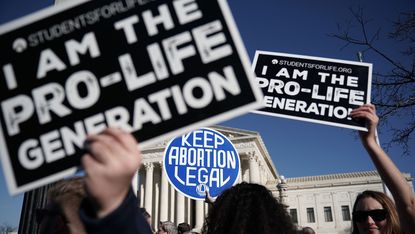 (Image credit: Getty Images)
A new ruling from the Supreme Court, issued on Tuesday, is a major setback for abortion rights advocates. In a 5-4 vote, the court overturned a California state law that required "crisis pregnancy centers" to inform women about access to abortion. Here's what you need to know about the decision.
Crisis pregnancy centers are run by anti-choice advocates, with the goal of convincing pregnant women to not get an abortion, and instead choose to put their child up for adoption or become parents. According to NPR, there are about 2,700 of these centers across the country, and many receive state and federal funding. According to PolitiFact, many groups maintain that crisis pregnancy centers vastly outnumber abortion clinics in America, but the numbers are hard to pin down, as such clinics aren't necessarily licensed and therefore not tallied in any database.
Critics say these centers intentionally mislead women who are seeking abortions, especially because they have similar names to abortion clinics and their employees wear scrubs and white coats, ask about their medical history, and even provide ultrasounds. "Fake health centers try to trick women into entering these facilities by masquerading as full-service women's health clinics," NARAL Pro-Choice America's website argues. "Some even claim to provide abortion care to get women in the door, and then use lies and manipulation to try to dissuade them from considering abortion."
In a law called the FACT Act, California had required centers licensed by the state to post notices informing women that there were free or low-cost abortion options for low-income women. The notices also had to include a phone number women could call to find out more about their options to terminate a pregnancy. Clinics that weren't licensed and may not have medical staff didn't have to post notices, but they did have to note they weren't licensed as medical facilities.
SCOTUS acknowledged the deception of fake women's deception is real, but 5 of them STILL refused to #EndTheLies. Trump & the GOP are stacking our courts w/ anti-choice zealots & today has shown our rights are in danger now more than ever. We won't stop fighting. #NIFLAvBecerra pic.twitter.com/pQJ8OkUdKQJune 26, 2018
See more
The National Institute of Family and Life Advocates, a religious group representing crisis pregnancy centers, argued that being forced to post those notices violated their right to free speech, because they had to advertise something that was against their belief system. Jay Sekulow, a lawyer with the group, said in a brief that nobody should be forced "to act as a ventriloquist's dummy for a government-dictated message."
But the state argued that low-income women needed to be made aware of the state's reproductive health resources, and crisis pregnancy centers may mislead people about their options. An appeals court initially upheld the law, arguing it protected the health of California residents without necessarily encouraging them to terminate pregnancies. But other appeals courts had declared similar laws unconstitutional.
Today's 5-4 #SCOTUS ruling in the #NIFLAvBecerra case sends a clear message that California's attempt to force pregnancy centers to advertise and refer for abortion is an attack on their Constitutional right to free speech!@NIFLA #ProLife #GiveFreeSpeechLife pic.twitter.com/tOCEFgE9ulJune 26, 2018
See more
The Supreme Court sent the case back to lower courts for further proceedings, and said the clinics are "likely to succeed" in their challenge to the FACT Act. Their decision will probably affect similar laws in states including Hawaii and Illinois, since those laws are also being challenged in court.
Meanwhile, the court has upheld laws requiring doctors in abortion clinics to tell patients about alternatives to abortion. In some states, doctors have to display a sonogram and describe the fetus. In his dissenting opinion, Justice Stephen Breyer noted this disparity. "After all, the law must be evenhanded," he wrote.
RELATED STORIES
Megan Friedman is the former managing editor of the Newsroom at Hearst. She's worked at NBC and Time, and is a graduate of Northwestern's Medill School of Journalism.