What Happens When You Can't Afford an Abortion?
Until the government can make abortion illegal, it's making it unaffordable. Tens of thousands of women who need one can't pay—when that happens, they call this number.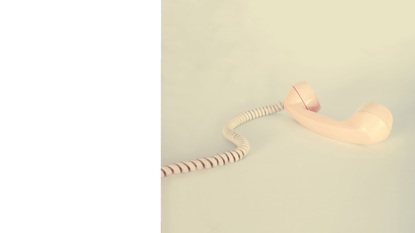 (Image credit: Courtesy)
It's 9:40 a.m. on a humid Friday in April when Oriaku Njoku arrives at her office building, 20 minutes before the Atlanta-based abortion-fund hotline she founded opens for the day. After riding on an elevator as slow as molasses to the second-floor office she rents in a coworking space, she makes her way to her desk, which is surrounded by thank-you cards ("You were the only pleasant thing that came from this ordeal," one reads) and notes scribbled on large sheets of butcher paper covering the otherwise sparse walls ("Who are our people? How do we let them know we exist?").
Njoku starts each day by listening to voice mails. The first is from a 30-year-old who, at the moment, is sitting in the waiting room of an abortion clinic in Georgia and has called more than 15 times so far today. Her appointment was scheduled for earlier this morning, but when she showed up at the clinic, she was told she was short the money needed to pay for the procedure. The caller is worried she'll have to reschedule again, after pushing back her appointment twice already because she didn't have the cash. "You won't have to reschedule, sis; I got you," Njoku, 32, murmurs as she picks up the phone to call the clinic.
The caller is eight weeks pregnant and having a medication abortion (the kind that's done by taking two pills), which at this clinic costs $450. She came up with $195 on her own and received $210 from the National Abortion Federation, a Washington, D.C.–based professional association of abortion providers that can help women pay for procedures. All that remained was $45. She had called Njoku's hotline, Access Reproductive Care-Southeast (known as ARC-Southeast), which supports callers in six Southern states (Alabama, Florida, Georgia, Mississippi, South Carolina, and Tennessee), the day before for the rest. Njoku sent a pledge to cover the balance to the clinic at 9:34 p.m. yesterday (clinics invoice ARC-Southeast after appointments), but the clinic didn't receive it. If Njoku hadn't listened to the voice mail, promptly contacted the clinic to clear up the confusion, and re-sent the pledge, the caller would have had to reschedule her appointment, which could push it back weeks, at which point her abortion would cost several hundred dollars more.
In other words, that $45—a sum many people blow through in a single night out—nearly made the difference for this woman between getting an abortion or bearing a child she did not want and could not afford. "The reality is, some folks scrape together all the money they can and still come up short," Njoku says. "Some ask, 'Is a $45 pledge meaningful?' Yes, it is, because women get turned away for that."
Over the past five years, as state legislatures have passed a record number of abortion restrictions, we've heard a lot about clinics shuttering and women driving farther and waiting longer to terminate pregnancies. But in addition to all of that, there's another roadblock that receives far less attention: Often, even when women have access to a clinic, they can't afford the procedure. In large part, that's because of the Hyde Amendment, which since 1977 has made it illegal to spend federal Medicaid funds on abortion, except when the mother's life is at risk and, later, in cases of rape or incest. The cost of an abortion varies by clinic and is determined by how far along a pregnancy is and what type of procedure the patient requires; the average range is between $500 and $1,500. That's a hefty fee for abortion patients—75 percent of whom are low-income—and new measures by both the federal and state governments are aiming to make the procedure even costlier.
Since his inauguration, President Donald Trump has made it clear he intends to stay true to the pro-life stance he peddled on the campaign trail (though he told Meet the Press in 1999 that he was "very pro-choice"). On his first full business day in office, Trump reinstated the global gag rule, cutting some $9 billion in foreign health aid to any organization that presents abortion as an option. (A photo of Trump signing the bill at his desk in the Oval Office surrounded entirely by men went viral.) Within 100 days, he had also stopped contributing to the United Nations Population Fund, which provides reproductive health care to women and girls in more than 150 countries, and signed a law to allow states to cut Title X family-planning dollars from clinics that perform abortions. (Title X dollars were already prohibited from being spent on abortion; rather, clinics use the money to cover services including affordable birth control. Title X–funded organizations are credited with preventing 1 million unintended pregnancies every year.) In addition, Trump is the first president in history to include a provision in a budget proposal to block any clinic that performs abortions from receiving funding from any Department of Health and Human Services program for the other services it provides, including low-cost contraception, breast exams, and STI and cancer screenings.
RELATED STORIES
Congress has made similar moves. In January, the House of Representatives passed a bill to make the Hyde Amendment permanent (right now, it's a budget rider that must be passed annually). The bill has yet to be taken up in the Senate, but in May, the House doubled down on its efforts, passing a health-care overhaul that would effectively block Planned Parenthood from receiving Medicaid reimbursements for other family-planning services it provides for one year. Similar language was included in the Senate's version of the overhaul. Both proposals would make it so Medicaid patients could no longer obtain birth control at such clinics, which the nonpartisan Congressional Budget Office said would result in "several thousand" additional unplanned pregnancies. Each chamber also included a provision that would bar Americans from using tax credits to purchase insurance that covers abortion, which would disincentivize insurers— including those that offer employer-sponsored plans—from paying for the procedure. States are also pursuing such measures. Earlier this year, Missouri rejected $8.3 million in federal Medicaid funding to prevent the money from going to clinics that offer abortions; in May, Iowa similarly rejected $3 million.
If the Republican Party can't yet make abortion illegal, in the meantime, it can make it unaffordable. Trump needs another seat on the Supreme Court before he can uphold his campaign promise to overturn Roe v. Wade by appointing judges who oppose the landmark ruling—a likely outcome, as three of the sitting justices are 79 or older. "Abortion is legal for everybody, but it's only affordable for some," says Yamani Hernandez, executive director of the National Network of Abortion Funds (NNAF). "It's not fair that poor people should have less access to their constitutional rights."
It may not be fair, but it is the reality. Just 15 states, including California, New York, and Washington, allow state Medicaid dollars to be spent on abortions. (Njoku calls these states "the land of unicorns and possibility.") Fifty-eight percent of women of reproductive age (15 to 44) live in the remaining 35 states, according to a 2016 report from the Guttmacher Institute, a research organization that supports abortion access, and one in four women on Medicaid in those states are forced to carry an unwanted pregnancy to term as a result of a lack of insurance coverage.
In total, the Hyde Amendment is estimated to have impeded abortion for more than 1 million women in the past 40 years. Further, researchers at the University of California–San Francisco found that 85 percent of women who had difficulty obtaining an abortion reported their reason for not getting one was the cost. One year later, according to another group of UCSF researchers, women who were denied an abortion because they couldn't afford one and subsequently had a child were more likely to be unemployed, relying on public assistance programs, and living below the federal poverty line than women who obtained an abortion—even when there was no economic difference between the women a year earlier.
RELATED STORY
That's where abortion-fund hotlines come in. There are 70 funds in more than 30 states, manned by 1,840 staffers and volunteers, that make up the national network. NNAF hotlines primarily work with independent clinics, which collectively perform 60 percent of abortions in the country and often refer patients who can't pay to the funds. Since Trump's election, both the number of callers seeking funding and the number of donations are up. This year, NNAF's annual bowl-a-thon fundraiser raised a record-setting $1.7 million, nearly double 2016's then-record $940,000. But the funds, mostly run by scrappy volunteers who return calls from their apartments into the wee hours of the night, are only able to give money to one-third to a half of the 50,000 to 100,000 callers each year.
That could be because the work they do is an often overlooked part of the abortion equation. "People hear 'abortion' and automatically think of Planned Parenthood," Hernandez says. "They don't realize that there is a constellation of organizations that make abortion possible, and we need help—a lot of it." (Planned Parenthood is the nation's single-largest abortion provider, but the procedures constitute only 3 percent of services; the bulk of the nonprofit's work is providing contraception, Pap smears, breast exams, and STI and cancer screenings.)
Abortion funds have been around since before the procedure was legal. As the work was done "underground," there is no official record of how many funds existed in those years. One of the earliest was known as the Clergy Consultation Service on Abortion. Formed in 1967, the group of more than 1,000 mostly Protestant pastors helped thousands of women seeking abortions reach trusted clandestine providers in the U.S. or medical professionals in European countries where the practice was legal.
After Roe was decided in 1973, Medicaid paid for about 300,000 abortions a year. Then, in August 1977, the Hyde Amendment took effect, reducing that number to a few thousand. Even Representative Henry Hyde (R-Illinois), who died in 2007, knew his amendment would disproportionately affect poor women. "I certainly would like to prevent, if I could legally, anybody having an abortion: a rich woman, a middle-class woman, or a poor woman," he said in the debate surrounding funding. "Unfortunately, the only vehicle available is the...Medicaid bill." (Low-income women are five times more likely to have an unintended pregnancy than middle- and upper-class women are.)
Later that year, Rosie Jimenez became the first known woman to die because of the Hyde Amendment. The 27-year-old college student from McAllen, Texas, a single mother to a 5-year-old daughter, sought an abortion in Mexico after being turned away from a clinic in her hometown because Medicaid wouldn't pay for the procedure. Jimenez died of septic shock after contracting an infection at the Mexico clinic. "Rosie Jimenez was an embodiment and personalization of the problem," says Marlene Fried, the founding president of NNAF, who led the organization for its first decade. "For the people who thought Roe meant abortion was now accessible, her death was a glaring example that that wasn't true."
Abortion funds began operating in informal settings, and in 1993, Fried, who helped start a fund in Massachusetts, and at least 50 other representatives from 22 funds in 14 states gathered in Washington, D.C., to start NNAF. The founding conference was the coming together of "all the people who sit in their homes and take calls from strangers in a complete crisis situation and don't have the resources," Fried says. "These are the people who answer those calls."
Today, the network's motto, "Fund abortion, build power," infuses everything it does. "The big thing we're trying to do is politicize callers, so they understand what they are experiencing—not being able to afford their abortions—is not their fault," Hernandez says. "It's not something to be ashamed of; it's something to be mad about: You can't use your insurance for an abortion. It's just ridiculous...and it needs to change."
That mission is why Njoku got into this work. "The government is trying to take our rights away," she says. "What are we willing to do in response?" Three years ago, she was flitting from job to job—she sold shoes at Bloomingdale's, then she answered phones and sold memberships at a spa. One day, the daughter of Nigerian immigrants from Bowling Green, Kentucky, was scrolling through employment listings for something that would feel more worthwhile when she stumbled across a post for a job at the Atlanta Women's Center, an abortion clinic in the northern part of the city. Njoku started there in 2014, working as a phone advocate—the people who help patients schedule appointments and help sort out the finances. Within three months, she knew she wanted to start an abortion fund. "I had to do something to support folks in the South with their abortions in a more meaningful way," Njoku says. "I thought there was an opportunity to transform the lives of the people we're supporting and to create an environment where they feel like they can speak out against reproductive injustices that we face as Southerners on a daily basis."
The political is also personal. Njoku has never had an abortion herself, but her younger sister, Dirichi, has had one. The procedure took place about 10 years ago, when Dirichi was a 19-year-old college student and couldn't afford it or get to Nashville, Tennessee, for the appointment. Years later, when Njoku started working at the clinic, she realized, "This is what my sister had to go through," she says. "Luckily, she had friends and family who could help, but what if she hadn't?"
In 2016, Njoku, along with two women she worked with at the clinic, opened ARC-Southeast. Today, the fund receives between 40 and 60 calls a week; Njoku is one of three full-time, paid staffers who answer calls from 10 a.m. to 4 p.m. Monday through Friday.
RELATED STORY
Njoku didn't tell her parents about her work at first—she was worried how her father, then a part-time pastor at a Presbyterian church, would react. After a couple of months, "I thought, If I'm trying to advocate for unapologetically talking about abortion, I've gotta do it with my family, too," Njoku says. Once she explained the dire circumstances many women are in, her parents were supportive. "My mom said, 'We can see this is your thing—this is what you're supposed to be doing—and we're really proud of you,'" Njoku recalls. Her father was one of the fund's first donors.
Last year, 90 percent of the people who called ARC-Southeast for funding were either uninsured or on Medicaid. "Folks here are paying way out of pocket," Njoku says. "It's a different level of privilege to not have to worry about how to pay for an abortion." What's worse, as a result of new state laws imposing mandatory waiting periods, which vary from 24 to 72 hours across the six states, as well as other restrictions that have reduced the number of clinics in the region, abortions are getting more expensive because they often take place later in the pregnancy.
Njoku recalls a woman from Mississippi who tried to make an appointment when she was 14 weeks pregnant, at which time the abortion would have cost around $500. The state's only remaining abortion clinic couldn't schedule her before its 16-week cutoff point. She drove 11 hours round-trip for an appointment in Georgia two weeks later but was turned away because the clinic wasn't aware she'd had a C-section previously and was not equipped to perform the procedure under such circumstances. When the caller ultimately had an abortion, at a clinic in Alabama, she was 18 weeks along, and it cost $1,200. She also lost her job for taking too much time off work for appointments. Njoku called three different funds to help the woman come up with money, and ARC-Southeast pitched in cash to pay her electricity bill after she used that money for gas to get to the clinic. "To ask someone to pay $1,200 for an abortion, for some people hearing that is, 'Well, let me just go ahead and have this child because I can't afford that,'" Njoku says.
Phoning an abortion clinic is like calling any doctor's office: polite, professional, but not personal. Dialing Njoku at ARC-Southeast is a different experience, like calling a girlfriend. "Because this issue is politicized, people tend to be rigid with these conversations," she says. "I try to make it more casual, like, 'Hey, girl, what's good? Let's talk about this abortion.'"
Njoku is the only employee in the office today; the other two are taking calls from home. One of them, Neicy Lowe, the hotline manager, is home in bed because she's eight months pregnant. (She likes to wear shirts that say FUND ABORTION over her belly and watch how people react.) Throughout the day, they call each other to debrief particularly troubling calls. Njoku always ends every exchange by thanking Lowe ("You're the bomb dot com backslash diggity," she says once) for her work.
Every call from abortion seekers begins the same: "Thank you for calling ARC-Southeast. This is Oriaku. How can I support you today?" After callers introduce themselves, Njoku asks some questions—income, race, religion, zip code, number of children, etc. Then she'll get into the details of the pregnancy—how many weeks, when the abortion is scheduled, what type, and, most important, the cost. If callers are on Medicaid, they often will have already received a discount for the procedure from the clinic. Ideally, the caller will also already have received funding from the National Abortion Federation, which, because it's a much larger organization, can contribute a higher portion to the total bill than an individual abortion fund can.
ARC-Southeast asks callers to come up with 50 percent of the remaining balance if they're in their first trimester and 25 percent if they're in their second trimester. In addition to money for the procedure, the fund will also help callers pay for lodging, child care, gas, or rides to clinics via Uber, if needed. "I'm careful about what I'm asking callers to do," Njoku says. "I ask, 'When things are hard, who do you ask for help?'"
RELATED STORIES
Njoku works with callers to brainstorm creative ways to raise money quickly (offering to babysit or do hair, for example). She also suggests asking family ("They don't need to know your full business—it could be money for groceries") and friends ("Ask several people for $25; that's easier than asking one person for $100") to pitch in. There's also frank discussion about baby daddies: "You didn't get pregnant by yourself," Njoku tells one caller. "I understand that he's not trying to be supportive, but he could either help you pay for this abortion or he could pay you hundreds of dollars every month for the next 18 years."
For some women, coming up with the cash can mean resorting to opening new credit cards; taking out short-term (often predatory) loans; pawning microwaves, wedding rings, or the titles to their cars; delaying bills and credit-card payments; or risking eviction by skipping rent. "That's just the reality," Njoku says. "Folks are going to do what they need to do—abortion is expensive."
With 10 days left in the month, Njoku has to be careful not to go through the remaining $1,100 of her budget too quickly. Her budget, which comes entirely from donations and grants and the organization's annual dance-a-thon fundraiser, ranges from $3,000 to $4,000 each month depending on whether it's busy season, which runs roughly from after the holidays, when people have spent reserves on gifts, through the end of tax season, when people get refunds. In addition, the hotline has $5,000 set aside in an emergency account for calls from minors, rape and incest victims, and later-term care.
ARC-Southeast can also help callers get funding by liaising with the clinic to negotiate a lower price or with other funds, including the national NNAF hotline, though it's typically out of money by mid-month; the Women's Reproductive Rights Assistance Project, an abortion fund in Los Angeles that pays for one call per out-of-state clinic every day; and the Jane Fund in Massachusetts, which funds two out-of-state calls a week. "It's a piecemeal process," Njoku says. "If callers didn't have people like us working behind the scenes, they'd have to call 8,000 different places."
Staying on budget means sometimes Njoku has to use her least favorite word: no. Just before the hotline closes, Njoku takes a call from a woman who is homeless after losing everything she owned in the devastating 2016 floods in Louisiana. She's couch surfing and caring for a son even though she says she doesn't "have $2 to my name." The woman says she was assaulted and is now around 12 weeks pregnant. She's $500 short of the money needed to pay for her abortion next week. Njoku tells her she can't give her the full amount, and hearing that is the last straw for the caller. "I am going to have to have this baby because I cannot afford to get rid of it!" she yells. "That doesn't make any sense!" Njoku starts to respond, but the caller hangs up, leaving Njoku visibly shaken. "I don't like to turn people away—that's the bleeding-heart part of this work," she says. "I wish we had all the money in the world to take care of all the abortions in the world, but we don't." In her dream world, she'd have $10,000 to give to callers every month. "It still wouldn't meet the need, but it'd be a lot more," she says. "One day, we'll get to that point."
In the meantime, Njoku has to be content with the callers she is able to help. She cheers herself up by rereading an e-mail she received from the caller from Mississippi, the one who lost her job in the process of trying to get an abortion. "What your organization does for women is amazing," the woman wrote two weeks after her procedure. "I believe everything happens for a reason, and we wouldn't have met if not for this." She wrote Njoku again when she landed a new job, and later to say it was going well. "This is confirmation for what we do," says Njoku, who plans to meet the caller when she visits Jackson later this year. The woman is interested in becoming a volunteer—she wants to pay it forward.
This article appears in the September issue of Marie Claire, on newsstands now.
Celebrity news, beauty, fashion advice, and fascinating features, delivered straight to your inbox!
Kayla Webley Adler is the Deputy Editor of ELLE magazine. She edits cover stories, profiles, and narrative features on politics, culture, crime, and social trends. Previously, she worked as the Features Director at Marie Claire magazine and as a Staff Writer at TIME magazine.