Meet Donald Trump's 27-Year-Old Communications Director, Hope Hicks
AKA his secret weapon.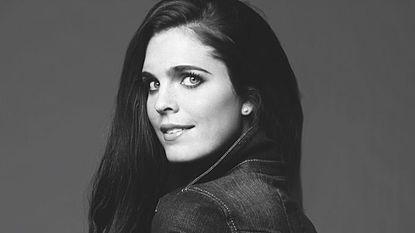 (Image credit: Michael Creagh)
Marie Claire Newsletter
Celebrity news, beauty, fashion advice, and fascinating features, delivered straight to your inbox!
Thank you for signing up to Marie Claire. You will receive a verification email shortly.
There was a problem. Please refresh the page and try again.
There are few women in Donald Trump's inner circle. You're probably already familiar with his campaign manager, Kellyanne Conway, but what do you know about Hope Hicks? The 27-year-old communications director may have kept a low-profile throughout Trump's campaign, but she played an integral role in his unprecedented rise.
As Trump tweets about the controversies du jour with abandon, delivers unscripted soliloquies at campaign stops, and is a near-constant presence on cable news, Hicks was behind the scenes, juggling the moving parts of the rapid news cycle.
In 2012, after a successful teen modeling career and graduating from Southern Methodist University, the Connecticut native got her first taste of the Trump life working on the hotel and golf divisions of his company for New York public relations firm Hiltzik Strategies. The Trump Organization brought her in-house as the director of communications in 2014, and the following year, she got the surprise of a lifetime when The Donald asked her to join his budding campaign. Here, in her first-ever interview in her current role, she shares what it's like to work for the unconventional candidate.
Marie Claire: Did you ever think you'd be this integral to a presidential campaign?
Hope Hicks: No, but it's funny—I was home for Easter, reading an article from when I was 11 or 12, talking about how my career as a model had taken off. It said, "If modeling doesn't work out for you, what would you do?" And I said, "Well, I'm not really sure, but I'm interested in politics."
MC: Tell us about a typical day on the campaign trail.
HH: In 2015, we were headquartered in New York City in Trump Tower. While we were there, we'd facilitate dozens of interview requests on a given day. He'll talk to anybody; he'll answer anything. Then at about 3 p.m., we'd leave and go somewhere to do a rally at night—typically one of the first three [primary] states: Iowa, New Hampshire, or South Carolina. I try to be in the office as much as possible to get the full experience working with volunteers, making phone calls, putting out signs—things that the communications director probably normally wouldn't do.
MC: Can you describe an especially crazy day?
HH: Last July, in Laconia, New Hampshire, when we got off the plane, there were hundreds of people pressed up against the fence with signs, waiting to see Mr. Trump. We had been campaigning for a couple of weeks at that point, but this was really the first stop where we all looked at each other and said, "There's something going on here." We drove to the event with a police escort, and there were thousands of people in the parking lot. He was like a rock star.
MC: Do the long hours and constant travel take a toll?
HH: There was a moment [the week before] the New Hampshire primary when we were in the office and somebody wanted to go home at like 11:30 p.m. And the campaign manager said, "My boss [Trump] is working harder than you. That's not right. You need to stay and do what you're supposed to do." This is Mr. Trump's time away from his family, and frankly, it's his money. He's spent millions, and the thing we can do is work to the best of our ability as hard as possible. The pressure and the long hours—it's all relative to what he's putting in, which is everything.
MC: What advice would you give other women looking to get into politics?
HH: My dad always says that there's no substitute for hard work. If you work hard and you work for somebody who empowers you and challenges you, you'll be successful. Mr. Trump and Ivanka [Trump, his daughter] say that if you're passionate about what you do, you'll ultimately be successful, because you'll work so hard because you love it so much, and results will happen. And even if you're not successful, meaning you [don't] reach great levels of fame and fortune, but you're happy doing what you're doing, you'll be successful in that right. And I think that's very true.
MC: How well does TV mirror what goes on in a campaign?
HH: We get so many requests like, "We want behind-the-scenes access" or "We're going to show people what it's really like to be on the campaign with Donald Trump." But there is just no way that a camera or an episode or a documentary could capture what has gone on. There is nothing like it. And I would say 90 percent of that is the people you see and the things they say, and the way they react to Mr. Trump. It is the most unbelievable, awe-inspiring thing.
This article appears in the June issue of Marie Claire, on newsstands now.
Celebrity news, beauty, fashion advice, and fascinating features, delivered straight to your inbox!
Rebecca Nelson is a magazine writer in New York. Her work has appeared in the Washington Post magazine, GQ, and many other publications.