Alexandria Ocasio-Cortez Has the Best Comebacks on Twitter
How to rip apart your haters 101.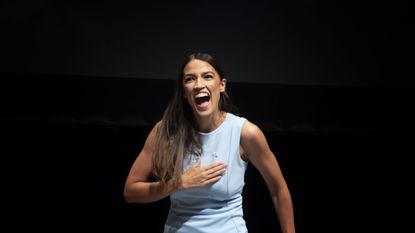 (Image credit: The Washington Post)
If you haven't yet heard of Alexandria Ocasio-Cortez, you soon will. The 28-year-old powerhouse is running for congresswoman in New York's 14th District. O already won her primary on June 26, and now she's fighting to unseat longtime incumbent Joe Crowley.
A Latina from the Bronx, as well as a former Bernie Sanders organizer, Ocasio-Cortez self-describes as a "Democratic socialist." When pressed about this identifier, Ocasio-Cortez explained to Stephen Colbert on The Late Show: "I believe that in a modern, moral, and wealthy society, no person in America should be too poor to live."
Basically, Ocasio-Cortez is a force to be reckoned with. Since her political rise plunged her into the public eye, however, a few Twitter-centric spats and bumps have sprung up; commentators and conservative politicians alike have attempted to undermine her popularity.
And here's how she responded.
July 1

Conservative TV host John Cardillo tweeted a Google Street View picture of Ocasio-Cortez's childhood home, claiming that it is a "far cry from the Bronx hood upbringing she's selling." He wrote, as a description of the picture, that "this is the Yorktown Heights (very nice area) home @Ocasio2018 grew up in before going off to Ivy League Brown University."
This is the Yorktown Heights (very nice area) home @Ocasio2018 grew up in before going off to Ivy League Brown University. A far cry from the Bronx hood upbringing she's selling. pic.twitter.com/xyOtZzVJIIJuly 1, 2018
See more
Cardillo's choice to share images of a congressional candidate's childhood home on Twitter speaks volumes about the political climate we exist in—and how it exists, at least partially, on social media. Ocasio-Cortez belittled his Tweet with her own.
Hey John,1. I didn't go to Brown or the Ivy League. I went to BU. Try Google.2. It is nice. Growing up, it was a good town for working people. My mom scrubbed toilets so I could live here & I grew up seeing how the zip code one is born in determines much of their opportunity.July 1, 2018
See more
3. Your attempt to strip me of my family, my story, my home, and my identity is exemplary of how scared you are of the power of all four of those things.July 1, 2018
See more
July 21
Florida Representative Ron DeSantis, Republican, referred to Ocasio-Cortez in a speech as "this girl... or whatever she is." He then proceeded to undermine her campaign and general intelligence: "She's in a totally different universe… It's basically socialism wrapped in ignorance."
Ocasio-Cortez took to Twitter in response, wielding a few choice words about what, exactly, she is.
Rep DeSantis, it seems you're confused as to "whatever I am."I am a Puerto Rican woman. It's strange you don't know what that is, given that ~75,000 Puerto Ricans have relocated to Florida in the 10 mos since María.But I'm sure these new FL voters appreciate your comments! https://t.co/xJlroSe5HsJuly 23, 2018
See more
Nydia M. Velázquez, incumbent congresswoman of New York's 7th District, came quickly in defense of Ocasio-Cortez. Girl power.
.@rondesantisFL who is running for Gov in FL has called @Ocasio2018 "this girl...or whatever she is." She isn't a girl, she's a woman and soon she will be a Congresswoman. You should apologize not just to her, but to all the women in Florida your comments have offended.July 23, 2018
See more
July 24
Conservative Review TV (CRTV) spliced Ocasio-Cortez's PBS interview with Margaret Hoover with fake questions from a CRTV "interviewer." Ocasio-Cortez responded, per usual, with a fantastic Tweet. "Here's one bonafide truth," she writes. "Election day is November 6th."
Republicans are so scared of me that they're faking videos and presenting them as real on Facebook because they can't deal with reality anymore.Here's one bonafide truth: Election Day is November 6th. https://t.co/Z7MfisgiWlJuly 24, 2018
See more
Shane Goldmacher, chief political correspondent of the New York Times Metro Desk, also responded to the video on Twitter.
This faked interview of @Ocasio2018 by @CRTV has nearly 1 million views on Facebook. In less than 24 hours. Interview didn't happen. It takes clips from @MargaretHoover's show and edits in faux questions. Not labeled satire (other than a 😉 emoji).https://t.co/ipUPsOoyLHJuly 24, 2018
See more
Flashback to July 10: Ocasio-Cortez won the primary in her neighboring 15th District, that day, too, in a write-in campaign.
She's not even running in that district.
Shockingly - and I'm told this is not a joke - we have ALSO won a primary in the neighboring 15th Congressional District via write-in campaign on the Reform line!While I am honored that so many Bronxites are excited about our campaign, I will remain the Dem nominee for NY-14. https://t.co/edidvU5sOrJuly 11, 2018
See more
RELATED STORY
Celebrity news, beauty, fashion advice, and fascinating features, delivered straight to your inbox!
Zoe is a contributing writer at MarieClaire.com; she covers celebrity and news. She loves sneakers and nicely organized bookshelves.