Deb Haaland Is Poised to Be the First Native American Woman in Congress
In a record year for diverse candidates, Deb Haaland is likely to win her seat to represent New Mexico—and indigenous people nationwide—in Washington.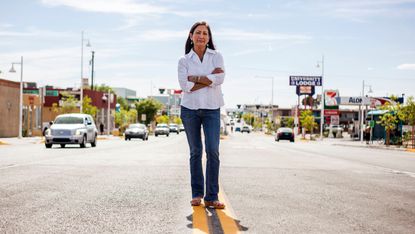 (Image credit: Juan Labreche/AP/REX/Shutterstock)
Update: Haaland is heading to Congress. As of 11:30 p.m. of November 6, Deb Haaland has been declared the congresswoman-elect of New Mexico's first district. Along with Sharice Davids, a member of the Ho-Chuck Nation who won in Kansas' third district, she will be the first Native American woman to serve in Congress.

This will very likely be the year Native American women finally get a voice on the national stage. After winning New Mexico's Democratic primary in June, in a solidly blue district, Deb Haaland is poised to become the first-ever Native American woman to serve in Congress.
It's an historic year for Native women overall, with more indigenous women than ever running for office: Ahead of the primaries, at least four were campaigning for Congress, while three ran for Governor, and at least 31 were bidding for state offices.
Haaland, a member of the Laguna Pueblo Tribe, worked to get out the Native vote as a volunteer for President Barack Obama's 2008 campaign, before serving as chair of New Mexico's Democratic Party, where she led a successful effort to turn the state blue in 2016.
She recently stopped by Marie Claire's offices in New York City to discuss her history-making campaign, what she wants to accomplish, and what she thinks of President Donald Trump's using "Pocahontas" as an insult.
Marie Claire: Why did you want to run for Congress?
Deb Haaland: I was finishing up my term as Democratic State Party Chairwoman and wanted to continue to serve the people of New Mexico, and running for Congress felt like a really good way for me to continue to be a strong voice for my state. I asked myself, Would I be able to do the job effectively, and can I run a winning campaign? I called together a couple of my good friends whom I felt I could trust and we felt like the answers were yes, we could do the work.
MC: You ran for Lieutenant Governor in 2014 and lost. What did you learn from losing?
DH: I always work really hard on campaigns because I believe strongly that getting people out to vote is really the thing that you should be passionate about all the time. So we worked really hard to get people to the polls, but [the incumbent, Gov. Susana Martinez] had millions in her campaign fund and was putting out all these ads with her hugging kids and it was just hard to beat her. Sometimes it's just hard to overcome so much money.
MC: You came back from that loss, and as party chair, went on to turn the state blue in the 2016 election. How did you do it?
DH: After the 2014 election when we lost control of the state House, the morale among Democrats was just not good at all. I felt like I knew what we needed. I wanted to unify the party, so I decided to travel to every rural community to let people know I cared about the work they were doing. We traveled all over New Mexico, including to red counties, and things started turning around. By the time Donald Trump was running for president, we honed our message and tapped into how a lot of New Mexicans were feeling about him, and that helped us a lot, too.
MC: And how were New Mexicans feeling about Trump?

DH: He wasn't speaking for us. We felt his campaign really showed his ignorance about government and how he just didn't have the experience, but mostly, it was the women piece: Trump was degrading women and New Mexico's First Congressional District is about 60 percent women.
MC: What do you think about President Trump calling Senator Elizabeth Warren (D-MA) Pocahontas?
DH: He's so rude and disrespectful. It's disrespectful to use the name Pocahontas sort of as a racial slur. And there's the fact that President Trump doesn't get to decide how anyone identifies themselves. On top of that, Senator Warren works really hard to make people's lives better—she fights for tribes, for working families, for women, for people getting ripped off by big banks. When she spoke at the National Congress of American Indians, the tribal leaders gave her a standing ovation.
MC: There are a record number of Native American women running for office this year. Why this year?
DH: There have been Native women on the frontlines for centuries, fighting for things like treaty rights, fishing rights, and, most recently, against pipelines. I think Standing Rock has something to do with it. It seemed to mobilize a lot of Native American people.
MC: What would it mean to you to be the first Native American woman in Congress?
DH: Part of the reason I wanted to do this is because I want other Native women to see they can do it, too. I recently spoke with some Native interns in Washington, D.C. There were nine girls and one young man. We took photos together after my talk and they were posted on Instagram and one of the young women commented over and over: "Representation matters, representation matters," like 10 times. Those girls have never seen themselves in Congress. If I can inspire young women like that to finish their schooling, get some experience, and then eventually think, I can run for office, I'm happy about that. When I announced New Mexico's votes on the floor of the Democratic National Convention in 2016, I got a message from a mom who said her daughter had watched me and was now running for student body president. I was so proud to hear that.
MC: You're a single mom. Do you have any policies in mind to pursue on behalf of women like you?
DH: Yes, absolutely. We had a paid sick leave bill that came up in the Albuquerque city council and I went and advocated for it. It's a shame that we have to fight for those things. When I was in high school, I worked at an independently-owned bakery and my boss provided paid leave, healthcare, regular raises—it was a great place to work. We should make it easier for small businesses to be able to provide those things. Every time you talk about raising the minimum wage, small business owners get worried about it, but it shouldn't be that way. The government is giving all the tax breaks to the biggest corporations and not enough to small businesses and there's just so much we need to do for workers.
MC: Are you worried about reproductive rights in light of the opening on the Supreme Court?
DH: Every time you turn around, Congress is trying to defund Planned Parenthood. Planned Parenthood is so important for women—for young women, women in college, poor women. I used it when I was in law school because it was affordable and accessible. Women need healthcare so I'll always fight for that.
MC: If elected, what do you hope to accomplish for Native American women specifically?
DH: The issue of missing and murdered Native women is not mainstream enough—not enough people know enough to care. I would work hard to make sure that's an issue people get behind. I spoke with a woman recently who said we need a special bureau or section of the FBI to investigate these crimes. Things like that happen in Congress, so that's something I could definitely fight for.
MC: How do you balance the work you want to do for Native Americans with the things you want to do for all New Mexicans?
DH: I will always fight for my district first, but a lot of our issues are the same. Many Native communities are rural and we have a lot of rural communities in my district. I realize there might be a lot of Indian tribes who would feel that I could champion some issues for them, and I'd be happy to do that. I know, so far, there are two Native Americans in Congress—both men from Oklahoma—so between the three of us, we can probably manage that. But I'm there first and foremost to represent my district in a state that I truly love and I will absolutely never let that fall by the wayside.
From explainers to essays, cheat sheets to candidate analysis, we're breaking down exactly what you need to know about this year's midterms. Visit Marie Claire's Midterms Guide for more.
RELATED STORY
Celebrity news, beauty, fashion advice, and fascinating features, delivered straight to your inbox!
Kayla Webley Adler is the Deputy Editor of ELLE magazine. She edits cover stories, profiles, and narrative features on politics, culture, crime, and social trends. Previously, she worked as the Features Director at Marie Claire magazine and as a Staff Writer at TIME magazine.