What Does Jeff Flake's Vote Mean? Brett Kavanaugh Is Still in the Running, For Now
To quote Senator Feinstein, "What?!"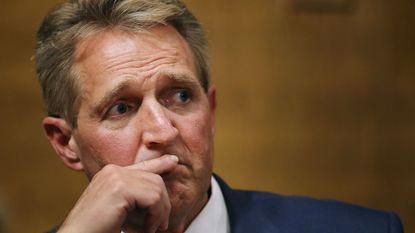 (Image credit: Chip Somodevilla)
If you were tuned into the Judiciary Committee hearing on Friday afternoon, you may have witnessed a confusing moment: Hours after Senator Jeff Flake, an Arizona Republican, announced in a statement that he would vote to confirm Supreme Court nominee Brett Kavanaugh, he showed up late to the vote and then asked for a delay on the Senate floor vote, pending an FBI investigation. A quick vote along the roll call occurred...and then the hearing was abruptly adjourned.

"What?" said Senator Dianne Feinstein, Democrat of California, as the committee left the room.
What indeed! It was super dramatic and also extremely confusing. Did he get confirmed? Who gets to vote now? Will there be an investigation or not?
A Timeline of What Just Went Down
One day after Dr. Christine Blasey Ford's harrowing testimony about Brett Kavanaugh's alleged sexual assault, the Senate Judiciary Committee agreed to convene Friday morning in order to vote on Kavanaugh's confirmation. If confirmed in committee, it would move to the Senate floor for a vote.
Moments before the committee was called to order, Senator Flake—who had earlier expressed hesitation about Kavanaugh's confirmation—released a statement that he would be voting to confirm after all.
On his way up to the committee after releasing this statement, Senator Flake was accosted in the elevator by two sexual assault survivors, Maria Gallagher and Ana Maria Archila, who gave impassioned pleas for him to change his mind. You can read more on that interaction here.
A motion to delay the vote was put forth and then denied by 11-10 margin along party lines. During statements, committee Republicans like Lindsey Graham and Ted Cruz decried the process of bringing Dr. Ford in to testify at all, and praised Kavanaugh's passionate testimony from the day before.
Democrats, meanwhile, urged to delay the vote in order to have the FBI investigate Dr. Ford's claims. Many of them made a point to say, "I believe Dr. Ford." Then there was a recess.
The committee was set to reconvene at 1:30 p.m. EST for the vote, but Senator Jeff Flake and some of the committee Democrats had not re-entered the room by that time. Soon, Committee Chairman Chuck Grassley, a Republican Senator from Iowa, also left the room.
Reports that Senator Flake was talking to Democrats about delaying the vote began coming out. Senator Lindsey Graham, a Republican from South Carolina, also briefly left.
Around 1:45 p.m., the committee began filtering back in, including Jeff Flake. Chairman Grassley allowed him to speak. Flake told the committee that it would be "proper" to move to the floor and delay the vote there for up to a week, until an FBI investigation can perform the necessary due diligence.
A motion to move the nomination to the floor was quickly and confusingly put to a vote. Republicans, including Senator Flake, voted yes. Senator Feinstein, who first talked to her aide, voted, "No, for the nominee." The other committee Democrats followed her lead.
The committee was adjourned by Chairman Grassley because of a "two-hour rule."
So What Does That Mean?
Okay, so that's what happened. What it means is this: The committee voted to confirm Kavanaugh for the Supreme Court, but the Senate vote "on the floor" will ultimately decide whether he becomes a Justice (SCOTUS Justices always have to be voted on by the full Senate).
It's important to note that it's not actually up to Senator Flake to call for a delay or an FBI investigation—that will be left up to Senate Majority Leader Mitch McConnell and Democratic Senate Minority Leader Chuck Schumer.
What Flake essentially did was make clear that while he was voting to confirm Kavanaugh in committee, if a delay and FBI investigation don't occur, he would reconsider voting to confirm during the vote on the Senate floor.
Your confusion is understandable. Yes there was a vote. The Senate Judiciary committee approved Kavanaugh's nomination with Senator Flake saying he would vote yes to pass it out of committee to the full Senate, but could vote no there, unless the FBI investigates. #Kavanaugh https://t.co/7jcBR2ngKWSeptember 28, 2018
See more
To some, this was seen as progress—maybe Flake was swayed by the brave survivors who accosted him. But others were less ready to give him props:
guys please stop acting like this is anything other than a "yes" vote with spineless PR attached to itSeptember 28, 2018
See more
It's a lot of drama, and the FBI investigation might not even happen! Senator McConnell has been keen on rushing the floor vote as quickly as possible, saying earlier this week, "We're going to be moving forward. I'm confident we're going to win. I'm confident [Kavanaugh] will be confirmed in the very near future."
Still, it would behoove him to push for an FBI investigation. With Senator Flake on the fence, and Republican senators Lisa Murkowski of Alaska and Susan Collins of Maine also expressing concern over Kavanaugh, the Republicans can't afford to lose any more votes in this process, lest they risk Kavanaugh not getting confirmed at all. (The breakdown of the Senate is 51 Republicans to 49 Democrats, with Vice President Pence acting as the deciding vote in the case of a tie. If just two Republicans decided to vote "no" and all Democrats do so as well, Kavanaugh will not be confirmed.)
Basically, consider this a committee confirmation with a caveat, and hope that if an FBI investigation doesn't happen that Senator Flake will stay true to his word.
More chaos to come next week. Great.
RELATED STORIES
Celebrity news, beauty, fashion advice, and fascinating features, delivered straight to your inbox!
Cady Drell is a writer, editor, researcher and pet enthusiast from Brooklyn.