Abortion Measures in the Midterms You Really, Really Need to Know About
If you don't vote on measures like these, things could get even bleaker.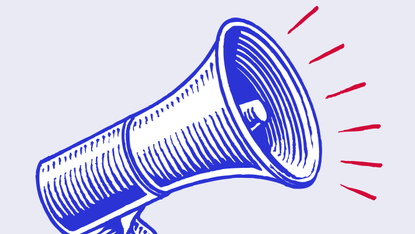 (Image credit: design by Morgan McMullen)
Is it just me, or has everyone been experiencing this weird feeling in the pit of your stomach, just lurking there in the dark? Just me? I'm the only one screaming into the void constantly? Okay, well, then. I deleted the Twitter app off my phone in November 2016 and haven't been tempted to download it again, but my goodness, that ball of despair hasn't gone anywhere. Here's what I know: With the confirmation of Brett Kavanaugh to the Supreme Court, everything we know about abortion in America is now at risk. Everything.
Despite the fact that Roe v. Wade has never been more popular with the American people, we still have much to worry about. With 13 abortion cases and 25 total cases related to reproductive healthcare and rights just one step away from the Supreme Court, the likelihood that Roe v. Wade could be overturned is pretty high. Like, within the next two years high. And if that happens, there are 20 states are poised to ban abortion. And some of them have these little fun things called "Trigger laws" to immediately ban abortion if Roe v. Wade is overturned.
If you live in Alabama, Arizona, Arkansas, Idaho, Indiana, Kansas, Kentucky, Louisiana (trigger law), Mississippi (trigger law), Missouri, Nebraska, North Dakota (trigger law),Ohio, Oklahoma, South Dakota (trigger law), Tennessee, Texas, Utah, West Virginia, or Wisconsin, it's time to get to work.
If Roe v. Wade is overturned, more than 25 million women will lose access to abortion in their home states. This will disproportionately harm women of color, women with low incomes, and women in rural areas. One-third—I repeat, one-third—of women of reproductive age will lose access to safe and legal abortion.
Banning abortion doesn't mean abortions won't happen. It only means that far more women who need abortions are at risk of harm or death. The United States already has the highest rate of maternal death in the developed world, and that rate will only increase without Roe. Unsurprisingly, the states with currently, the strictest abortion laws, are the ones with the highest maternal and infant mortality rates. Black women are dying during childbirth faster and more often than ever before, and legislators are doing nothing. Are you scared yet? I am.
So let's talk about the active measures on the ballot that will add anti-abortion provisions to their respective state constitutions. I mean, let's be real: If we look at the literal hundreds of abortion restrictions that went down in the last 10 years, those were done by state legislatures, not the United States Congress or Senate. Meanwhile, not to shame anyone, but most people don't know who your state representative or state senator is. There's no shame in that, because the likelihood is that they try to keep you uneducated about these kinds of things because it allows them to pass nonsense laws, like the one in Pennsylvania that requires you to pay a $100 fine if one loses their EBT card more than once.
It's not enough just to focus on the big races. You need to pay attention to the small ones, and to the measures that are up for debate. Find out who represents you here. And let's talk about some of the most important abortion-related measures in Alabama, West Virginia, and Oregon.
What is it?
Amendment 2 would amend the state constitution to do the following:
(a) declare that the state's policy is to recognize and support "the sanctity of unborn life and the rights of unborn children, including the right to life,"
(b) "ensure the protection of the rights of the unborn child in all manners and measures lawful and appropriate," and
(c) state that "nothing in this Constitution secures or protects a right to abortion or requires the funding of an abortion."
Who's into it?
It's sponsored by Rep. Matt Fridy, who wants to ensure that in case Roe is overturned, "the Alabama Constitution cannot be used as a mechanism by which to claim that there is a right to abortion." The Alliance for a Pro-Life Alabama is registered to support Amendment 2, as as Alabama Governor Kay Ivey. Amendment 2 was approved by all voting Republicans and three voting Democrats in the legislature.
What's notable?
Uh, Alabama already prohibits abortions after 20 weeks except n cases of the women's life or death being in danger, and also limits public funding of abortion to cases involving rape or incest, and they require a 48 hour waiting period for women seeking an abortion and minors must obtain parental consent. But no, this time they have to limit abortion by putting it in writing.
"The net impact is that it would completely outlaw abortion access in the state of Alabama regardless of the situation," Katie Glenn, the Alabama director of Planned Parenthood Southeast, told the Tuscaloosa News. "It is [a] total ban."
How would a pro-choice person vote?
ABSOLUTELY NOT on Amendment 2.
What is it?
According to Ballotpedia, Amendment 1 "would add Section 57 to Article VI of the West Virginia Constitution to say 'Nothing in this Constitution secures or protects a right to abortion or requires the funding of abortion.'" In the case that Roe is overturned, this would ensure that the state's constitution could not be used to allow abortions.
Who's into it?
West Virginians for Life and Yes On 1 WV are leading the support of Amendment 1. President of West Virginians for Life, Wanda Franz, said in a statement that the part of the amendment that specifies "Nothing in this Constitution secures or protects a right to abortion" was "included in order to make clear that the state constitution isn't going to be addressing the abortion issue.
Who's against?
Planned Parenthood and WV Free (West Virginia's "leading reproductive health, rights and justice organization") are against this one, with WV Free putting the following argument on its website:
The West Virginia Legislature has launched an unprecedented attack on women's rights by putting on the ballot in November Amendment 1, which bans the right to abortion in our state constitution while simultaneously opening the door to take away Medicaid funding for abortion for poor people. This amendment sets us up for restrictive policy after restrictive policy, year after year. Not to mention the fact that if Roe v Wade is overturned federally, draconian language in our own state code would totally criminalize all abortion. This means anyone involved in an abortion would be subject to jail time.
How would a pro-choice person vote?
Oh Child, Hell No on Amendment 1.
What is it?
This would prohibit public funds from being spent on abortions, except for when it's medically necessary or required under federal law. "Medically necessary" meaning that a doctor would have to determine that a woman could be harmed or die unless an abortion is performed. Public funds will still cover abortions in the circumstances of rape or incest or diagnosed ectopic pregnancies.
Who's into it?
Pretty much everyone you'd expect—The Oregon Catholic Conference, Oregon Right to Life PAC, Pregnancy Resource Centers of Central Oregon, Jackson County Right to Life, Lincoln County Right to LifE, Precious Children of Portland, and...former Governor of Arkansas, Mike Huckabee. Go away, Mike Huckabee. You don't even go to this school.
Who's against?
Our usual suspects: Planned Parenthood Advocates of Oregon, ACLU of Oregon, NARAL Pro-Choice Oregon, as well as American Federation of Teachers (AFT) of Oregon and Oregon Governor Kate Brown.
How would a pro-choice person vote?
NONONONONONO, PLEASE GOD NO on Measure 106.
What's most important is that right now, more than ever, it is imperative to elect people specifically in downballot races. Governor, Auditor General, Attorney General, all the way down to state senators, state representatives, and district attorneys.
If Roe is overturned, that's when it will matter who the state attorney general is, and individual district attorneys who will have the power to decide whether or not they will prosecute doctors and patients for giving or receiving abortions.
Every vote matters.
Please, just vote. I'm so tired of screaming into the void.
Information about the above bills was pulled from Ballotpedia, a nonpartisan resource.
From explainers to essays, cheat sheets to candidate analysis, we're breaking down exactly what you need to know about this year's midterms. Visit Marie Claire's Midterms Guide for more.
Amanda Mitchell is a writer and podcaster with bylines at Marie Claire, OprahMag, Allure, Byrdie, Stylecaster, Bon Appetit, and more. Her work exists at the apex of beauty, pop culture, and absurdity. A human Funfetti cake, she watches too much television, and her favorite season is awards season. You can read more of her work at amandaelizabethmitchell.com or follow her on Instagram and Twitter @lochnessmanda.