Brian Kemp Was Caught on Tape Saying He's "Concerned" About People Going Out and Voting
Also, he purged 53,000 voters already.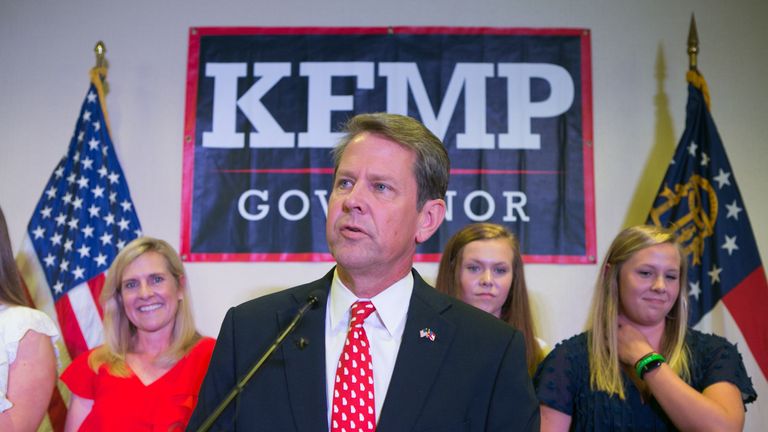 (Image credit: Getty Images)
In today's edition of All The Chilling Ways Republicans Are Trying To Beat Out Opponents, governor candidate Brian Kemp (opens in new tab) was caught on tape telling a closed-door group of donors that he was "concerned" that people in Georgia would go out and vote in November, Rolling Stone's Jamil Smith reports. To quote Kemp, the current Secretary of State in Georgia, who technically oversees the gubernatorial election and has already moved to purge tens of thousands of voters: (opens in new tab) Stacey Abrams' effort to improve voter turnout "continues to concern us, especially if everybody uses and exercises their right to vote."
The remarks were made at a "Georgia Professionals for Kemp" event, according to Rolling Stone, where one attendee secretly taped Kemp's off-the-record remarks. Kemp specifically mentioned the importance of keeping voter turnout low for his campaign to be successful, saying his campaign feared "the literally tens of millions of dollars that [Abrams' campaign] are putting behind the get-out-the-vote effort to their base."
The whole thing is exactly as dark as it sounds. The higher voter turnout is in Georgia, the more likely it is than Kemp will lose to Abrams, a beloved progressive who, if voted in, would be the first black woman governor in the nation. And nobody is more aware of the importance of voter turnout in the state than Kemp, who has already acted to purge 53,000 voters (opens in new tab) simply because they opted not to vote in prior elections, and is actively seeking to suppress thousands more. (opens in new tab)
This isn't the first time that a state's secretary has run for governor and thus found themselves overseeing their own election, but Georgia's history of voter suppression generally and Kemp's activity to purge voters specifically has caused concern. A Daily Beast report published this week attested to the fact that voters of color in Georgia are concerned that the election is essentially being rigged by Kemp. (opens in new tab)
From explainers to essays, cheat sheets to candidate analysis, we're breaking down exactly what you need to know about this year's midterms. Visit Marie Claire's Midterms Guide (opens in new tab)for more.
Jenny is the Director of Content Strategy at Marie Claire. Originally from London, she moved to New York in 2012 to attend the Columbia Graduate School of Journalism and never left. Prior to Marie Claire, she spent five years at Bustle building out its news and politics coverage. She loves, in order: her dog, goldfish crackers, and arguing about why umbrellas are fundamentally useless.