Read the Full Transcript of Beto O'Rourke's Viral Concession Speech
Beto O'Rourke lost his Senate bid in Texas Tuesday night to incumbent and former presidential candidate Ted Cruz. The Democrat made headlines for dropping an F-Bomb on live television during his speech.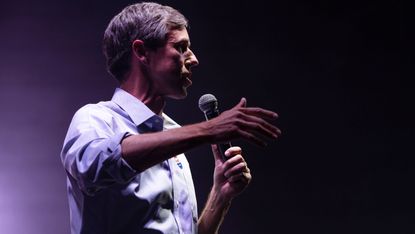 (Image credit: PAUL RATJE)
On Tuesday night, Texas Ted Cruz held onto his Senate seat in a closer-than-expected race against Democratic Rep. Beto O'Rourke. O'Rourke visited every county in Texas during his campaign and drew $70 million in campaign donations, according to The Washington Post. The race was extremely close, with Cruz taking 51 percent of the vote.
O'Rourke made headlines for his impassioned concession speech, which included an F-bomb on live TV. Read a full transcript of O'Rourke's concession speech below:
It's not about being against anybody. Not about being against another political party. We're not going to define ourselves by who or what we are against or afraid of or scared of. We are a great people, ambitious, defined by our aspirations, the hard work that we are willing to commit in order to achieve them. Every single one of us, Republicans, Democrats, Independents, from the biggest of cities to the smallest of towns, the people of Texas want to do and will do the great work of this country.
I just now had the opportunity to talk to Senator Cruz and to congratulate him on his victory and to wish him well going forward. And what I said, what I pledge on behalf of all of us is that at this time of division—the country's been as polarized as I can remember it in my life, all this bitterness that defines so much of the national conversation today—if there's anything we can do to help him in his position of public trust to ensure that Texas helps to lead this country in a way that brings us back together around the big things that we want to achieve. Whether that's making sure we face any threats or aid against this country, whether that means that we are there for every single one of us that needs a helping hand so that we can live to our full potential, the ability to see a doctor and go to the hospital, receive the medication that you need to be alive, I want to work with him. I will work with anyone to make sure that we can lead on that.
You amazing public school educators, who work so hard and do so much for so many of us. I'll work with him, I'll work with anyone, anytime, anywhere, to make sure in the same way that you've been there for us that now we can be there for you. Not as Democrats. Not as Republicans. But as Texans, as Americans.
I want to make sure especially that this community that raised me, made me who I am, where Amy and I are so lucky and fortunate enough to be raising our kids, Ulysses, and Molly, and Henry who are here with us tonight, that we offer our experience and our perspective and our courage and our confidence on the issues that we know best as one half of the largest binational community anywhere in the Americas, joined with Ciudad Juárez, to form something powerful, magical, and nothing to be afraid of or walled off or to apologize for.
I want to make sure that this proud community offers all it has to give to this country and to our future and to ensuring that our greatest days are still ahead. And that the policy that we craft and the laws that we write and the way in which we treat each other comes not out of fear, but comes out of confidence and strength and this kind heart that I've always known El Paso to have.
I don't know anyway to say this other than El Paso, I love you so much. I am so proud of you and this city and this community and what you mean to the rest of this country. And what you have achieved tonight, along with so many other amazing people all across this state. The kindness and generosity that you have shown to me and to Amy, to our family, to our campaign is amazing. It's why my faith in this state and this people as a country is in no way diminished at this moment. I know that we will continue to work to come together, to make sure that we live up to the promise and the potential of this country. I know it because I've met you everywhere that you are. I've listened to you everywhere that you live.
I want to thank, tonight, my family beginning with Amy, who has born the toughest burden—raising our ids, supporting me, loving me, giving me strength and encouragement at every step of the way, making sure that we could finish this just as strong as we started it. I want to thank our kiddos. I want to thank my mom and my sisters and our family, all of whom are here tonight, for being such great examples to me. I love you guys. I want to thank this amazing campaign of people. Not a dime from a single PAC. All people, all the time, in every single part of Texas. All of you showing the country how you do this. I'm so f*cking proud of you guys.
To David and Jodie and Chris and Cynthia and everyone who works on this campaign. Every volunteer, every ambassador, everyone who knocked on doors, everyone who made phone calls, everyone who allowed themselves to hope and to believe and to be inspired by one another and to turn that into action and into votes and to do something that no one, none on thought was possible: To build a campaign like this one, solely comprised of people. People from all walks of life coming together, damning the differences, and deciding that what unites us is far stronger than the color of our skin, how many generations we can count ourselves an American or whether we just got here yesterday, who we love, who we pray to, whether we pray at all, who we voted for last time. None of that small stuff matters now. It is the greatness to which we aspire and the work that we're willing to put into it to achieve it by which we will be known going forward and this campaign holds a very special place in the history of this country every day going forward and you have made that possible.
Watch Beto's full concession speech for yourself below:
RELATED STORIES
Celebrity news, beauty, fashion advice, and fascinating features, delivered straight to your inbox!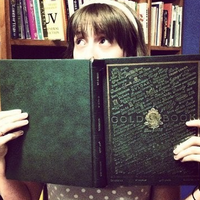 Kayleigh Roberts is a freelance writer and editor with more than 10 years of professional experience. Her byline has appeared in Marie Claire, Cosmopolitan, ELLE, Harper's Bazaar, The Atlantic, Allure, Entertainment Weekly, MTV, Bustle, Refinery29, Girls' Life Magazine, Just Jared, and Tiger Beat, among other publications. She's a graduate of the Medill School of Journalism at Northwestern University.