Are Women Equal in America? A Look At Title IX's Impact 45 Years Later
The landmark legislation made discrimination on the basis of sex illegal in education. On the 45th anniversary of its passing, Molly Knight examines what that's meant for American women.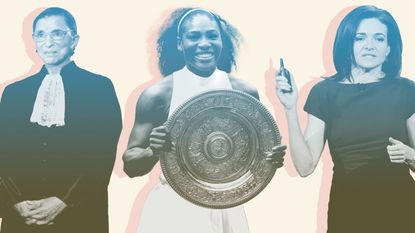 (Image credit: American Artist)
Marie Claire Newsletter
Celebrity news, beauty, fashion advice, and fascinating features, delivered straight to your inbox!
Thank you for signing up to Marie Claire. You will receive a verification email shortly.
There was a problem. Please refresh the page and try again.
Title IX is often conflated with girl power in sports. That's because the number of athletic scholarships a university offers men and women is perhaps the easiest thing to enforce under the law. And the number of girls who participate in high school athletics has risen ten-fold since its passing, from 300,000 nationwide in 1971 to over 3 million today. It's a choice that sets them up for success later on in life: Research shows that among C-level business women, 94 percent played sports and over half competed at the collegiate level.
But the bill wasn't passed into federal law on this day in 1972 to create a nation of future female Olympians. In fact, it states that: "No person in the United States shall, on the basis of sex, be excluded from participation in, be denied the benefits of, or be subjected to discrimination under any education program or activity receiving Federal financial assistance."
For those of us born in the years since, it's easy to overlook the fact that the basic, fundamental fairness of the law wasn't always a given. "When I was a kid, I couldn't figure out why we didn't have any woman lawyers and doctors," says tennis champion and feminist icon Billie Jean King. "But then I found out later the classroom quotas in those graduate programs only allowed for five percent to be women. Without Title IX, we'd still have those quotas."
To be sure, we've come a long way toward gender equality in the last 45 years. According to a January report from the American Bar Association, women made up 47 percent of law school graduates in the class of 2015, the most recent year for which that data is publicly available. But when it comes to leadership positions, we still have a long way to go. Only 31 percent of law school deans are women, while just 25 percent of Fortune 500 companies employ women as general counsel. Gender parity has yet to be reached at the top tier of nearly any field. Two egregious examples: Women are CEOs of just 28 companies in the S&P 500, and directed only seven percent of the top 250 grossing movies released in 2016.
Why does it matter that women are equally represented? Well, aside from basic human decency and respect for the Civil Rights Act, a recent Harvard University study concluded that you will be safer and healthier if your physician is female. It estimated that if male doctors provided the same level of personalized, patient-focused care that their female counterparts do, 32,000 fewer Americans would die each year. In spite of this, female doctors are paid less money and promoted less often.
But perhaps the place where women most need to catch up is in the United States Congress. Women make up approximately 51 percent of the American population, and there are 435 members of our House of Representatives. Eighty-three are women. That's just 18 percent. The U.S. Senate is slightly better, but still disturbingly bereft: Just 21 of our 100 senators are women. For the past month, thirteen male senators have been writing health care reform that will shape one-sixth of our economy without the input of one female voice. Is it any wonder, then, that the bill strips President Obama's mandate that all health insurance plans cover maternity care?
RELATED STORIES
While Title IX has done wonders to make sure that women and girls have the same opportunities that boys and men do in educational settings, we can't rely on it to mandate that half of all jobs go to women; that's not what it does. And of course, discrepancies in the workforce and in government are not entirely due to discrimination. (Millions of women choose to focus on child-rearing, for example, rather than pursue a demanding career—a perfectly legitimate choice.) But we can look to the legislation for inspiration as we fight to narrow the gap. That 47 percent of all the people graduating law school today are women would have been unthinkable in 1972.
Warren Buffett famously said that one of the main reasons he has achieved so much success in his life is he was only competing with half the population. To wit, we are not going to have a country that works for women until we have equal representation in its highest institutions.
So on this, the 45th anniversary of Title IX, I encourage each of you to take a minute out of your day to locate an exhausted woman in your life and tell her you think she's doing a great job. Tomorrow, think about the ladies you know who would make strong leaders in your community or at work, and encourage them to apply for, or step into, open leadership positions. And the day after that, maybe visit this website and nominate someone you know to run for office. When she wins, we'll be one person closer to the egalitarian utopia of Title IX's dreams.
Follow Marie Claire on Facebook for the latest celeb news, beauty tips, fascinating reads, livestream video, and more.
Celebrity news, beauty, fashion advice, and fascinating features, delivered straight to your inbox!
Molly Knight wrote about baseball for ESPN the Magazine for eight seasons. Her work has also appeared in The New York Times Magazine, Glamour, SELF, Vanity Fair, Baseball Prospectus, and Variety. Her first book, The Best Team Money Can Buy: The Los Angeles Dodgers Wild Struggle to Build a Baseball Powerhouse, was a New York Times Bestseller.