The 31 Best Action Movies With Strong Women Front and Center
The superheroes we deserve.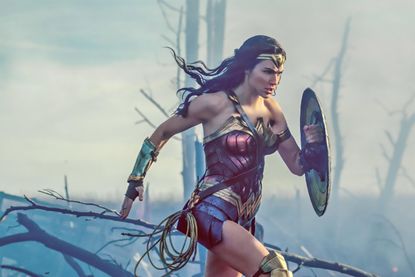 (Image credit: Alamy)
It's still kind of surprising that action movies are seen as a male-dominated category. Wonder Woman broke box office records, Kill Bill remains a beloved cinema classic, and Hanna was such a cult favorite that it got its own spin-off Amazon series. And yet, some men are just gonna men. So in order to prove definitively that women not only kick butt in the action genre but also draw big ol' audiences across the gender spectrum to see them do it, here's a list of the best action movies with strong female leads. You're welcome, society.
'Captain Marvel'
Hell yeah, Captain Marvel! Just when some fans of the Marvel Cinematic Universe were worried that there wouldn't be a one-off film about a female superhero, Brie Larson comes in to save the day—nay, the galaxy. And she's so powerful that they even keep her at arm's length in Avengers: Endgame because she'd probably end the movie too fast. She's that good.
'Atomic Blonde'
Charlize Theron (who appears later on this list, that's how badass she is) plays the brilliant, vicious, does-whatever-she-wants elite spy. You won't be able to take your eyes off of her, though be warned: The primary cut of this movie has an NC-17 rating—partially for its inclusion of some super steamy queer sex scenes, but mostly for its inclusion of nonstop blood and guts.
'Annihilation'
Forget one female lead: This movie had a handful. Gina Rodriguez, Natalie Portman, Jennifer Jason Leigh, Tuva Novotny, and Tessa Thompson play a team of scientists and military personnel sent to investigate a rapidly-spreading alien....thing...called The Shimmer. What they find inside is beautiful, horrifying, and mysterious—sometimes all at the same time.
'Dark Phoenix'
Sophie Turner is young Jean Gray in this origin film in the X-Men franchise. It's also one of the first female-led origin films, though we're hoping it won't be the last. Have you seen how many awesome female X-Men there are?!
'Underworld'
Kate Beckinsale took on creepy lycans as a vampire trying to save her family's legacy in the Underworld franchise, which would go on to last five movies. Not too shabby.
'V for Vendetta'
First of all, this movie was made by sisters, so that's already incredibly badass. Second, its version of a dystopian, subtly fascist society filled with fake news has only become more relevant since its 2005 release. And third, well, Natalie Portman shaved her dang head as her character Evie transformed from a meek rule-follower to a revolutionary leader. So that's pretty cool.
'Wonder Woman'
Patty Jenkins' Wonder Woman redefined women in the superhero genre, defied stereotypes, and absolutely dominated at the box office. A dream come true.
'Lara Croft: Tomb Raider'
Who can forget how badass Angelina was as Lara Croft? No one, that's who. Though the film has since been rebooted, this time starring the always wonderful Alicia Vikander, it was Jolie's take on the video game character that first brought the franchise to the silver screen—and we thank her for that.
'The Hunger Games'
The importance of the YA genre embracing a strong female protagonist as a hero cannot be overstated. Katniss Everdeen saved herself, the men around her, and—oh yeah—everyone else.
'G.I. Jane'
If you haven't watched Demi Moore in G.I. Jane, please schedule "me time" into your calendar and rectify the situation. Let's just say she's better than your faves—at least, if one of your faves is G.I. Joe.
'The Heat'
Women have long deserved their own buddy comedy, and who better to make it a thing than the dream duo of Sandra Bullock and Melissa McCarthy? We think no one.
'Charlie's Angels'
What do you get when you hire Lucy Liu, Drew Barrymore, and Cameron Diaz to star in Charlie's Angels? Box office gold. And though another reboot of a reboot (recall it was a TV show first) might not seem necessary, given that this trio was so iconic, the Kristen Stewart-led 2019 take on Charlie's Angels wasn't bad either.
'Star Wars: The Force Awakens'
Daisy Ridley's Rey, Carrie Fisher's General Leia—come on! Even though Star Wars is always a bit of an ensemble, this one was led by women, and female fans of the franchise could not be happier.
'Rogue One'
Oh, and why not just add another new Star Wars here, too—this one from the extended universe and starring Felicity Jones as the extremely badass Jyn Erso, a criminal-turned-rebel fighting the good fight.
'Crouching Tiger, Hidden Dragon'
Did you know that the stunt-heavy, surprise hit, Chinese language film ended up being the highest grossing foreign language film produced overseas in U.S. box office history? That's impressive! The stunts in this movie are so cool they will make you want to drop everything and enroll in a martial arts class.
'Kill Bill'
The only Tarantino movies you need to see, pretty much? Sorry, is that controversial? Uma Thurman twirls on her haters in epic, mega-gory fashion and we stan a legend.
'La Femme Nikita'
Nikita should be on every list of action movies—no matter whether said list is focusing on women or not. The '90s gem (about a trained assassin) is truly iconic, so much so that it was made into a TV show.
'Hanna'
File this movie under "that feeling when your father raises you in the woods as an assassin and you turn out completely epic, and then go on a very successful vigilante mission at the age of 15." That should be a genre.
'Resident Evil'
Another video game-turned-badass woman-led franchise, Milla Jovovich's Alice is a woman taking on mutants and big corporations. It's also the highest-grossing franchise to ever be based on a video game—proof that not only can women carry an action movie, we can carry a whole freaking series.
'Mad Max: Fury Road'
Two words: Imperator. Furiosa. This reboot had absolutely no right to be as good as it was, and Charlize Theron's Furiosa was kind of the star of the whole thing? Hell yeah.
'Alien'
In 1979, Sigourney Weaver set the standard for strong, ass-kicking women in film with her character, Ripley, who managed to survive an encounter with one of the scariest movie monsters of all time.
'Edge of Tomorrow'
If you think Tom Cruise is the star of Edge of Tomorrow, you clearly haven't seen the movie. Emily Blunt's badass Sergeant Rita Vrataski is the flick's real hero and a goddamn inspiration, to boot.
'Terminator 2: Judgement Day'
Sure, the killer robots are scary, but the person you really don't want to piss off? Linda Hamilton's ripped AF and mad as hell Sarah Connor.
'The Old Guard'
The superhero film follows a team of immortal mercenaries, led by Charlize Theron, who pick up a soldier, played by Kiki Layne, after she has her throat slit and comes back to life. A Netflix hit so big that they're already working on the sequel.
'The Villainess'
This thriller follows the life of Sook-hee, who is trained as an elite assassin as a child and grows up to seek revenge for her father's death. Ok-bin Kim stars in the brutal flick, which uses first-person POV many of its excellent fight scenes.
'Sicario'
This action thriller has another star turn from Emily Blunt, as an FBI agent who gets mixed up in a dangerous operation in Ciudad Juárez, Mexico.
'Salt'
Angelina Jolie flexed her action muscles once again in this underrated thriller, where she plays a CIA operative who gets accused of being Russian spy. While this film is a decade old, we'll soon be seeing Jolie take up the Marvel mantle in Eternals this November.
'Black Widow'
The first female Avenger, played by Scarlett Johansson finally has her own standalone movie. In this film, Natasha Romanoff teams up with her sister, played by Florence Pugh, to take down the man who first made her an assassin.
'Bruised'
Halle Berry both directed and stars in this drama about a disgraced MMA fighter, whose world is turned upside down when she gets a chance to re-enter the sport and the son she gave up shows up at her door.
'Widows'
When a group of thieves die in a police standoff after stealing $2 million, their widows have to enter the world of crime themselves and get the money to pay off their husbands' enemies.
'The Long Kiss Goodnight'
In this '90s hidden gem, Geena Davis plays a schoolteacher with amnesia. As her memories come back, she discovers that she used to be an assassin, and now has to stop a terrorist plot.
'The Assassin'
In this ninth-century period drama from Taiwan, the kidnapped daughter of a general is trained to be an assassin. When she returns home, she has to choose between killing her betrothed or leaving her organization.
Celebrity news, beauty, fashion advice, and fascinating features, delivered straight to your inbox!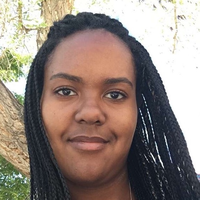 Contributing Culture Editor
Quinci LeGardye is a Contributing Culture Editor who covers TV, movies, Korean entertainment, books, and pop culture. When she isn't writing or checking Twitter, she's probably watching the latest K-drama or giving a concert performance in her car.