Ballet Has a Sexism Problem—but I'm Fighting Back from the Inside
When New York City Ballet principal dancer Ashley Bouder realized that women were rarely tapped to choreograph ballets, she decided to create one herself.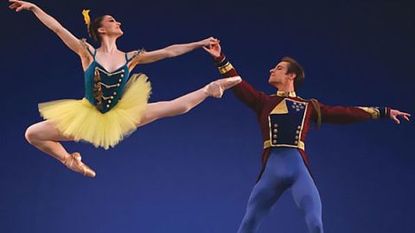 (Image credit: Courtesy of Ashley Bouder's Instagram)
Marie Claire Newsletter
Celebrity news, beauty, fashion advice, and fascinating features, delivered straight to your inbox!
Thank you for signing up to Marie Claire. You will receive a verification email shortly.
There was a problem. Please refresh the page and try again.
Every fall, the New York City Ballet hosts a gala featuring new work. A couple of years ago, our program included five new choreographers. The promotional poster, which had a prominent spot in front of Lincoln Center, featured the head shots of these five choreographers: They were all white men.
I had read articles in the past about the ballet industry's gender problem behind the scenes—and how that can translate into fewer career paths for retired ballerinas—but I never really noticed, maybe because it's an industry norm. That poster smacked me in the face. The choreographers were good and deserved to be on the program—one was Justin Peck, who's now NYCB's resident choreographer—but there were no women, and it hadn't crossed the executives' minds that something was missing.
I share a dressing room with Sara Mearns, who is also a NYCB principal. We often talk about things that bother us, like that poster. Not all of our colleagues thought it was an issue; a couple said, "I don't see a problem with this. They're all great choreographers." But Sara got it. As I laid out my argument—we deserve equality, the industry has to evolve, this problem really should have been taken care of already—she kept saying, "I know. I know. I know." (In its 2015-2016 season, NYCB performed 58 ballets; all were choreographed by men. The commissioned work for the 2016-2017 season was a bit more promising.)
A few months later, New York Jazzharmonic's artistic director Ron Wasserman approached me about collaborating on a small show that wasn't for the NYCB. I live most of my life on the big stage; that's my real job and that's where I want to be. I have no plans to ever leave the New York City Ballet until I can't dance anymore. Peter Martins, NYCB's Ballet Master-in-Chief, offers dancers in the school and the company so many opportunities to stretch themselves.
But I immediately said yes to Ron, adding, "I want to focus on women choreographers, I want to dance with Sara Mearns, and I want to have a duet created for us, by a woman." This seemed like a great opportunity to push boundaries. You don't see two women in a duet very often. You see two, three, four men quite often—but the language of two females working together, side by side, is not a language many choreographers have explored.
Ballerinas like Sara and me are often taught that we can't be choreographers. I've been dancing since I was six years old, and when I've tried to voice an opinion I've often been told to "just shut up and dance." Seriously, sometimes in those exact words. Nobody ever explicitly said I couldn't create my own pieces, but you hear a certain message when you're young and told to "stand there and look pretty."
So many little girls dream of being a ballerina, and because so many of them sign up for dance classes, they're expendable unless they're very dedicated to playing by the rules. The discipline required of young female dancers can make them rigid and conformist. Boys, on the other hand, get away with a lot more. Fewer sign up for ballet classes, and dance schools make a significant effort to keep them coming back year after year. If a boy misbehaves, but he's talented, teachers will be lenient. Perhaps that laxity makes boys more creative; they're taught that it's okay to bend the rules.
Plus, female dancers are on stage more than male dancers. Women in dance companies are onstage every night (the corps de ballet, the group of dancers in the background of most performances, often features more women than men). They spend more time in rehearsals. They have to sew their pointe shoes. They have to do their own hair and make-up, put on their false eyelashes. It's time consuming. Male dancers have more time to hop into an empty studio and try out some new movements. They have more time to create.
Because I was so focused on becoming a ballerina (and getting through the work it entails day-in and day-out), it took me years to realize that whenever I heard classical music, I also saw dancing—even if that dance didn't yet exist. It took me years to realize that maybe I had this thing in me that wanted to create something new.
During NYCB's off season, I began working with Ron on what would eventually become the Ashley Bouder Project. I reached out to several female choreographers: Liz Gerring, who owns a contemporary dance company, signed on to choreograph a piece—but many other women weren't available. I was stressing, and I thought, Well, maybe I should just hire a man. My husband said, "Babe, why don't you do it?" I was like, "No, no, no. I'm not going to do it. I don't know if I'm ready to do it."
I had choreographed two pieces in my life: one through the School of American Ballet's Student Choreography Workshop when I was 16, and the other through the NYCB's Dancer's Choice program when I was 25. I was so nervous before the latter that I sweated through my dress. I was little a bit gun shy from that experience—I got great feedback, but I hesitated to do it again because women choreographers seem to be judged more harshly because they're the face of a group that really needs representation.
"Your name is on the project anyway," my husband added. "Any criticism you get—well, how much more are you going to get if you choreograph the ballet?"
So I said, "Screw it. I'll push myself. I'll do it." It's been fun to be on all sides of a performance. I step into the room as a choreographer and I'm the boss. Then I walk out of that room and go to our rehearsal studio downtown, and all of a sudden I'm a dancer again. It's nice to not be the same person all the time.
Best of all, I hope I'm giving other people courage to try new things. I admire what Reese Witherspoon is doing—producing and starring in female-driven films. That's how I feel about what I'm doing. I wouldn't trade my career at the New York City Ballet for anything. They gave me the voice and platform that I have today. Now, I want to use that platform to give female choreographers and composers the opportunity to be heard. I want to be heard! And if I want to try something new and bold—like dancing a duet with an equally strong female dancer—I want to be able to do it.
There are still plenty of challenges for women in the dance industry. I recently had my first baby—a girl, Violet Storm. Before I was pregnant, another dance company hired me to be the Sugar Plum Fairy in their production of the Nutcracker, but when the board found out I was pregnant, they said it was too much of a liability to have me dance the part. I have my own personal insurance, and I was still dancing at NYCB. Breaking an ankle or leg was just as much of a liability. But I lost the job—and money—because I was pregnant.
So I'm speaking up, because I'm tired of little girls being told they can't. I want to inspire young girls in the dance world—and beyond—that they don't have to just shut up and be pretty. They can have a voice. They can be creative. They can be whatever they want to be.
The Ashley Bouder Project will be performed at Symphony Space's Peter Jay Sharp Theatre on March 17 and 18.
Follow Marie Claire on Facebook for the latest celeb news, beauty tips, fascinating reads, livestream video, and more.
Celebrity news, beauty, fashion advice, and fascinating features, delivered straight to your inbox!