What Neil Gorsuch's SCOTUS Confirmation Will Mean for Women
The SCOTUS nominee does *not* have a great record when it comes to women's issues.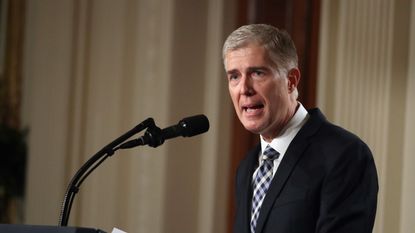 (Image credit: ARCHIVES)
Marie Claire Newsletter
Celebrity news, beauty, fashion advice, and fascinating features, delivered straight to your inbox!
Thank you for signing up to Marie Claire. You will receive a verification email shortly.
There was a problem. Please refresh the page and try again.
The Senate began its hearings on Donald Trump's Supreme Court pick today, and with little organized resistance from Democrats, it seems likely he'll be approved. That isn't great news for about 50 percent of the population since the conservative is not exactly a champion of women's issues.
The National Women's Law Center, an advocacy group, has condemned Gorsuch, saying in a statement that "his approach to the law poses devastating risks for women and girls across the country." They called Gorsuch another Scalia, saying that he would make it "harder for agencies to implement the laws that have literally opened the doors of opportunity for women and girls."
Here's where Neil Gorsuch stands on some major female matters:
In a letter to the Senate Judiciary Committee, a former student of Gorsuch's alleged that he told her law school class that he believes "many" female job seekers abuse maternity leave by taking a job for the benefits and leaving soon after. According to the student, Jennifer Sisk, Gorsuch suggested that companies ask female applicants about whether they plan to have children in order to protect themselves. The Civil Rights Act prohibits employers from discriminating against applicants due to pregnancy or plans to become pregnant but does not prevent companies from asking.
RELATED STORY
10 Things to Know About Neil Gorsuch, President Trump's Supreme Court Nominee
REALTED STORY
Donald Trump Nominates Neil Gorsuch to the Supreme Court
Birth Control:
As a member of the 10th Circuit Court of Appeals, Gorsuch ruled on the contraceptive case Burwell v. Hobby Lobby, a landmark decision that allowed companies to refuse to pay for women's birth control if it violates the owners' religious beliefs. In his opinion, Gorsuch wrote that the owners of Hobby Lobby were not "wily [businessmen] seeking to use an insincere claim of faith as cover to avoid a financially burdensome regulation."
Abortion
Although he has never directly ruled on an abortion case, conservatives and liberals alike believe that Gorsuch is firmly anti-abortion. He's a constitutional textualist like Scalia was, meaning he's unlikely to view the Constitution as giving women a right to have an abortion. He also once penned a book on physician-assisted suicide where he wrote that "he intentional taking of human life by private persons is always wrong." His opinions on assisted suicide and, in essence, on the broader issue of when it's okay to end a life seem to suggest he would not support a woman's right to choose.
Follow Marie Claire on Facebook for the latest celeb news, beauty tips, fascinating reads, livestream video, and more.
Celebrity news, beauty, fashion advice, and fascinating features, delivered straight to your inbox!