The Eternal Uselessness of Ivanka Trump
The advisor to the president says she can't advise him. So what is she doing there?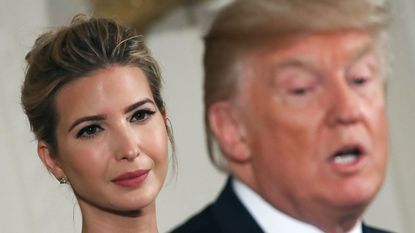 (Image credit: Archives)
When Donald Trump allegedly walked into a dressing room at a Miss Teen USA pageant (as five contestants recount that he did, though several others contradict their claims), one girl tried to do something about it: She told Ivanka Trump.
Mariah Billado, former Miss Vermont Teen USA, told Buzzfeed last year that in 1997 she approached Ivanka about Trump walking into their private changing areas; Ivanka's response, she says, was a resigned, "Yeah, he does that." (Ivanka did not respond to MarieClaire.com's request for comment.)
To be fair, Ivanka was a teenager herself at the time. (And a girl who later had to deal with a father who made a inappropriate sexual comments about her, no less.) So it's understandable that the future first daughter wouldn't know how to stop such behavior.
But Ivanka isn't a child anymore. And as much as the mother-of-three and business woman is infantilized by her father and the media, the truth is that she could wield an extraordinary amount of power. She just chooses not to.
How else can we explain Ivanka's bizarre claim yesterday that it's "unrealistic" for people to expect that she can always influence her father's decisions? She is literally an adviser to the president; influencing Trump is in the job description.
Yet in the interview with the Financial Times where she made this strange statement, Ivanka noted that it's unfair for some critics to believe "that my presence in and of itself would carry so much weight with my father that he would abandon his core values and the agenda that the American people voted for when they elected him. It's not going to happen."
MORE FROM JESSICA VALENTI
She also said that disagreeing with her father publicly would mean "I'm not part of the team."
And that's the rub: Loyalty to her father's vision, no matter how horrific it might be, is more important to her than actually doing her job or helping the American people.
But Ivanka is right in one way. She didn't make broad promises at any point about what she could accomplish or how she could influence her father to do the right thing. (She just hinted as much.) That was mostly wishful thinking by Republicans (and some naive liberals), horrified at what they had wrought. The hope was that if they crossed their fingers and wished hard enough, the widely-liked businesswoman—clearly favored by her father—would bring some semblance of normalcy to the presidency.
No such luck.
Ivanka took meetings about climate change and reportedly lobbied on behalf of the Paris Accord, yet, as the world saw, that made no difference. Despite her supposed support for women's rights, she also failed at moving reproductive healthcare forward in any meaningful way—even suggesting to Planned Parenthood president Cecile Richards that the organization form a separate abortion unit. The presidential advisor said in her interview this week that she'd like to be judged by her accomplishments in areas she cares about, like "gender equity in the workplace," but she recently supported the scrapping of an initiative experts think could lead to equal pay.
This is a woman—as lovely as she seems on Instagram or during softly-lit morning television interviews—who covers for a bigoted president. A woman who uses her likability to bolster the agenda of a monster. A woman who herself runs a business with questionable ethics and uses the language of feminism to promote her own brand without any apparent concern for women and their rights.
In the end, Ivanka is useless—at least to those of us concerned about the future of our country. To the president, of course, she's invaluable.
Ivanka functions as a shield against accusations of misogyny, a salve to his rough edges. She's poised and telegenic proof that Trump couldn't possibly be all bad. That some people believe as much has been posited as a reason why the president won so many votes from white women—they saw Ivanka as his saving grace. Sadly, she will never be ours.
Jessica Valenti is a contributing editor to MarieClaire.com—read her weekly column here.
Celebrity news, beauty, fashion advice, and fascinating features, delivered straight to your inbox!
Jessica Valenti is a columnist and author of five books on feminism, politics, and culture. Her latest book, Sex Object: A Memoir, was a New York Times bestseller. Valenti is also editor of the ground-breaking anthology Yes Means Yes: Visions of Female Sexual Power and a World Without Rape and the founder of Feministing.com, which Columbia Journalism Review called "head and shoulders above almost any writing on women's issues in mainstream media." She has a Master's degree in Women's and Gender Studies and lives in Brooklyn with her husband and daughter.