Time's Up for Wall Street
Investing in women is key to ending sexual harassment—in finance and elsewhere.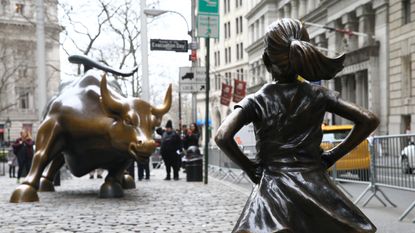 (Image credit: Anadolu Agency)
Happy new year, and "happy" anniversary. I use quotation marks because, as anniversaries go, this one is a more bittersweet celebration: TIME'S UP was launched on January 1, 2018. Founded by more than 300 women in entertainment with a mission to "insist upon a world where work is safe, fair, and dignified work for women of all kinds," the organization was a response to the #MeToo movement that started in late 2017 about the sexual harassment of women—and the resulting unsafe workplaces for us—across a range of industries.
The reckoning has continued. In the two years since TIME'S UP was born, the list of powerful execs ousted as a result of the movement now includes Les Moonves (the former chairman and CEO of CBS) and casino magnate Steve Wynn. Some of the vacated senior roles have been filled by women, like Melissa Bell, who took over from Lockhart Steele as editorial director of Vox Media, and Jennifer Salke, who took over as head of Amazon Studios after Roy Price resigned.
Despite this progress, much work remains in our fight for safe workplaces, equal pay, and gender equality. The pay gap remains stubbornly large, with white women earning 79 percent of what white men do, Black women earning 62 percent, and Hispanic women earning just 54 percent. Only around seven percent of Fortune 500 companies are led by female CEOs. Diversity in executive leadership is moving forward at a snail's pace.
There has been no real recognition or discussion of the role that money has played in all of this: The wealth gap between men and women is as much a root cause of sexual harassment as it is a consequence. Do you know of anyone who would have stayed in the room with Charlie Rose, his robe half-open, if they'd had as much money as Rose did? No, neither do I. Just as many women felt trapped in an abusive work environment, sexist treatment has driven numerous others out of their jobs, negatively impacting their earning power and their wealth. More subtly, this behavior set the tone and environment in which women's contributions were almost certainly minimized, similarly affecting their ability to rise in their careers and grow their own personal wealth. It's a cycle.
Thus it is perhaps not surprising that the gender power imbalance is nowhere more tilted than in the industry that represents money itself: Wall Street. The number of people in that industry who have publicly lost their jobs because of #MeToo allegations over the past couple of years could be counted on one hand; in fact, one finger. Yes, the fact that these harassers in power have not been held to account is outrageous—but here's why a #MeToo movement on Wall Street matters in ways you might not realize.
First, an industry without much diversity tends to build products and services for itself. It's no coincidence that men are more likely to both work in finance and invest their money than women are. (This is why we founded Ellevest: investing for women, built by women.)
Second, we know—and research supports this—that non-diverse teams tend to take on more risk than heterogeneous ones. We also know that it was a very non-diverse group of people who occupied the trading desks of Wall Street in the run-up to the financial crisis in 2008. In other words, maybe if more women and minorities worked on Wall Street, the financial crisis wouldn't have been as bad. Or—probably more accurately—anywhere even close to as bad.
So why haven't we seen a #TimesUp movement on Wall Street? Well, it's not for lack of harassment in the industry; in fact, surveys of women across industries rank wealth management (which is part of Wall Street) number-one in incidence of sexual harassment. Some 60 percent of female financial advisors report that they have personally experienced sexual harassment at work, and nearly 80 percent of people in the industry believe that sexual harassment is a problem.
But the problem remains hidden because most firms have historically required employees to sign mandatory arbitration agreements. For a woman who reports harassment, the outcome of her claim will likely be determined by a panel that reflects the industry: that is, older white men, a group of people who came up in the industry attending three-martini lunches, and who have typically never experienced sexual harassment themselves. Some women have persevered and filed claims of harassment, but many were simply forced out of their company and found it difficult, if not impossible, to find other jobs.
When I was on Wall Street, I saw again and again that when a junior woman accused a more senior (read: powerful and revenue-producing) man of harassment, step number one was to put together a financial offer that would entice her to leave the company quickly and easily. Only then did an investigation of the accused take place, and a "stern talking-to" was typically the extent of the "punishment."
Further, in an industry in which there have been few senior seats at the table for women, an environment was created that has, historically speaking, forced women to compete against each other, both across companies and within them. The culture of Wall Street has been that anyone outside your company was "the enemy," creating very little space for collaboration on business across companies. Worse, the same has been true inside companies, in which female employees have unfortunately internalized the notion that only a small number of women can be successful. Another woman had to leave for you to get your shot, and you had to leave in order for another woman to get her shot.
The result? There have been some absolutely terrific women in the industry who worked to pull other women ahead with them...and a number who did not. With so few senior roles available to women in the first place, the progress has been slow, even glacial, for a long time.
And, finally, let's face it: Clients of these companies simply haven't cared enough about these issues to take their business elsewhere. Take Ken Fisher, the "self-made multi-billionaire" and CEO of investment manager Fisher Investments, who made vile comments at a financial services conference in October 2019, including talking about genitalia and likening winning asset management business to "getting in a girl's pants." Following his comments, there were a flurry of announcements of business being pulled from his firm; after a few weeks, the company was actually bigger than it was before, as others added to the business they did with his company. After just a few weeks. There's just no market mechanism to force meaningful cultural change.
Yet.
What if we make 2020 the year we women decide—as a very powerful woman once said to me—to stop supporting the companies and institutions that have not supported us? The year we stop doing business with companies at which we wouldn't want our own daughters to work?
As women, we direct more than 80 percent of consumer spending and we control trillions of dollars of wealth. Maybe not as much wealth as men, but trillions of dollars. If we use money as a point of leverage—buying from women-owned businesses and no longer doing business with companies that don't reflect us—we can shift this power.

Sallie Krawcheck is the CEO and Co-Founder of Ellevest, a digital-first, mission-driven investment platform for women, which has been named one of Entrepreneur Magazine's Top 100 Brilliant Ideas. Before launching Ellevest, Krawcheck built a successful career on Wall Street: She was the CEO of Merrill Lynch and CFO for Citigroup, among other positions.

For more stories like this, including celebrity news, beauty and fashion advice, savvy political commentary, and fascinating features, sign up for the Marie Claire newsletter.
RELATED STORIES
Celebrity news, beauty, fashion advice, and fascinating features, delivered straight to your inbox!