How to Financially Support Black Lives Matter If You Can't Donate Money
From watching videos to using points, there's still a lot you can do.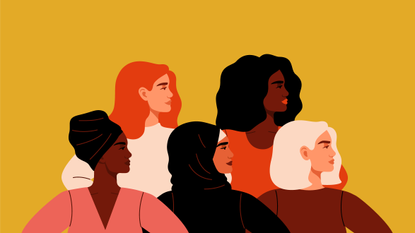 (Image credit: Getty Images)
Marie Claire Newsletter
Celebrity news, beauty, fashion advice, and fascinating features, delivered straight to your inbox!
Thank you for signing up to Marie Claire. You will receive a verification email shortly.
There was a problem. Please refresh the page and try again.
There are many, many ways to financially support the Black Lives Matter (BLM) movement, including donating directly, supporting individuals doing the work, and financially supporting the families of victims of racially motivated violence. There is also plenty of information online about how to further the movement in general (and advocates are starting to see real change). But what if you want to help but can't protest or donate money right now? Thankfully, there are a number of alternatives available, from donating your points to signing petitions. There's always a way to help—you just have to be willing to support the cause with your time and energy.
Support Black creatives, activists, and causes with visibility and amplification.
One of the aspects of being an ally/co-conspirator against racism is education and support. This is also a way to support the BLM movement financially, either directly or indirectly.
Can you rent or ask for anti-racist works to be given to you? Can you share articles or resources by Black writers with your personal and professional network? Can you follow anti-racist causes, like the revival of antislavery newspaper The Emancipator, by promoting and following along? More generally, can you share links and amplify causes with your personal and professional network—encouraging others to donate and subscribe?
Can you support or otherwise promote the work of Black artists? Can you go to an art exhibit when it's available? Can you attend a talk and encourage friends to show up too? Can you take the time to watch movies and TV shows written by Black directors and starring Black actors? Showing that a particular work of art is popular and that you like it is critically important in indicating you want more of the same.
Can you deepen your anti-racism network by following relevant people, organizations, and causes? From your state representatives to anti-racist social media accounts, can you show your support by following, liking, sharing, and actively contributing to positive dialogue? Can you volunteer time, energy, and expertise—including getting the word out to help nonprofits raise money?
It's also worth noting that it doesn't necessarily have to be with well-known causes. You can help in your everyday professional life, too. Can you help bring diversity, equity, and inclusion (DEI) to your workplace or serve as a mentor to help others be paid more or gain more work opportunities? Can you contribute to the work of anti-racism through time, energy, and discussion?
Watch and share YouTube fundraisers.
Back in 2020, Black YouTuber Zoe Amira created a nearly hour-long video filled with ads that highlighted Black creatives. One hundred percent of the associated revenue went to BLM organizations. Others followed suit, but YouTube took a number of them down or demonetized them because of a "policy not to run ads on videos about tragedies." All told, the video has 10.5 million views, and YouTube apparently matched the amount of money raised in a donation ($45,000+, which went to the Bail Project). Amira's said she's working with YouTube and Google to change the policy.
YouTube will allow users to start fundraisers from their videos, as with Eugene Lee Yang from the Try Guys in a profoundly educational video about anti-Asian hate. And even though ads don't play in the video (so you can't just watch and raise money), viewing it raises visibility, and sharing it increases the likelihood that people will donate. So watch out for relevant, verified YouTube fundraisers.
Donate your travel points or cash back.
The full article with instructions is here, but there are a few ways that you can dedicate points or credit to relevant causes right now:
AmEx JustGiving lets you choose to donate points via eligible cards to causes that include Black Lives Matter, chapters of the ACLU, the NAACP, the Innocence Project, and many more.
Hilton has partnered with PointWorthy so you can donate your points, too. Go to the Hilton Honors portal and click on the Donate With Points button. Causes include the Brooklyn Community Bail Fund.
On many credit cards, you can redeem points for cash back (which appears as a credit)—and then you can take the amount and donate it wherever you like.
Sign petitions for important causes.
On Change.org, when you sign one of these petitions, it asks for a super-small donation (think: $3) to help push the movement forward. Or, if you'd prefer, you can amplify the message on social media instead, encouraging others to donate and thus contributing to the cause indirectly.
Here are just a few of the worthy petitions to sign. (There's debate about the efficacy of donating to Change.org petitions versus donating to GoFundMes for families, but signing centralized and organized petitions shows the immense amount of public support for the issue.)
Justice for Daunte Wright (there's also a GoFundMe)
Justice for Breonna Taylor (now focused on passing federal legislation)
There are many more, so look out for causes that speak to you. The Black Lives Matter carrd has been updated with links.
Set up a fundraiser of your own on Facebook or GoFundMe.
This one's probably the most time-intensive (and you'll want to educate yourself about picking the most appropriate cause), but Facebook allows you to set up a simple fundraiser that donates directly to a nonprofit. You'd set it up in the same way you'd set up a regular post: Click on the pencil icon to create a post from your page, click the three dots, then click Raise Money. You then select a nonprofit to support and go from there.

If you're not using Facebook, GoFundMe will let you set up a donation page on behalf of others. The same idea applies here, however: You'd want to do your homework, see what else is out there, and assess your network to maximize the chances your page will be successful. There are also virtual fundraising ideas gaining popularity—so if you belong to a volunteer organization, club, nonprofit, or even a cause-focused workplace, this could be an opportunity to sync resources.
If none of these options are available to you and you still want to help, brainstorm with friends and colleagues. How else can you help raise visibility and contribute?
Black Lives Matter
Celebrity news, beauty, fashion advice, and fascinating features, delivered straight to your inbox!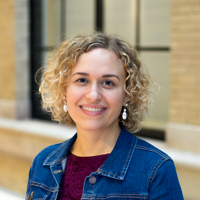 Katherine's a Boston-based contributor at Marie Claire who covers fashion, culture, and lifestyle—from "Clueless" to Everlane to news about Lizzo. She's been a freelancer for 11 years and has had roles with Cosmopolitan and Bustle, with bylines in Parents, Seventeen, and elsewhere. It's "I go to dinner," not "Her huge ego," but she responds to both.