The Only Way to Properly Honor Justice Ruth Bader Ginsburg's Legacy Is By Voting
"We could wake up to an America that looks startlingly similar to the one Justice Ginsburg tried so hard to change in 1971."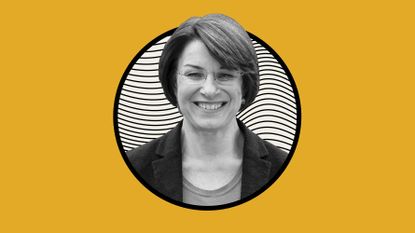 (Image credit: Courtesy )
I'll never forget the day my daughter, Abigail, met Justice Ruth Bader Ginsburg. She was still in college, and she came with me to an event in Washington, D.C. Much to her delight, Justice Ginsburg was there, and the two of us were able to snap a quick photo with her. Afterwards, Abigail, clearly starstruck, told me she was going to post it on Facebook.
"Mom," she said, "I hope you don't mind, but I'm going to cut you out. I mean it IS Justice Ginsburg."
Few leaders in our nation elicit such rock-star level adoration. Fewer still ascend to the status of bona fide cultural icon at 80 years old. And virtually none get a cool nickname—with one notable, or dare I say, "notorious" exception: RBG.
Tiny in stature but mighty in intellect, Justice Ginsburg meant so much to so many people, including me. As a young lawyer, watching her confirmation hearings, which then-Senator Joe Biden presided over, I was in awe. It made me feel like anything was possible for women in this country.
In 1971, as a lawyer for the American Civil Liberties Union, Justice Ginsburg was the principal author of the brief for a landmark gender equality case, Reed v. Reed. The precedent-setting decision had major implications for women. It paved the way to banning all forms of discrimination against Americans on the basis of sex. Today, it's a big reason women can enroll in military academies, demand equal pay, or even get a credit card without a man's permission (yes, that was a thing!).
Of course, Justice Ginsburg's work didn't stop there. When she became the second woman in history to serve on the Supreme Court, she tipped the scales of justice in favor of defending women's reproductive rights, legalizing same-sex marriage, and upholding the Affordable Care Act. Throughout her 27 years serving on our nation's highest court, Justice Ginsburg worked to level the playing field for women in the workplace, in health care, in education—in all facets of American life.
After her passing last Friday, Americans everywhere mourned the loss of such an incredible jurist. But understandably women, in particular, felt this loss personally. And rightly so. In Justice Ginsburg, we had a true champion for gender equality, at a time when we need one most.
President Trump's mismanagement of the pandemic has had devastating ramifications for the entire nation. But women—and especially women of color—have endured a disproportionate amount of hardship. Women comprise a majority of essential workers, and workers in sectors hardest hit by COVID-19 closures. That means, for every additional day the pandemic drags on, women risk their health and safety and see their future economic prospects diminished. Already, faced with near double-digit unemployment numbers and a dearth of affordable child care options, women are leaving the workforce in greater numbers than men.
Today, all of the progress we've made for women is on the line. And what happens next could make all the difference.
Depending on who is confirmed to fill Justice Ginsburg's seat, we might not only see Roe v. Wade reversed–we could also see regression on equal pay, paid family leave, and voting rights. And with President Trump trying at this very moment to get the U.S. Supreme Court to overturn the entire Affordable Care Act, the next Justice could also eliminate protections for people with pre-existing conditions like breast cancer, asthma, and diabetes. We could wake up to an America that looks startlingly similar to the one Justice Ginsburg tried so hard to change in 1971.
On her deathbed, Justice Ginsburg made a plea: "My most fervent wish is that I will not be replaced until a new president is installed." However, just hours after we learned she had died, Majority Leader Mitch McConnell announced that the Senate would vote on President Trump's nominee.
As a member of the Senate Judiciary Committee, in 2016 I listened as my Republican colleagues refused to consider President Barack Obama's Supreme Court nominee in an election year. Then, Majority Leader McConnell said clearly, "The American people should have a voice in the selection of their next Supreme Court Justice."
Today, voting is already well underway. In dozens of states, voters are either mailing in their ballots or voting early in-person. It's this simple: the people should pick the next president, and that president should nominate the justice.
Like Vice President Biden, I am encouraging my colleagues across the aisle to "follow their conscience." Republican senators aren't beholden to Mitch McConnell; they're beholden to the people they represent. I believe each and every member of the Senate needs to decide what to do based on their own integrity and the future of our country.
Ultimately, however, that future won't be determined by a handful of Republican senators. It will be determined by you: the women of America. Women have the power to change minds on Capitol Hill, and women have the power to decide this election. So, now is the time to take action. Register to vote and make a plan to cast your ballot. Volunteer as poll workers to protect our election integrity. And join Women for Biden to elect a president who will fight for women's rights.

Justice Ginsburg spent more than six decades fighting for us. Now, it's up to us to continue the fight.
Senator Amy Klobuchar is the senior Senator representing Minnesota. She was first elected to the U.S. Senate in 2006 and is a member of the Senate Judiciary Committee as well as the Joint Economic Committee, Senate Commerce Committee, and Senate Rules Committee.
RELATED STORIES