What Happens If There's A Recount In Michigan?
With Joe Biden positioned to flip the crucial state, Trump is already contesting the Michigan polls. Oh, and he's filed a suit to stop ballot counting.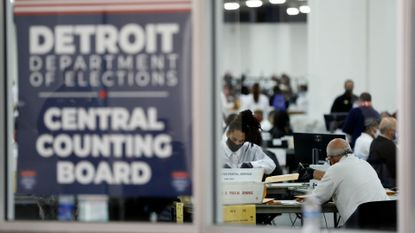 (Image credit: JEFF KOWALSKY)
In the 2016 election, Donald Trump won Michigan with a margin of 0.3 percent, or 10,704 votes—it was his smallest winning margin of any state. But this election, Joe Biden is positioned to flip Michigan blue: As of Wednesday early evening, pollsters say Biden is the expected winner of the state. With 97 percent of the vote reported in Michigan, Biden holds a 1.2 percent lead over Donald Trump. If Biden took Michigan, he'd win 16 critical Electoral votes.
Biden's lead is already being contested by the Trump campaign. Trump's team has filed suits to stop the counting of ballots in Michigan and Pennsylvania; the campaign has demanded increased access to observing the polling sites in both states. Trump has even "claimed" Michigan on Twitter, though official sources do predict Biden the winner of the state.
There is a strong possibility that the Trump campaign will request an official recount once all of the votes are tallied. (The Trump camp already announced they'd be requesting a recount in Wisconsin). Here's how it would work:
Does state law require an automatic recount?
In Michigan, if the trailing candidate is behind by 2,000 or fewer votes, the state will do an automatic recount. Right now, Trump trails by 67,140 votes with 97 percent of votes in. That means Michigan would not implement an automatic recount in this instance.
Can Trump request one anyway?
Yes. His campaign can request a full or partial recount within 48 hours after the canvass if they believe they have a "reasonable chance of winning the election" or "be able to allege a good-faith belief for fraud or mistake," according to official Michigan legislature.
How long will a recount take?
One the request petition is files election officials must complete the recount in in 30 days or less, according to Ballotpedia. The process of recounting can of course extend election uncertainty as well as delay a confirmed winner.
Who pays for a recount?
The requestor pays (in this case, team Trump). The fee will be refunded if the recount changes the election outcome.
Should we expect more recount requests?
As the voting tallies for key battleground states trickle in, we can except contention from the trailing camp.
What can I do?
For now, patience is the best option. (Might we suggest taking a break from doom scrolling with a quick walk?) Once the U.S. can firmly declare a winner, we can all move on to the most important next step in our nation: coming together and making change happen.
Megan DiTrolio is the editor of features and special projects at Marie Claire, where she oversees all career coverage and writes and edits stories on women's issues, politics, cultural trends, and more. In addition to editing feature stories, she programs Marie Claire's annual Power Trip conference and Marie Claire's Getting Down To Business Instagram Live franchise.