Watch Van Jones' Emotional Reaction to Joe Biden's Victory: "This Is Vindication"
"It's easier to tell your kids, 'Character matters, being a good person matters.'"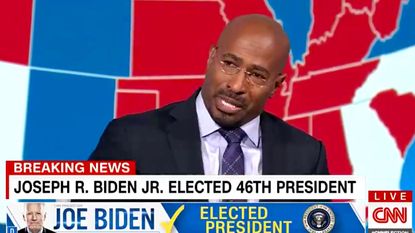 (Image credit: CNN)
On Saturday morning, after five days of grueling anticipation and anxiety, the election was finally called: Cinching the swing state Pennsylvania, Joe Biden will be the 46th President of the United States, with Kamala Harris, the first woman and person of color to hold the role of Vice President, at his side.
For many, the news was a profound relief. On CNN this morning, through tears, political commentator Van Jones shared his thoughts.
"It's easier to be a dad this morning," he said. "It's easier to tell your kids, 'Character matters, being a good person matters.' And it's easier for a whole lot of people. If you're Muslim in this country, you don't have to worry that the president doesn't what you here. If you're an immigrant, you don't have to worry if the president is happy your baby has been snatched away."
Van Jones breaks down in tears on CNN:"Telling the truth matters, being a good person matters" pic.twitter.com/WUyUExiaJuNovember 7, 2020
See more
He also added that the news sparks a much-needed and long overdue new chapter of change, especially for Black people and people of color across the country: "This is vindication for a lot of people who really have suffered. 'I can't breathe.' That was not just George Floyd. There were a lot of people who felt like they couldn't breathe."
"This is a big deal," he continued, "for us to be able to get some peace, and have a chance for a reset."
He closed by celebrating Biden and Harris's victory: "I want my sons to look at this. It's easy to do it the cheat way and get away with stuff, but it comes back around. This is a good day for this country. I am sorry for the people who lost, for them it's not a good day, but for most, this is a good day."
Megan DiTrolio is the editor of features and special projects at Marie Claire, where she oversees all career coverage and writes and edits stories on women's issues, politics, cultural trends, and more. In addition to editing feature stories, she programs Marie Claire's annual Power Trip conference and Marie Claire's Getting Down To Business Instagram Live franchise.