Stacey Abrams Talks Fair Fight and Her Definition of Success
"My success can only ever be real if I'm doing it for the success of others."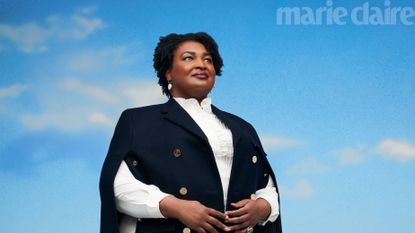 (Image credit: AB + DM Studio)
Stacey Abrams is Marie Claire's Spring 2021 cover star!
Speaking to Ashley C. Ford, Abrams opened up about her organization, Fair Fight, her commitment to community, and the power of collective action.
Stacey Abrams, Marie Claire's cover star for our Spring 2021 issue, is busy. Following her gubernatorial loss in 2018, Abrams put boots on the ground to co-lead one of the most impressive political organizing campaigns in recent memory. With her voting rights organization Fair Fight, she sought to turn deep-red Georgia blue, a feat that many deemed unlikely. Nonetheless, she persevered and went on to accomplish her goal: Georgia voted to elect Joe Biden for president and, last January, the state flipped the United States Senate blue with the election of the first Black and first Jewish senators from Georgia. With Abrams moonlighting as a romance novelist all the while!
While many were quick to praise Stacey Abrams and other organizers for the victory in Georgia–including LaTosha Brown, the cofounder of Black Voters Matter–Abrams herself believes the keys to her success lies in collective action and the achievements of others. As the daughter of working-class pastors, her spirit of action and working for the common good supersedes any individual notion of achievement.
She told Marie Claire, "My success is tied at the most base level with the success of my people, and my people are the South." She continued, "My people are Americans. My people are people of color. My success can only ever be real if I'm doing it for the success of others."
She spoke in terms of "we" and "us" when talking about her goals for the future. "I want to be defending voting rights," Abrams told Ashley C. Ford. "I want us to effectively leverage the census and redistricting, and I want us to serve the disproportionately harmed communities. I want us to rebuild the public infrastructure of the South, using COVID not as an excuse for what was broken but as a template for what we need to do right."
Although some would be satisfied with the dual wins in Georgia, Abrams is just getting started. She believes power indeed rests with the people and will continue to fight for lasting change.
"Because there's nothing permanent about the change that we're making until people believe it's a change they should defend and maintain. And so every election, every fight, you've got to remind people that they have the capacity to win, and you have to do it anew."
Zoe Guy is the digital fellow at Marie Claire, where she covers pop culture, hot celebrity gossip, movies and TV. She's obsessed with Martin Scorsese's adaptation of The Age of Innocence, anything written by Jesmyn Ward and stan Twitter.