What Women Around The World Are Saying About Women's Equality Day
Get informed.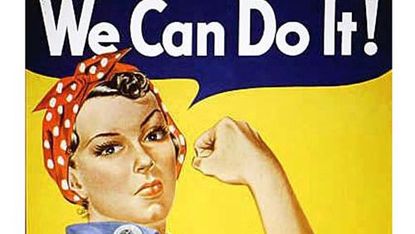 (Image credit: AP Photo)
In case you didn't know, we're deeply committed to equality for women on all levels—that's why we're always writing about it. In honor of Women's Equality Day, here are the 10 most talked-about sexist, discriminatory, or just plain concerning gender-biased stories from the last year—including topics on equal pay, reproductive rights, and diversity in the workplace.
1. 14 Things Women Couldn't Do 96 Years Ago
2. The Best States For Equal Pay — And The Worst
3. The Most Ridiculous Sexist Laws Across the Globe
5. Mind the Gap On Your Way Up the Corporate Ladder
6. Equal Pay Act vs. Paycheck Fairness Act
7. Why Young Women Should Care About Equal Pay Day
8. This One Sentence Boils Down Exactly How You Feel About Equal Pay
9. The Best Places For Women To Live Around The World, As Well As The Worst
10. 20 Women Who Are Changing the Ratio
And, let's not forget to give a big hand to those who are standing up for change. See what influential women from around the globe are saying on Women's Equality Day. Follow along and tweet your own thoughts with the hashtag #WEMatter.
It's time to make the pay gap a thing of the past—American women deserve better. #WEMatterAugust 26, 2014
See more
When #womensucceed America succeeds! This Women's Equality Day we celebrate progress & recommit to work that remains: http://t.co/ORlO0ctv32August 26, 2014
See more
This Women's Equality Day, and every day, let's empower women to reach their full potential. #WeMatter pic.twitter.com/FAfKfHUwfaAugust 26, 2014
See more
Today is Women's Equality Day. On the anniversary of women's suffrage, women's economic security matters. Our votes matter. #WEmatterAugust 26, 2014
See more
Your zip code shouldn't limit your access to #reprohealth care. No matter where we live, #WEmatter.August 26, 2014
See more
When I arrived in Washington, there were 5 women senators. Today—on Women's Equality Day—there are 20. Progress, but work remains. #WEmatterAugust 26, 2014
See more
It took 144 years to gain women's suffrage. We won't wait another 144 for full equality. #WEmatter pic.twitter.com/12gX4FJTe4August 26, 2014
See more
I'm an Associate Editor at the Business of Fashion, where I edit and write stories about the fashion and beauty industries. Previously, I was the brand editor at Adweek, where I was the lead editor for Adweek's brand and retail coverage. Before my switch to business journalism, I was a writer/reporter at PEOPLE.com, where I wrote news posts, galleries and articles for PEOPLE magazine's website. My work has been published on TheAtlantic.com, ELLE.com, MarieClaire.com, PEOPLE.com, GoodHousekeeping.com and in Every Day with Rachael Ray. It has been syndicated by Cosmopolitan.com, TIME.com, TravelandLeisure.com and GoodHousekeeping.com, among other publications. Previously, I've worked at VOGUE.com, ELLE.com, and MarieClaire.com.