New Data Shows That More People Support Gay Marriage Than Ever Before
It's a history-making moment.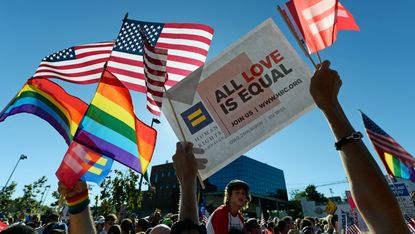 (Image credit: Getty Images)
In just over 10 years, same-sex marriage has become legal in more than half of the United States. And although there's still a lot of work to do, more Americans than ever are on board.
Support for gay marriage is at a record high, according to an ABC News/Washington Post poll (opens in new tab). A whopping 61% of Americans say same-sex couples should be allowed to get married under the law. It's the first time in history that more than six in 10 people agreed.
The same proportion of Americans agreed that even if a state doesn't legalize gay marriage, it should recognize marriages performed legally in other states. More people than ever also said they think being gay isn't a choice, that gay people can be just as good parents as straight people, and that businesses shouldn't be allowed to refuse service to gay and lesbian people.
The poll, which was conducted by Langer Research Associates (opens in new tab), notes that attitudes on gay marriage have changed more rapidly than any other issue in 30 years. They note that might be because more people have been exposed to gay people; three-quarters of the people polled said they have a friend or acquaintance who is gay.
Next week, the Supreme Court is set to hear oral arguments about state bans on same-sex marriage. And with experts forecasting (opens in new tab) that their decision will make gay marriage legal everywhere, it's incredible how much has changed in just a decade.
You should also check out:
And Today's Best Gay Pride Moment Comes Courtesy of J.K. Rowling (opens in new tab)
Watch Ellen DeGeneres Shut Down an Anti-Gay Pastor in the Best Way Possible (opens in new tab)
Ellen Page's Coming Out Speech Will Make You Cry (opens in new tab)
Megan Friedman is the former managing editor of the Newsroom at Hearst. She's worked at NBC and Time, and is a graduate of Northwestern's Medill School of Journalism.