Presidential Candidate John Kasich Just Moved to Defund Planned Parenthood
The Republican governor has signed a bill that will significantly affect women in Ohio.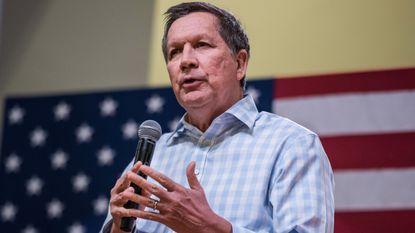 (Image credit: Getty Images)
On Sunday, Republican presidential candidate and Ohio Governor John Kasich signed a bill that blocks his state from securing health services from organizations that perform or promote abortions, according to CNN.
Though Planned Parenthood isn't specifically named in the bill, the outlet reports that the effects of this law will defund the organization by more than $1 million, because Planned Parenthood does perform abortions along with its more common health and contraceptive services for women.
"This legislation will have devastating consequences for women across Ohio," Planned Parenthood President Cecile Richards said in a statement. "John Kasich is proudly eliminating care for expectant mothers and newborns; he is leaving thousands without vital STD and HIV testing, slashing a program to fight domestic violence, and cutting access to essential, basic health care."
Kasich, who has positioned himself as the moderate candidate among the Republicans, just finished fifth in the South Carolina primary, but has racked up important endorsements, including one from the New York Times.
A spokesperson for Kasich's office said this bill will move funds to other providers for pregnant women and newborns.
"The Ohio Department of Health has at least 150 other sub-grantees and contractors for the affected grants and projects addressing such issues as new born babies, infant mortality, expectant mothers, violence against women, and minority HIV/AIDS," a statement from his office said. "ODH will reallocate funding from ineligible providers under the new law to other currently eligible providers, ranging from local health departments and community organizations to hospitals and universities. These organizations will be required to submit proposals in order to receive funding."
Despite the continuing action against Planned Parenthood, most Americans oppose defunding the organization, according to a USA Today/Suffolk University poll released in December.
Follow Marie Claire on Instagram.
Celebrity news, beauty, fashion advice, and fascinating features, delivered straight to your inbox!
Kate Storey is a contributing editor at Marie Claire and writer-at-large at Esquire magazine, where she covers culture and politics. Kate's writing has appeared in ELLE, Harper's BAZAAR, Town & Country, and Cosmopolitan, and her first book comes out in summer 2023.