The 5 Most Epic Lines from the Supreme Court Abortion Ruling
Here's how SCOTUS made their decision.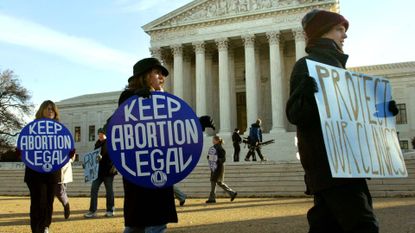 (Image credit: Getty Images)
On Monday, the Supreme Court handed down a major decision in the fight for reproductive rights. In a 5-3 decision, the court struck down the Texas law known as HB2, which required abortion clinics to maintain the standards of ambulatory surgical centers and abortion doctors to have admitting privileges at nearby hospitals. The question before the court was whether such restrictions imposed an "undue burden" on women seeking to exercise their constitutional right to access abortion.
Here are five key lines from the majority opinion, written by Justice Stephen Breyer, that show how SCOTUS reached its decision:
1. "When directly asked at oral argument whether Texas knew of a single instance in which the new requirement would have helped even one woman obtain better treatment, Texas admitted that there was no evidence in the record of such a case."
The "new requirement" referenced in the line above refers specifically to the provision that doctors performing abortions at clinics have admitting privileges at hospitals within a 30-mile radius. Defenders of Texas' law often say such requirements are necessary to "maximize patient safety," but when asked directly to prove that was true—to show a woman's life had been saved or lost or even compromised because a doctor did or didn't have such privileges—the state was unable provide any evidence. As such, the court "found nothing" to show that the new law "advanced Texas' legitimate interest in protecting women's health."
2. "Abortions taking place in an abortion facility are safe—indeed, safer than numerous procedures that take place outside hospitals and to which Texas does not apply its surgical-center requirements."
Here, Breyer refers to the requirement that abortion clinics maintain the hospital-like standards of ambulatory surgical centers. Proponents say such standards—which stipulate things like the minimum dimensions between cabinets, counters, and shelves—are necessary to ensure patient safety. But, the court notes, Texas allows other medical treatments that carry a much higher risk to take place outside of such settings. Childbirth, Breyer notes, is "14 times more likely than abortion to result in death and yet Texas law allows a midwife to oversee childbirth in the patient's own home." Similarly, "colonoscopy, a procedure that typically takes place outside a hospital (or surgical center) setting, has a mortality rate 10 times higher than an abortion."
Add to that the fact that abortion is an incredibly safe medical procedure. Between 2001 and 2012, the total number of deaths in Texas from abortions was five. That's roughly one death every two years, or one out of about 120,000 to 144,000 abortions. Underscoring this point in her concurring statement, Justice Ruth Bader Ginsburg writes: "Texas argues that HB2's restrictions are constitutional because they protect the health of women who experience complications from abortions. In truth, 'complications from an abortion are both rare and rarely dangerous'."
3. "Healthcare facilities and medical professionals are not fungible commodities. Surgical centers attempting to accommodate sudden, vastly increased demand…may find that quality of care declines."
In its arguments before the court in March, Texas suggested that, though its law had shuttered at least 30 abortion clinics, the seven or eight remaining clinics could expand to provide care for thousands of additional patients. "Fundamentally, in the face of no threat to women's health, Texas seeks to force women to travel long distances to get abortions in crammed-to-capacity superfacilities," Breyer wrote. But doing so, he adds, could mean patients are less likely to get the kind of "individualized attention, serious conversation, and emotional support that doctors at less taxed facilities may have offered." So, in essence, the court found that the requirements that Texas claims are absolutely necessary to protect women's health may in effect have the exact opposite result.
Which leads us to the final decision…
4. "We conclude that neither of these provisions offers medical benefits sufficient to justify the burdens upon access that each imposes. Each places a substantial obstacle in the path of women seeking a pre-viability abortion, each constitutes an undue burden on abortion access...and each violates the Federal Constitution."
Thus, the burden HB2 places on women seeking abortions is undue. Breyer echoes this sentiment later in the opinion, writing, "The provisions are unconstitutional on their face."
And further, because Notorious RBG always deserves the last word, here is her scathing conclusion:
5. "It is beyond rational belief that HB2 could genuinely protect the health of women, and certain that the law 'would simply make it more difficult for them to obtain abortions.'"
Mic drop.
Follow Marie Claire on Facebook for the latest celeb news, beauty tips, fascinating reads, livestream video, and more.
Kayla Webley Adler is the Deputy Editor of ELLE magazine. She edits cover stories, profiles, and narrative features on politics, culture, crime, and social trends. Previously, she worked as the Features Director at Marie Claire magazine and as a Staff Writer at TIME magazine.